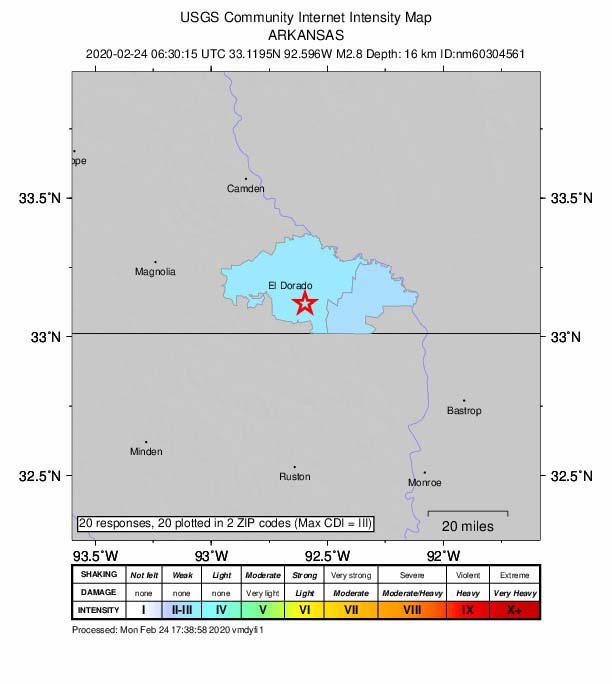 An intensity map of the 2.8 magnitude earthquake from early Monday. The earthquake hit around 12:30 a.m. and had little to no shaking. Image via the USGS
Union County residents may have felt some light shaking early Monday morning.
According to the United States Geological Survey, a 2.8 magnitude earthquake hit about 6.84 miles southeast of El Dorado.
However, the earthquake had light to no shaking or damage, according to a USGS intensity report.
Don Blakeman, geophysicist with the National Earthquake Information Center, which is part of USGS, said it was likely caused by a stress within a tectonic plate.
"We see these types of little earthquakes most anywhere," Blakeman said. "The general movement of plates creates stress even internally in the plates."
That stress releases as a low magnitude quake.
Blakeman said most of the natural earthquakes we see are caused by the same thing.
According to USGS, the majority of North America east of the Rocky Mountains experience infrequent earthquakes, and few are linked to mapped geologic faults.
Blakeman said Arkansas sits on an ancient plate boundary, but not a current one.
Two other earthquakes happened Monday as well. There was a 2.2 magnitude earthquake 3.66 miles south of Manila, Arkansas around 8:40 a.m. and a 2.7 magnitude earthquake at 4.43 miles west of Parma, Missouri at 1.26 a.m., according to the University of Memphis Center for Earthquake Research and Information.
Sponsor Content
Comments