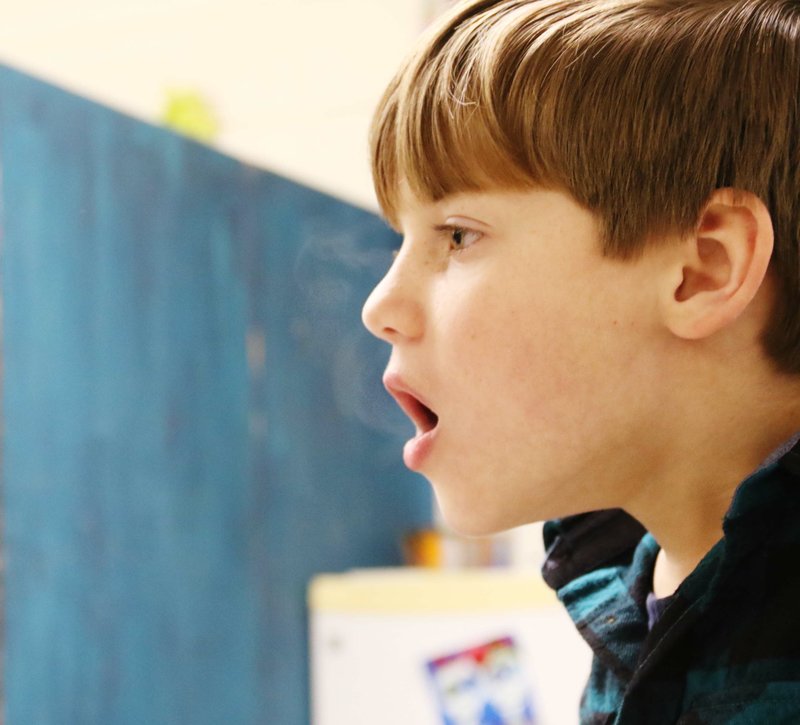 Chanler Rogers, a 3rd grader at Yocum Elementary School and a student with the Gifted and Talented program, releases vapor from his mouth Feb. 11. Students from across the district are tested for the program in 1st grade. - Photo by Siandhara Bonnet
Chanler Rogers is a dragon.
Those who doubt him will be amazed as the third grader compresses air in his mouth and blows out "smoke."
"At first I didn't think it was real, but I didn't give up," Rogers said.
It turns out everyone is capable of this as long as they have a tongue and functioning lungs, according to Business Insider, but this is one of many things Rogers has become interested in and figured out how to do on his own. This desire for knowledge and self-motivation to find it is one of the many characteristics those in the Gifted and Talented program possess.
In October 2019, Gov. Asa Hutchinson proclaimed the last week of February Gifted and Talented Awareness Week, which is Feb. 24-28.
In 1979, the Arkansas General Assembly passed an act that established the Office for the Gifted & Talented and Advanced Placement, which made it so all students who are seen as gifted and talented in Arkansas should have the right to an appropriate education, according to the state Department of Education.
Students seen as gifted and talented are "those of high potential ability, whose learning characteristics and educational needs require qualitatively differentiated educational experiences and/or services," according to the El Dorado Gifted and Talented Program.
Beth Jones, current Gifted and Talented Program coordinator for the El Dorado School District, said the program began at South Side, which was a magnet school. That's also where she began teaching in the program in 2003.
"I notice that my heart is more toward students that think differently, and I appreciate that," Jones said. "I find it a challenge when a student knows more than me, like them teaching me — I learn a lot from them."
Jones said the district does student enrichment by going into the classrooms in kindergarten and first grade for 30 minutes a week. Enrichment includes activities that "add or go beyond the existing curriculum," according to the program website.
After all first graders are tested and evaluated, students who show criteria for the Gifted and Talented Program are tested further, with permission from parents or guardians.
After teachers within the district blind-score students' tests, students are admitted to the program, although parents/guardians must give permission for students to participate.
"We hope that we catch them and keep them challenged the whole time," Jones said. "It's hard, but we do try for sure."
After the first grade, all students not in the program are able to be nominated for it throughout the year by anyone. However, students can only be tested once a school year, according to the program's website.
Students seen as gifted and talented should show a general ability, which includes high levels of abstract thinking, verbal and numerical reasoning, ability to adapt in an external environment; specific ability, which includes application of general abilities as well as capacity to acquire and use of formal knowledge, tacit knowledge, technique, logistics and strategy; task commitment and creativity, according to the website.
Jones said once students are in the program, second- through fourth-grade students get pulled out of their classes once a week and bussed to Retta Brown Elementary School, which houses the GT Program. They then return to their home elementary schools around 2:15. Fifth and sixth graders get pulled once a month, but also take pre-advanced placement classes. Seventh through 12th graders are able to take pre-AP, AP and concurrent credit courses.
Jones said students in the program focus on "scope and sequence," which include critical and creative thinking skills, research skills, social and emotional development and more.
She said students also get to pick a class that they're interested in, which focuses on research, critical and creative thinking skills.
Rogers said a lot of his friends want to join the program and that he's not usually bored when he goes to Retta Brown.
He also said the program has changed a lot of what he used to think about — instead of wanting to be an architect, he may want to become a YouTuber, which is where he finds topics he likes to research.
"If it appeals to me a lot, then I'm going to learn till I get it, work till I get that skill down," Rogers said. "I don't give up, even if there's no way I can figure it out, I'm not going to give up until I figure out if it's fake or true. If it's true, I'm going to keep going until I learn it."
He said his favorite things to do in the program are the puzzles, math and the nutrition classes.
The reason he likes going to the program, though, is because he gets to learn different things all the time and they don't spend a large chunk of time going over the same lesson.
Jones said it's not only cultivating students' skills that make the program important, but fostering a community for like-minded peers as well.
"In the past, we've had students that, I would say, were very advanced at their school and weren't necessarily challenged by anyone, but when you put them with kids around the district, that can kind of push their thinking, that they're just as capable of thinking just as deep," Jones said. "They start to see themselves as, 'I need to up my game, I need to challenge.'"
Jones said she sees a lot of growth in her students, and that Brooke Bonsall, a teacher in the program, reminds her students that "you don't come to GT for easy."
"We move beyond that," Jones said. "They already have these interests, we just help them channel it, we're just guiding it."
Gifted & Talented Program
Nominations for the program are accepted all year long and can come from anyone (teacher, parent, grandparent, etc.). Nominations for spring testing will be accepted through Friday, Feb. 28.
Sponsor Content
Comments