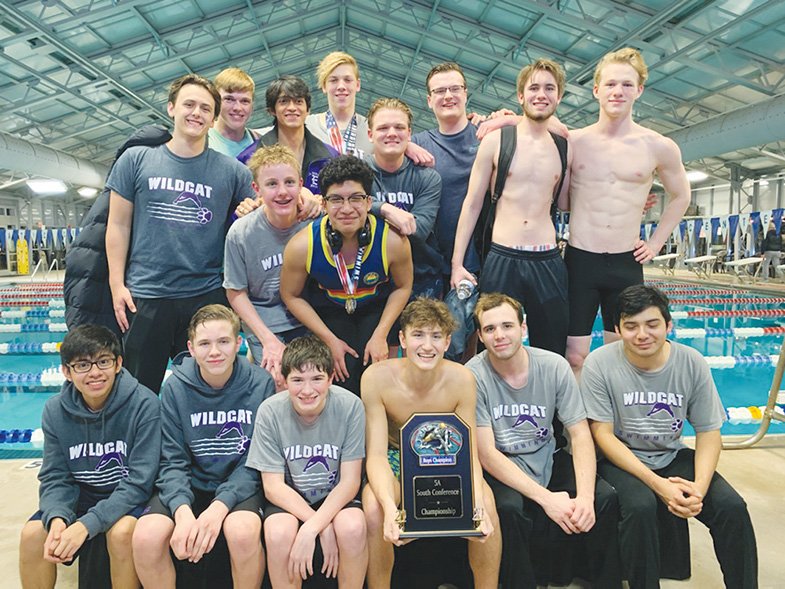 Contributed Photo El Dorado's boys swim team poses with the trophy after winning the 5A South title earlier this week. El Dorado finished with 436 points to knock off Lake Hamilton and Benton.
El Dorado's boys' swim team captured the 5A-South championship on Tuesday, outlasting Lake Hamilton in the conference meet. The Wildcats scored 436 to beat Lake Hamilton (374) and Benton (292).
The Lady Wildcats claimed third place with 254, placing behind Benton (453.5) and Hot Springs Lakeside (367.5).
First-year coach Courtney McDiarmid Canady said the Wildcats' championship pushes the program another step in a positive direction.
"It means the world to the program. This season has inspired not only our own swimmers, but hopefully upcoming ones. Many of our athletes came into the program with very little to no competitive swimming background. It was a learning process. Having our returning swimmers to help hold each other accountable helped us reach many PRs," Canady said.
"Winning the conference championship is evidence that our hard work paid off. Our swim team has united as a family and we believe that this has been a major key to our success as well. Our swim team success wasn't done alone.
"We've had many parents, coaches, and friends help along the way and we're very appreciative of them."
Everett Gati led the Wildcats, taking second in the 100 butterfly and third in the 100 breaststroke.
Payton Allman was second in the 100 freestyle and Luke Utsch finished third in the 100 butterfly.
Aleck Ramirez, Utsch, Gati and Allman teamed up to win the 200 freestyle relay.
Abigail Thompson led El Dorado's girls, winning the 50 freestyle and taking second in the 100 breaststroke. Jana Powell was second in the 200 freestyle.
Adrianna Arnold was second in the 100 butterfly and second in the 500 freestyle. Rachel Murphree was third in the 200 individual medley and third in the 100 butterfly.
Murphree, Powell, Thompson and Arnold finished first in the 400 freestyle relay.
Sponsor Content
Comments