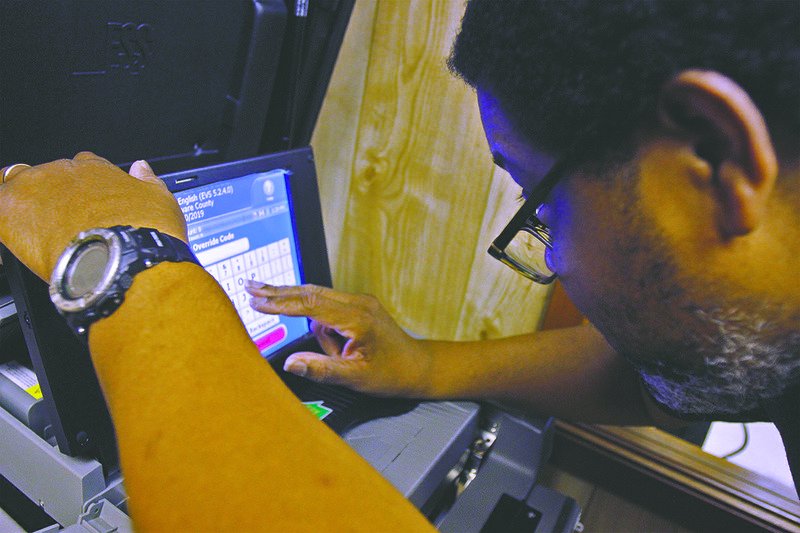 installation: Election Systems Software Senior Field Service Technician Julian Hendrickson completes the installation of a new DS2000 tabulator last year for Union County.
Union County voters will decide several local races during next month's primaries, but can start voting as early as next week.
Early voting begins Tuesday at the Union County Clerk's Office, and Election Commission Chairperson Janelle Williams said voters will be able to vote between 8 a.m. and 6 p.m. during the week and 10 a.m. - 4 p.m. Saturday through 5 p.m. March 2.
This year, voters will be able to vote anywhere in the county at new voting centers.
"With it being voting centers, the people that turn out may be different," Williams said. "You may have some that didn't get a chance to vote and now they get a chance so they can come out. That may make a difference in our voter turnout."
According to Alice Lowery in the county clerk's office, after primary voting registration was over, the county has 14,853 active voters and 12,437 inactive voters. That totals 27,290 citizens registered to vote in the county — according to the 2017 U.S. Census, there are 39,449 people in the county.
Lowery said if inactive voters don't vote this year, they'll likely have to re-register.
"Any election is important," Williams said. "We were given that right a long time ago."
A position on the Union County Quorum Court, an El Dorado City Council seat and one in Strong's municipal government will be decided in the preferential primary March 3.
Former El Dorado Mayor Frank Hash will go up against incumbent Ward 1, Position 2 Councilmember Billy Blann in the Republican primaries for the city council seat, and Donnie Crawford will challenge incumbent District 9 Justice of the Peace William Crowder.
Democrats Latasha Gatlin and incumbent Allison Howell will face off for Strong's Recorder/Treasurer position.
Keidra Burrell and Garry L. Smith will compete for the Democratic ballot to face incumbent state Sen. Trent Garner in November.
All absentee ballots are due Feb. 25 by fax or mail to the county clerk's office. They will be opened election day, March 3, at 10 a.m.
Voting on Election Day voting will begin at 7:30 a.m. and last until 7:30 p.m. There are 19 voting centers throughout the county and are located at the following places for the precinct:
Aurelle, New London, Strong - Strong Community Center at 9400 Strong, Hwy in Strong
Country Box 1, Country Box 7, Hibanks - South Arkansas Community College - East Campus at 3696 E Main in El Dorado
Country Box 2, Caledonia - Mt. Union Baptist Church at 653 Mt. Union Rd in El Dorado
Country Box 3 - Parkers Chapel First Baptist Church at 2975 Haynesville Hwy in El Dorado
Country Box 4, Country Box 6 - Wyatt Baptist Church at 4621 West Hillsboro in El Dorado
Calion - Calion Community Center at 159 North Hoover in Calion
El Dorado Ward 1 - Union County Fairgrounds Activities Building at 1432 E 19th St in El Dorado
El Dorado Ward 2 - Hillsboro Street Church of Christ at 1322 W Hillsboro in El Dorado
El Dorado Ward 3 - St. James Baptist Church at 608 S Martin Luther King Blvd. in El Dorado
El Dorado Ward 4 - El Dorado Municipal Auditorium at 100 West 8th in El Dorado
Felsenthal - Felsenthal City Hall at 1000 South Third in Huttig
Huttig - Huttig Community Center at 501 Frost Street in Huttig
Junction City - Junction City City Hall at 200 North Main in Junction City
Lawson - Lawson Fire Department at 140 McCall St in Lawson
Mt. Holly, Lisbon, Wolley's Store - Mt. Holly Community Church at 2935 Stephens Hwy in Mt. Holly
Norphlet - Norphlet City Hall at 101 E. Padgett in Norphlet
Smackover - First United Methodist Church at 500 W 5th in Smackover
Three Creeks, Wesson - Three Creeks Baptist Church at 8914 Haynesville Hwy in Junction City
Union - Union Baptist Church at 144 Crain City Rd in El Dorado
Sample ballots can be found in the Union County Clerk's Office.
Although many of the presidential candidates have dropped out of the race, election ballot positions include:
U.S. president - Democrat
Position 1 - Cory Booker
Position 2 - Michael R. Bloomberg
Position 3 - Joe Sestak
Position 4 - Julian Castro
Position 5 - Tulsi Gabbard
Position 6 - Marianne Williamson
Position 7 - Michael Bennet
Position 8 - Andrew Yang
Position 9 - Steve Bullock
Position 10 - Tom Steyer
Position 11 - John K. Delaney
Position 12 - Pete Buttigieg
Position 13 - Bernie Sanders
Position 14 - Kamala Harris
Position 15 - Elizabeth Warren
Position 16 - Amy Klobuchar
Position 17 - Mosie Boyd
Position 18 - Joseph R. Biden
U.S. president - Republican
Position 1 - Bill Weld
Position 2 - Donald J. Trump
Position 3 - Roque 'Rocky' De La Fuente
State Senate - District 27 - Democrat
Position 1 - Keidra Burrell
Position 2 - Gary L. Smith
State Supreme Court Associate Justice Position 4 - Non-Partisan Judicial
Position 1 - Barbara Womack Webb
Position 2 - Judge Morgan "Chip" Welch
Court of Appeals Associate Judge - District 05
Position 1 - James McMenis
Position 2 - Court of Appeals Judge Mark Klappenbach
Union County Quorum Court
District #8
Position 1 - Donnie Crawford
Position 2 - William Crowder
El Dorado City Council
Ward 1/Position 2
Position 1 - Billy E. Blann
Position - Frank Hash
City of Strong
Recorder/Treasurer
Position 1 - Allison A. Howell
Position 2 - Latosha Gatson
El Dorado School District #15
Zone 2
Position 1 - Kenneth V. Clemons
Position 2 - Joseph Jay Burnoff
Zone 4
Position 1 - Keith Smith
Position 2 - Shaneil Yarbrough
Sponsor Content
Comments