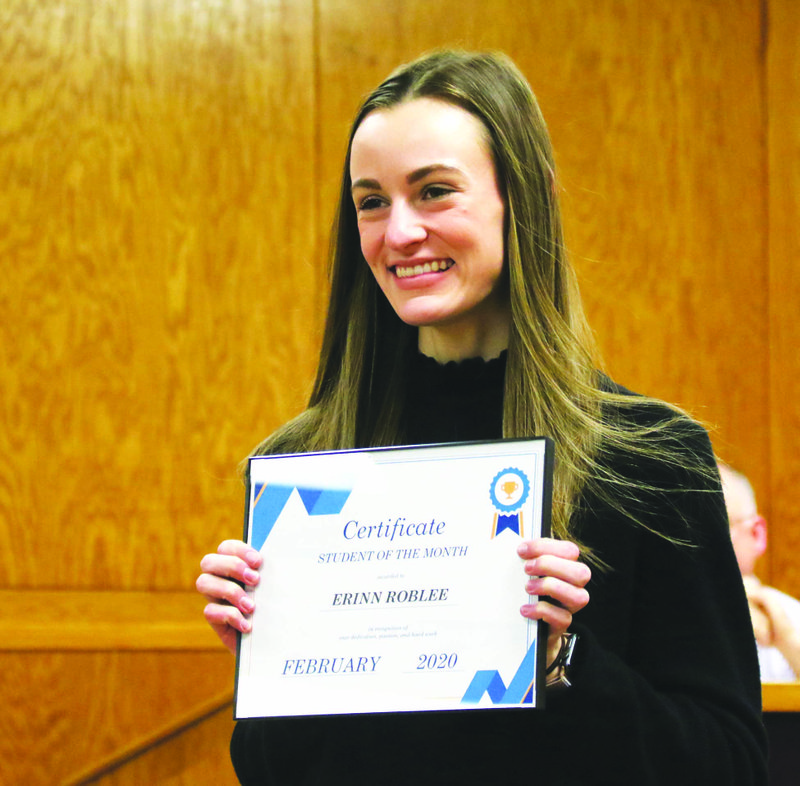 Recognition: The El Dorado School Board recognized Student of the Month Erinn Roblee of El Dorado High School at its recent meeting. - Photo by Siandhara Bonnet
Calendars, bond restructuring and a women's restroom were all approved items on the El Dorado School Board's meeting Feb. 10.
The board unanimously approved all items, including a its monthly bills and meeting minutes from January and Feb. 4. It also heard presentations from El Dorado High School principal Sherry Hill and Anthony Farris-King of the El Dorado Boys and Girls Club, who presented some El Dorado schools with a plaque honoring them for being part of the BGC community.
During the meeting, Jason Holsclaw with Stephens, Inc., asked the board to consider restructuring bonds from 2012.
Holsclaw said the bond interest rate is currently 3.5% and estimates that current rates will continue to fall. He said if rates continue to fall, the interest rate would go down to 2.2% and the district would save about $1.1 million in the first two years. However, there is no guarantee the interest rate would be 2.2% and that it's dependent on the economy and other outside factors.
The board also heard from Hinton Foster, a teacher at EHS and member of the calendar committee. He said a majority vote decided on calendar A for the 2020-2021 school year, which would have school start in mid-August and end in May rather than June.
During the meeting, Erinn Roblee, Darlene Williams and Lauren Cross were honored as student, classified employee and teacher of the month, respectively, from EHS. Christina Hostetter of Murmil Educational Center was also honored as teacher of the month, but was unable to accept her award at the meeting.
Blake Dunn with CADM Architecture presented a plan to remodel the women's restroom on the west side of the grandstand at Memorial Stadium. It includes 14 toilet stalls, new sinks and about 720 square feet of additional space. The board unanimously approved the plan and will accept bids in the following months after reviewing agencies approve the plan. Dunn said the remodel is estimated to cost $122,590.
For more information, read the News-Times article, "Women's bathroom at Memorial Stadium to undergo remodel," from the Wednesday edition.
Sponsor Content
Comments