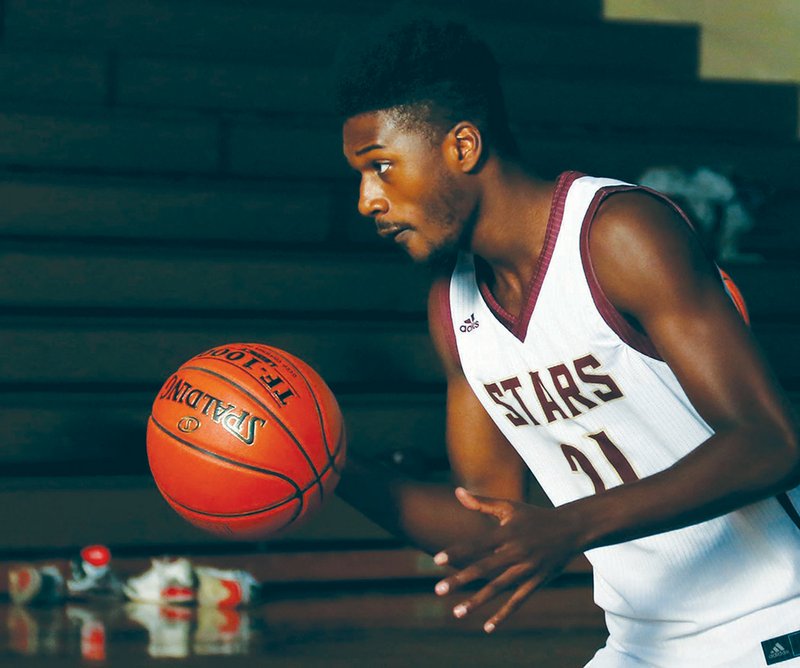 Siandhara Bonnet/News-Times South Arkansas Community College freshman Jaylon Brown looks toward the net during a drill before Meet the Stars. Brown was one of six players in double figures as the Stars downed East Texas Baptist JV 93-70 on Monday. The Stars will host Loyalty Prep on Saturday at 2 p.m.
South Arkansas Community College placed six players in double figures, as the Stars snapped a three-game losing streak with a 93-70 win over East Texas Baptist JV on Monday.
Jerrodney Tubbs had 19 points for the Stars, who won for the first time since beating Arkansas-Cossatot Community College 89-82 back on Jan. 25.
Tubbs, who was 9-of-13 from the floor in Monday's win, had 27 points and 16 rebounds in the Stars' win over the Colts last month.
The Stars (5-12) swept the two games with East Texas Baptist JV thanks to an 84-78 win on Nov. 11 that was their first win of the season.
Jaquan Jenkins had 16 points for the Stars, who sank 11 3-pointers in the win with the freshman going 2-of-4 from beyond the arc.
Jenkins also had 23 points for the Stars in last Thursday's 75-70 overtime loss to Arkansas Baptist.
Markeveon Strickland had 13 points, while Jaylon Brown was next with 12 points.
Mason Lockhart had 11 points and Zeb Trantham finished with 10 points in the win for the Stars.
South Arkansas Community College will be back in action on Saturday when they host Loyalty Prep.
Game time is set for 2 p.m.
Sponsor Content
Comments