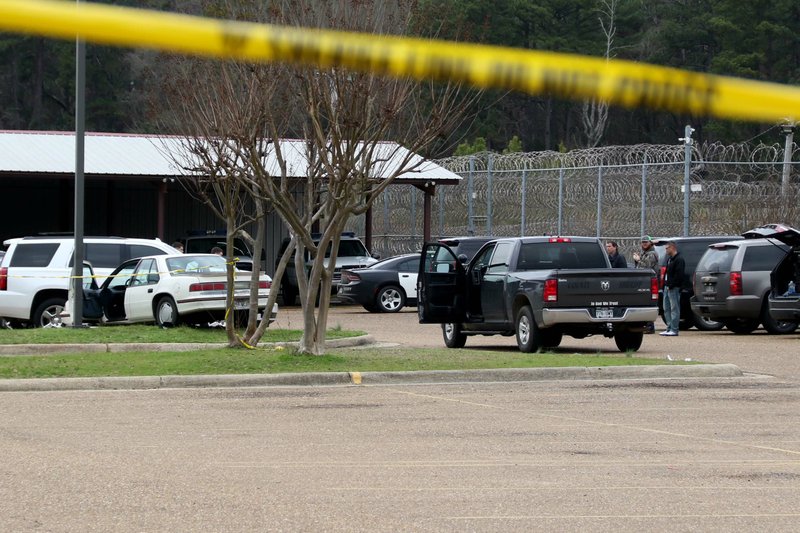 Officers with the Union County Sheriff's Office wait in the parking lot for Arkansas State Police to arrive following a shooting Feb. 7. The suspect, who was shot in the arm by a Union County Sheriff's Office deputy, was transported to the Medical Center of South Arkansas where he was treated and released into USCO's custody. - Photo by Siandhara Bonnet
An officer-involved shooting that took place at the Union County Sheriff's Office this morning is currently under investigation by the UCSO and Arkansas State Police.
"It's been one of those mornings, sure enough," Union County Sheriff Ricky Roberts said.
Roberts said this morning, an older man from the area sat in his vehicle and issued threats to the UCSO, saying he planned to come inside the facility and shoot all the officers inside.
Roberts said that when officers from the UCSO approached the man, who was still in the UCSO parking lot at that time, the man gassed his vehicle, driving toward the approaching officers and striking Chief Deputy Charlie Phillips.
The man continued driving towards officers, Roberts said, so deputies shot at him, striking him in the arm and causing him to crash into a UCSO employee's vehicle that was in the parking lot.
Roberts declined to release the name of the man who was shot, but said he has already received treatment and is back in the custody of the UCSO at this time.
"We've notified our jail staff and our nurse and they're aware and we'll give him proper care as long as he's in our facility," Roberts said.
Roberts also declined to name the officers that fired rounds at the man, but said that multiple deputies have been placed on paid administrative leave as the investigation continues. He said they worked in the Criminal Investigation Division.
"Most of the time when you have an officer-involved shooting you place them on administrative leave and that's something we'll have to look at," Roberts said. "We have other investigations going on, such as the homicide, and our resources are limited out here so we'll get it to the prosecutor as soon as possible. … Everything that went down, we'll turn it over to the prosecutor to find out if the officer was justified in shooting at the vehicle."
The UCSO will conduct an internal investigation of the deputies' actions, and the ASP will conduct a simultaneous investigation.
"We turn it over to them every time there's a shooting that's officer-involved where there's injuries," Roberts said. "It's good to turn it over to another agency, get another set of eyes on it to make sure our officer followed policy and guidelines."
Arkansas State Police Public Information Officer Bill Sadler said case agents from the ASP will investigate the shooting through reviewing physical evidence, conducting interviews and examining any other relevant materials. The materials gathered in their investigation will be turned over to our local prosecutor, Jeffery Rogers, who will determine whether the deputies' use of force was consistent with Arkansas law.
"That's way down the road," Sadler said. He said he will circulate a press release about the investigation with more concrete details when he has heard from the case agent investigating.
Roberts said the man claimed UCSO officers had arrested his girlfriend; however, Roberts said he doesn't know the man's girlfriend and no one by the name the man gave was in custody this morning.
Phillips, who was struck by the man's vehicle, remained on scene to speak with ASP investigators, Roberts said. Phillips said in a text message later yesterday afternoon that he was "sore but ok."
Roberts said he is glad that no injuries sustained in the incident appear to be life-threatening.
"It could have been a lot worse," he said. "I was one of the ones walking up to him when he was just sitting in the parking lot and it just happened so quick and I'm just glad none of the officers were hurt. It could've been a lot worse than it was and I'm even thankful that the suspect was not hurt worse than he was. When the lives of these officers are in danger, you're putting yourself in danger as far as what the outcome is going to be."
Roberts said he feels his deputies acted professionally in their handling of the incident.
"Our deputies acted professionally even after the vehicle was stopped. We immediately turned our attention to his injuries and they conducted themselves very professionally," he said. "In this instance, their training kicked in."
This is a developing story. The News-Times will continue to update as new information becomes available.
Caitlan Butler can be reached at 870-862-6611 or [email protected]
Sponsor Content
Comments