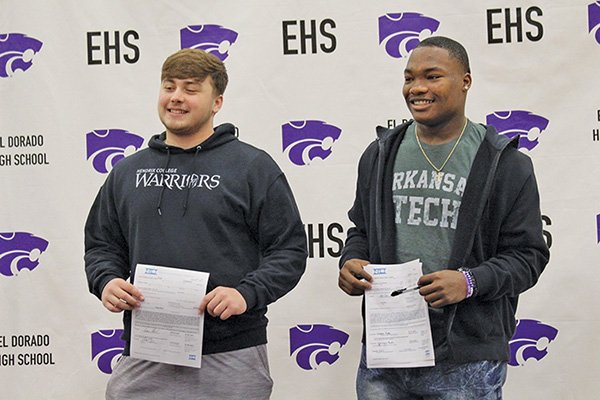 Contributed Photo El Dorado's Cameron Deal (left) and Carmerius Rucks (right) pose after finalizing their college choices Wednesday. A guard, Deal will be attending Hendrix College, while Rucks, a linebacker, signed to play at Arkansas Tech.
El Dorado's senior class has two more members that will be continuing their careers in college.
Carmerius Rucks and Cameron Deal signed with Arkansas Tech and Hendrix College respectively on Wednesday.
The duo's signings follow after Dalton Perdue signed with SMU back in November.
"We're excited to send guys out," El Dorado coach Steven Jones said. "We want to continue to do that in the years to come. We're proud that we have guys leaving El Dorado to go and get not only a chance to play college football, but to further their education.
"We're proud of them. They were leaders in our program. They're guys that we want the young guys to look up to and follow their lead."
A linebacker who was an All-Conference selection for the Wildcats, Rucks said he felt at home when he visited Arkansas Tech.
"I just liked the college, the people there, the coaches. They just made everybody feel at home," Rucks said. "The staff, the players who were there, it just felt like somewhere I could call home.
"They told me I would get a feel for college life in my freshman year, but they said if I get up there and give it all I've got, I'll play if I'm good enough."
A guard, Deal is El Dorado's second offensive lineman to get the opportunity to play collegiately.
"They're a great academic institution," Deal said. "I was blown away on my visit. The coaches all really liked me. I like being a leader. I'd like to go up there and make an impact on the team. I think it's the best option for me."
Jones believes the fit for Rucks and Arkansas Tech is ideal.
"He's a very intelligent football player," Jones said of Rucks. "He understands what's going on that side of the ball.
"He's very physical. He's really exactly what you look for in a linebacker, just the perfect build for that spot. He's a very physical player.
"He gets downhill very well. He rarely missed on a tackle. He's a pure tackler. He was a leader over there for us. He played hard every time the ball was snapped. He led by example, and the kids really rallied around his leadership qualities. Arkansas Tech is getting a really good player."
Jones said Deal's physicality up front will serve him well at Hendrix.
"Their staff reached out and touched base with Cameron," Jones said. "They brought him up for a visit, and he really liked the fit there. He told me that it felt like home, and he's excited to get up to Conway and play ball.
"He was our guy that we liked to pull with. He did a good job of getting to the other side of the ball when we would pull and being physical, downhill and run blocking.
"Cameron did a good job in our pass protection as well. Up front, he was kind of the emotional leader.
"He really tried to fire the guys up and get them to rally around his leadership. The thing that's great about Cameron is his motor.
"He's a very physical player. He's really trying to push people around when the ball is snapped. He did a good job for us offensively."
When asked if there was something he would like to improve on, Rucks said he wanted to be more talkative.
"I want to be more vocal on the field, communicate more and just get bigger and ready for the next level," Rucks said.
Rucks is also keeping busy thanks to throwing the discus on the Wildcats' track team.
"I'm still lifting twice a day," Rucks said. "The morning lift is more for football. At the end of the school day, I lift more for track. It helps with flexibility. It helps a lot."
Deal might have something of a head start when he arrives on campus due to the Warriors playing at a quick tempo much like Jones likes to with the Wildcats.
"They're more pro-style, up tempo. It helps a lot. I think he set us up to succeed," Deal said.
Deal added that it wasn't easy to make the transition to Jones' pace.
"It was definitely a challenge at first because we weren't in the shape we needed to be in," Deal said. "But we put in a lot of work and got to where we needed to be."
Although the Wildcats finished with a losing record, both Rucks and Deal said they enjoyed their senior years thanks to the camaraderie of the team.
"The season was okay. We had some good times. It was fun, and it made me better as a player and a leader," Rucks said. "I really enjoyed it."
Said Deal, "The record wasn't there, but we were all locked in. We had fun in practice. We were all hanging out and having fun. There was no bad blood. It was all good."
Rucks, who had 91 tackles, including four for a loss with two interceptions in 2019, said he wanted to be remembered for his work ethic.
"I want to be remembered as a hard worker and always motivated myself," Rucks said. "I just want everybody to feed off energy and have fun while they're doing whatever they're doing."
For Deal, it's about leadership.
"After (Scott) Reed left, everyone was down, everyone was mad," Deal said. "Us seniors had to step up and lead the way because we didn't have a coach at the time, so we had to step up and lead the way for the young guys.
"We just wanted to leave a legacy for them to show them that just because we didn't have anybody to lead, you can be a leader."
Sponsor Content
Comments