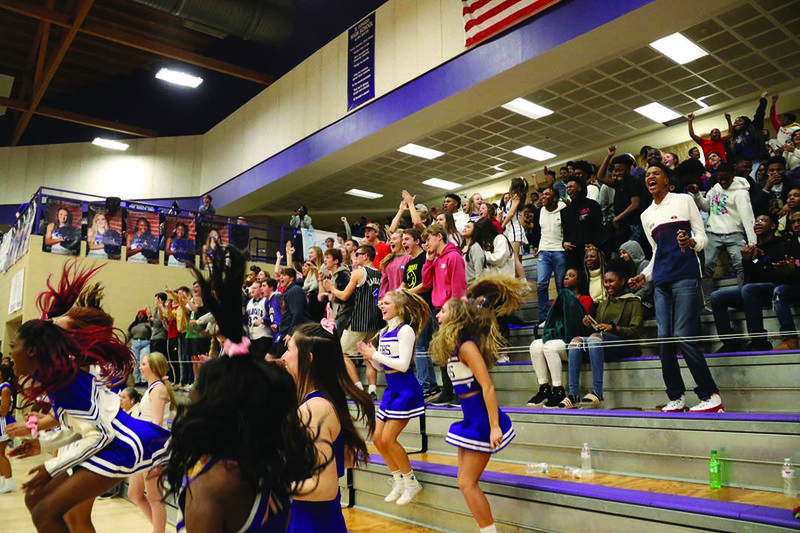 El Dorado's cheerleaders and Sixth Man crowd reacts after Jordan Tubbs hit the game-tying shot Friday against Sheridan. The Wildcats lost 56-53 Friday at Wildcat Arena. - Photo by Siandhara Bonnet
Sheridan's Tyler Cacciatori hit a 3-pointer with 1.2 seconds remaining to spoil El Dorado's comeback and lift the Yellowjackets to a 56-53 win Friday at Wildcat Arena. The Wildcats dropped to 6-13, 3-5. Sheridan improved to 12-6 overall and 5-2 in conference.
Sheridan claimed the varsity girls' game 66-50.
In the boys' game, the Wildcats trailed 49-38 with 5:29 left in the fourth quarter. Jarmel Love's free throw ignited a 10-0 run by El Dorado. Brendan Simmons hit back-to-back buckets in the lane before Isaiah Ramey curled off Love's screen and drained a 3-pointer. Jordan Tubbs scored with 2:49 remaining to cut the deficit to 49-48.
After Cacciatori and Ramey exchanged buckets, Jarius Adams cut backdoor for a lay-up to put the Yellowjackets up 53-50 with 1:12 left to play. Jamalzia Thompson hit a free for El Dorado, which forced a turnover to get the ball back. After a scramble, Tubbs scooped up the loose ball and drove for the tying basket with 21.1 seconds on the clock.
Sheridan called a timeout and ran a play for Cacciatori, who found himself open on the left wing. His shot was nothing but net with 1.2 left. The Wildcats called a timeout but had to go the length of the court. Ramey's fullcourt heave caromed off the backboard as time expired.
Cacciatori, a 6-5 senior, scored 25 points to pace Sheridan.
Ramey led El Dorado with 18 points while Tubbs scored 11. Thompson added nine, including seven in the first three minutes to help get the Wildcats off to a 9-0 start.
The Yellowjackets answered with a 17-4 run, capped by Cacciatori's 3-pointer early in the second. Sheridan went on to build a 26-16 halftime lead and held a 42-33 cushion going into the fourth.
Foul trouble haunted the Wildcats as Love picked up his third with 5:51 left in the second quarter and his fourth late in the third.
In the girls' game, the Lady Yellowjackets buzzed out to a 7-0 lead and never looked back. El Dorado kept it close, trailing 17-9 after one quarter and 36-25 at the half. The margin was 50-39 going into the fourth.
The Lady Wildcats got as close as nine, 56-47 on a bucket by Charalyn Rester with 4:16 left in the game. But Sheridan answered with baskets by Kaitlyn Howard and Lauren McGinley and controlled the clock with patient offense to seal the win.
Cassidy Henry led Sheridan (10-8, 5-2) with 21 points while Carley Strawn scored 13 and Howard 10.
Kalese Mosby hit four 3-pointers and led El Dorado (7-14, 3-4) with 16 points. LaDiamond Maker scored 11 and grabbed 11 rebounds.
Sponsor Content
Comments