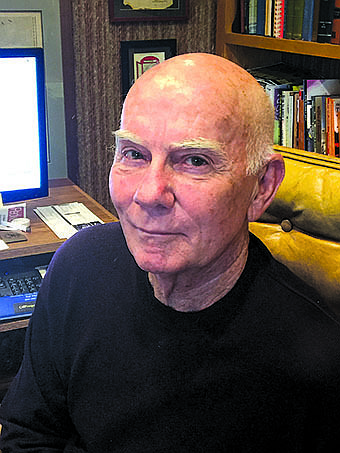 Tottering means wobbling back and forth, and a precipice is a place fraught with danger. The city of El Dorado "figuratively speaking" has found itself there.
For the next several weeks I will be writing about ways to improve our town in order to make it a top quality community, and where we can move away from the precipice.
No, we aren't a top quality town at the present. Oh, I would say we are certainly better than the average Arkansas town. Well, that's faint praise. Surely we wouldn't be satisfied with being in that category.
It seems to me that unless we make some serious changes, first in attitude, and then in actually doing the job of making our town a top community, we are in danger of falling from the precipice. If we don't make our city attractive, livable and a desirable place to live, we are going to fall. I am convinced that unless we make a series of positive changes in our town, we will see other major corporations leave along with several substantial families. The result will be devastating. El Dorado will lose substantial population and jobs in the decade ahead, and by the end of that exodus the population will barely be above 10,000 as the quality jobs disappear. That's the danger we face.
But it doesn't have to be that way. I see our town tottering on the precipice. We can pull together to improve our town and make it a top quality community, or we can do exactly what we are doing right now — nothing! If we don't make a unified effort to reverse several decades of neglect, we have a dismal future.
Because of the terrible effects of the pandemic, dozens of stores have closed in the city, and dozens more may board up during the first quarter of the year as the pandemic continues to rage. We have never been in a more critical situation in our community. If we do nothing, I see numerous stores closing, major property owners abandoning downtown and other shopping areas, Murphy USA having difficulty recruiting quality employees and moving to Houston or Dallas and MAD deciding to suspend additional work. That's what I see, if we don't work together to improve our community.
The Downtown Business Association, the City Government, the Police Department, County Government, Main Street, the city's major property owners, MAD and the Chamber of Commerce should act as one — a coordinated group to tackle the city's problems, with the attitude that any city or county problem or task that needs to be done in something every entity should be involved in. Only then will El Dorado pull out of the most drastic economic downturn since the Great Depression. Can we work together? Or will we continue on trying to preside over our little corner of the city and say "To hell with the rest of the town"?
So the first part of my series is to force us to look at the benefits of working together, with the attitude that a problem on Hillsboro or any other section of town is a problem for me no matter where I work or what my job is. That's a big bite to swallow, and I'm as guilty as the next person of thinking only about my corner of town.
We must think like NATO.
The undergirding principal of NATO is that an attack on any NATO country is an attack on all. If we would take that attitude about our town, that any problem in our city is a problem for all, we would be able to address and solve the toughest of our problems. However, that takes a lot of cooperation, which we haven't had in the past. Can we join together to solve these problems and come out of the pandemic, or will we look back at a time when we failed our community, and the results were horrific?
No, of course we aren't working as one today, and we haven't in my memory. It will be a difficult change to make when we think of trash on a city street as being trash on my street, or a problem at the Mall being a problem for downtown. If we can embrace that concept, then we can work together to pull up the entire city, without ignoring any part of town. Can we do it? I hope so.
The first part of pulling together is to get us through this pandemic, and that requires a focused effort to get every business the help from the federal and state governments that is available. That simply means we should form a task force to help employers apply for the various grants, and for that task force to recommend ways the City, County and Chamber of Commerce can help the hundreds of business which are suffering to get through this time of physical and economic stress.
If our small businesses don't survive, our town will be crippled for years to come.
This is an immediate crisis that is upon us and our failure to act has already had severe consequences. The absence of adequate funding of hundreds of our cities business is a symptom of our lack of coordination. We don't even know when or where we can get a vaccination for the COVID-19. Our first order of business, before we do anything else to improve the quality of life in our town, should be to work together to help all of our citizens survive the pandemic both physically and financially.
But let me be honest with you. From my working with all of the above noted entities, I can tell you right now, coordinating anything with a unified thrust, even the pandemic, which surely we could all work together to get through, will be an uphill battle. However, I believe we can work together, especially if we see the outcome as a positive increase in our quality of life.
If we continue exactly along the path we are now on, the consequences of our non-actions will negatively affect the quality of life for every resident of our community.
In the next segment of how to come down from the precipice, I am going to focus on actions and projects that are necessary… stay tuned.
Richard Mason is a registered professional geologist, downtown developer, former chairman of the Department of Environmental Quality Board of Commissioners, past president of the Arkansas Wildlife Federation, and syndicated columnist. Email [email protected]
Sponsor Content
Comments