Liz Bullock may not be a florist, but she has lived the dream of many florists twice in her lifetime.
This year she had her second opportunity to travel to Washington D.C. and decorate the White House for Christmas. There were about 7,000 applicants, but only 80 were selected this year due to COVID-19. Of the 80 who were selected, 10 were returning, including Bullock.
"I have had so many people ask, 'What's it like to work in the White House?' It's really hard to put into words because in that moment of working and decorating, I forget where I'm at and just want to make sure I do a good job," she said. "Each volunteer has their little projects they work on and at the end of the six days it all comes together and makes sense."
Bullock is a native of Magnolia and works as the librarian at Magnolia Middle School and is married to Paul Bullock, the pastor at College View Baptist Church. The couple have three children: Thad Bullock who lives in Little Rock; Callie Bullock, who moved to Washington, D.C. after visiting last year and loving it; and Drew Bullock who lives in Los Angeles, California.
While she has no formal training as a florist, she said she has a lot of experience, both good and bad. Her first job in high school was delivering flowers for the Magnolia Floral Shop on Verda Street and she loved it.
"I have always loved to decorate. In the late '80s I started decorating weddings for friends and family and it grew into a side business," Bullock said. "I decorate houses at Christmas time. This year I had 16 houses. In between all these weddings and Christmas houses, I graduated from Southern Arkansas University with a teaching degree."
Bullock's decorating adventure to the White House began during the week of Thanksgiving. She and her husband arrived on Sunday, Nov. 22 and on Monday, Nov. 23 she and other volunteers were in the lobby and given COVID tests. After they tested negative, they were given their aprons and team badges. Finally, volunteers boarded a bus to the off-site facility to prepare the decorations for the White House.
"We wore masks the entire time that we worked unless we were eating or drinking," Bullock said. "They were very strict about that."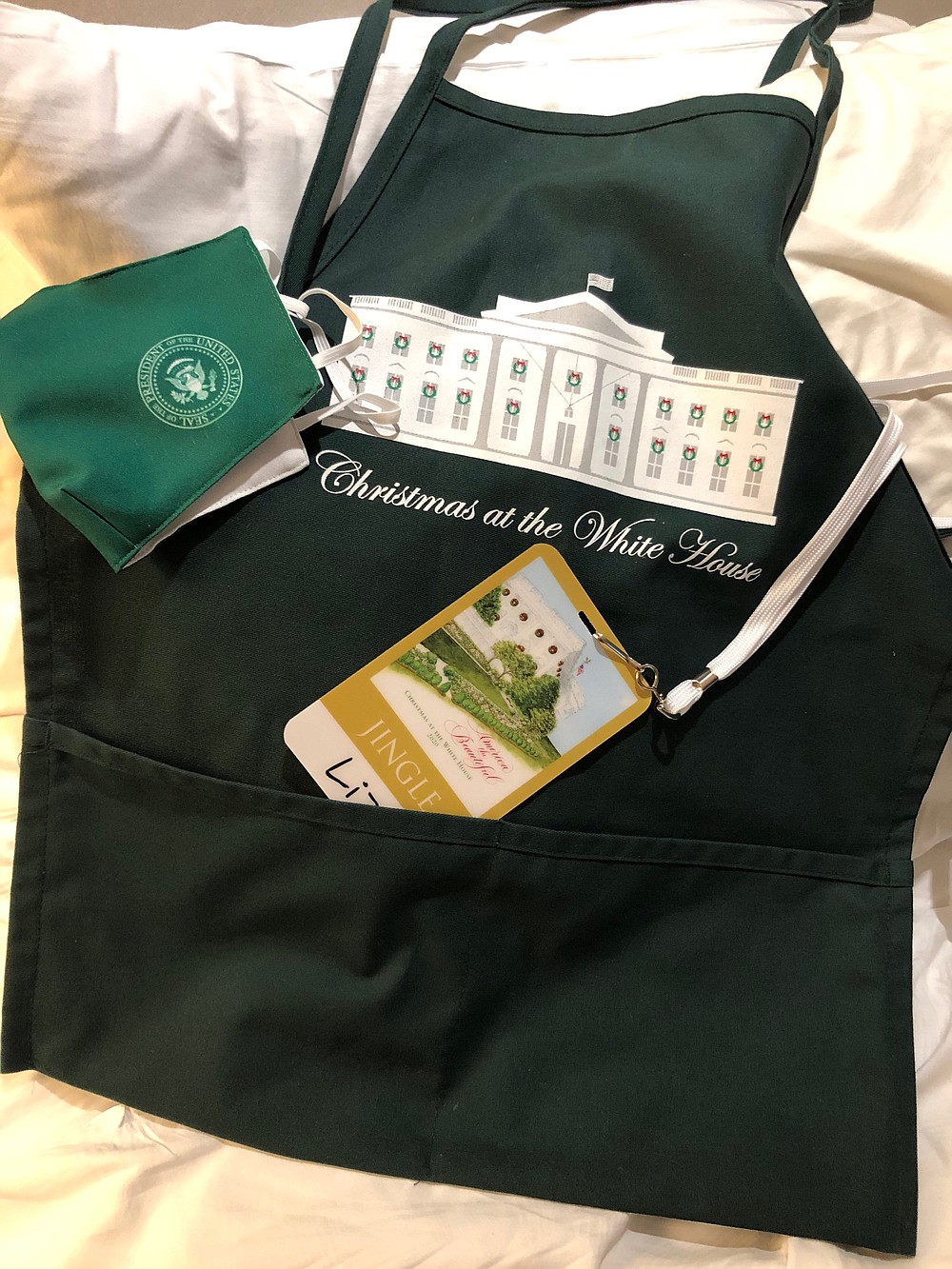 Liz Bullock's apron, group badge and mask that she used while decorating the White House for Christmas this year. (Contributed)
First Lady Melania Trump has staff and interns who are led by a professional designer and they develop a theme as far back as May, Bullock said. After the First Lady approves the design, the planning begins. This year's theme is "America the Beautiful," highlighting the different states and the character/personality that makes them unique.
"There are over 50 fresh trees that are lighted by volunteers and they have thousands of lights," she said. "There are boxes and boxes of ornaments that are recycled from year to year but given a fresh look with new ribbons."
From Monday through Wednesday, Bullock and friend Julie Walters of South Carolina worked on several wreaths that hang in the Red Room and Vermiel Room.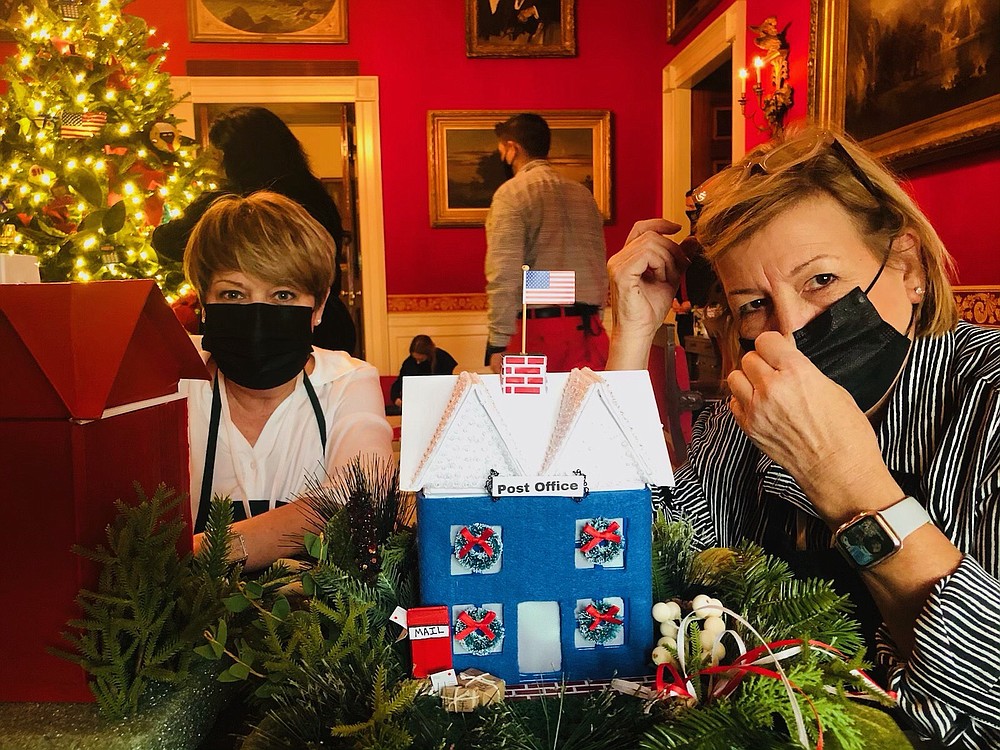 Julie Walters from South Carolina, left, sits with Liz Bullock, right, as they decorate the Red Room in the White House. This year the room was decorated to honor first responders and essential workers of 2020. (Contributed)
"The theme of the Red Room for the past four years has been the First Lady's 'Be Best' initiative focusing on children," Bullock said. "And this year it highlighted first responders and essential workers of 2020."
The Vermeil room is known as the First Lady's room because First Lady Jackie Kennedy renovated it and there are pieces of Vermeil gold that France donated to the White House a long time ago, Bullock said.
"This year the 2020 White House ornament is of John F. Kennedy, so the designer planned a theme around his love for the sea and nautical theme," she said about that room.
Another job she and her friend Waters had was to work with a designer to create large urn arrangements that represent a different region of the United States. For instance, the Southeast urn that represents Arkansas and other states in the region contained cattails, oak leaves, pine and Magnolia leaves.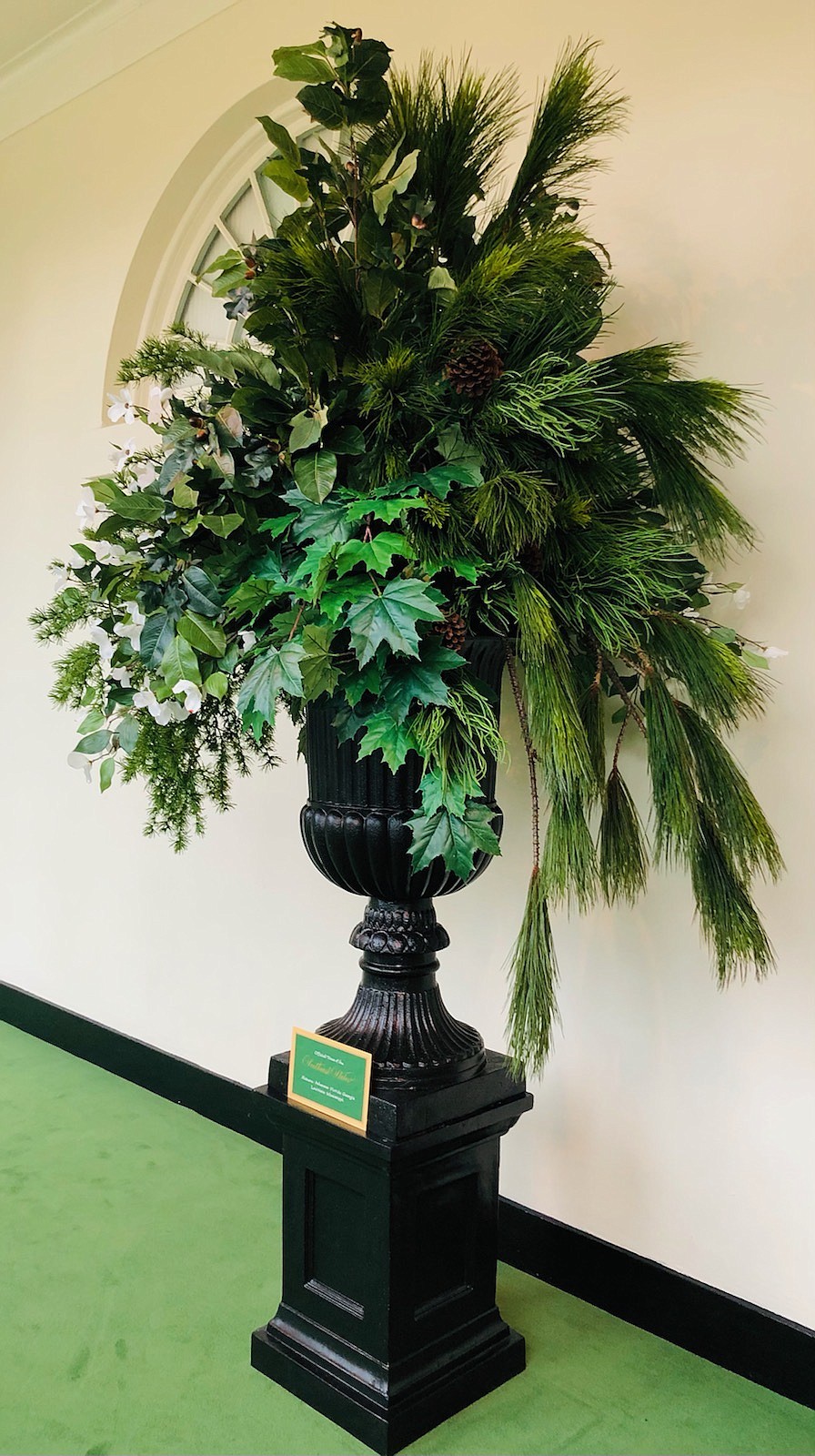 An urn representing Arkansas and other Southeastern states was one of the projects Liz Bullock worked on as a decorator at the White House. (Contributed)
On Friday and Saturday, Bullock and five other returning volunteers were selected to decorate the West Wing lobby, Vice President Mike Pence's office, the Chief of State's office and the Oval Office.
"This was truly and honor!" she said. "We worked alongside the three White House florists and they were so welcoming and down to earth."
Of all the experiences she had in Washington D.C., Bullock said the highlight of her trip was the tour of the White House flower shop.
"I know it sounds crazy after being in the Oval Office, but this was just the best," she said. "My dream job has always been to work as a florist at the White House so to be able to be there in the flower shop with the florists was surreal."
Bullock said she hopes to be selected for a third time next year to decorate the White House for Christmas.