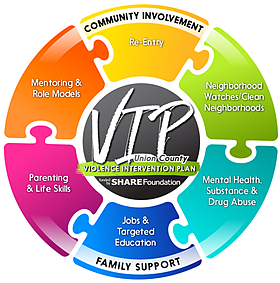 The community, and especially the neighborhood that a person recently released from prison lives in, is a key factor in whether that person will eventually return to prison. It is estimated that 80 to 95% of the Arkansas inmate population will eventually be released from prison. Recidivism is measured by criminal acts that result in re-arrest, reconviction or return to prison with or without a new sentence during a three-year period following the prisoner's release. Most inmates being released (76.6%) will wind up back in prison within five years, according to a National Institute of Justice study.
In 2018, SHARE Foundation, through its grants making program, spearheaded the implementation of The Union County Violence Intervention Plan (VIP) to make available a network of supports, opportunities and activities focused on best practice strategies for a community committed to changing the odds for individuals and families. Re-entry is one of the focus areas.
Also, in 2018, Governor Asa Hutchinson recognized obstacles those with criminal records faced when leaving incarceration. He created Restore Hope Arkansas to bridge the gap between government services and communities struggling to reduce the rate of incarceration, to facilitate a successful re-entry from incarceration to freedom, and to reduce the number of children entering our state's foster care system.
Utilizing a Crisis to Career model and collaborative case management system, Restore Hope Arkansas builds effective partnerships between agencies and community service providers. They have seen unprecedented success in Sebastian County. The number of children in foster care has decreased by 32% and the inmate population by 19%, thereby positively impacting the entire community. They currently operate in several counties across central Arkansas.
The Violence Intervention Plan does similar work to connect community and resources to those in need of services resulting in better outcomes for Union County. In order for Union County to improve recidivism rates, our most vulnerable must have knowledge of and access to services before, during and after incarceration. This includes resources like housing, transportation, employment, education, restoring relationships/families, addiction recovery and food stability, just to name a few.
According to Arkansas Community Foundation's Aspire Arkansas, in 2015, (the latest year national and state comparative data is available) the incarceration rate in Arkansas was up 26% since 2006, indicating one of the fastest growing incarceration rates across the United States. The average cost to house an inmate in a state facility is over $22,000 a year. These are expenses that could be curbed if recidivism was reduced.
Debbie Watts, VP of Community Impact for SHARE Foundation stated, "evidence-based initiatives with collaborative community involvement are successful and there is no reason Union County cannot experience the same success." Community Involvement is vital to improve community outcomes but it takes individuals, businesses, churches and government working together to make that happen. The needs are vast for "second-chance" employers and Ban the Box supporters for jobs and housing. Also in great demand are recovery coaches to connect men and women to those jobs, substance abuse counseling and education opportunities, including reinstating driver's licenses, and just helping them reach their God given potential.
As we work to reduce recidivism through the Union County VIP, please consider how we can collaborate with you and/or your organization to strengthen all our efforts. To be involved in Union County VIP re-entry efforts call Debbie Watts, SHARE Foundation VP of Community Impact for more information at (870) 881-9015 or email [email protected]
To view the Union County Violence Intervention Plan, go to https://sharefoundation.com/our-agencies/grants-vip/vip.html. To view the components of the Restore Hope Program visit https://www.restorehopear.org/
Sponsor Content
Comments