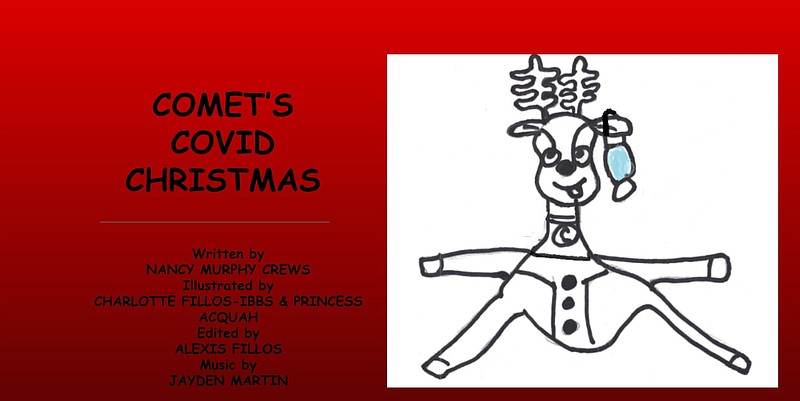 (Contributed)
The holiday season in 2020 will, one way or another, be an altered experience for most people.
Christmas is a time to gather and exchange gifts and memories, all activities that the threat of COVID-19 can derail.
The excitement of Christmas is especially important to children. Many kids, already likely enduring a modified school year, face a lonelier holiday season than they are accustomed to.
El Dorado native Nancy Crews realized this and, in collaboration with several Georgia students, put together a children's book called "Comet's Covid Christmas" to help children grasp the changed holiday atmosphere.
Crews grew up in El Dorado and graduated from EHS. She completed undergraduate work at Southern State, now Southern Arkansas University, in Magnolia before moving on to the University of Arkansas for a Master's Degree.
Crews taught children's literature at Southwest Missouri State University and is currently child and adolescent therapist at Read-Able Learning Clinic in Atlanta. She has resided in Atlanta for 25 years.
The "Comet" series of Christmas books is an ongoing series with four previous entries. With the rise and persistence of COVID-19, Crews decided that the latest project needed to center around the virus' ramifications on the holidays.
"I originally planned a different book for this year, but 2020 is all about the coronavirus. The virus is on children's minds because their lives are so upended. My youngest daughter has Down's Syndrome and she loves going to school. But she hasn't been going to school- she's been doing digital learning. So many students are dealing with hard things so, for this Christmas, [the book] should be about COVID," Crews said.
"Comet's Covid Christmas" centers around the changes to the Christmas routine faced by Santa and his helpers.
"It's about Santa and his clueless reindeer and their hilarious efforts to comply with how to be safe. For a lot of kids, it doesn't make sense. It's hard, it's a struggle," Crews said.
The purpose of the book, according to Crews, is to remind children that the spirit of Christmas still remains despite the many changes they may encounter.
"The whole goal of book is to, in a funny way, address the fears and struggles kids are having during COVID. Masks are not comfortable and there are students wearing them 8 or more hours per day… So basically, the book is meant to be a funny way of giving encouragement about COVID and reassurance that even though everything has changed, it's still Christmas and Santa will still come. We may gather differently, we may not travel, but we can still have a joyful holiday. It's an important message right now," Crews said.
In the process of writing the book, Crews decided to reach out to local Atlanta students to expand the scope of the project. She made a post on the Facebook page of a local high school and heard from three volunteers.
Three students contacted her - Charlotte Fillos-Ibbs, Princess Acquah and Jayden Martin - and soon became integral to the creation of the book.
According to Crews, she made sure to make the process collaborative and non-competitive to help give the students a lesson in the value of group work.
"It was hard; students are all about doing work themselves and getting graded for that work. This project tested and stressed cooperation. There was a lot of fitting things together. It wasn't a matter of choosing one person's work over another; it was more about putting it all together. It was a new experience, but that's what the adult world is all about. The more you put stuff out there and invite collaboration, the wider your net is," Crews said.
Two of the students, Fillos-Ibbs and Acquah, created all of the illustrations while Martin put together a hip-hop soundtrack to accompany the book. The next step in the project is the creation of a Youtube version of the book which will have Martin's songs added.
The students met with Crews twice per week during the creation process. The illustrators are not art students, Crews said, just students who "like to draw" and appreciated the idea of the project.
"It was totally cooperative. If one illustrator drew a reindeer, maybe we put it with the Santa from another picture. We were a group working together," Crews said.
Crews said that she hopes the book, and the story behind its creation, can act as beacons of positivity in difficult times.
"That's the story of Comet's COVID Christmas. It was a simple, cooperative, non-commercial project and I hope it's a good experience for anyone we share it with," she said.
The free digital book is available on the Read-Able Learning Clinic's Facebook page.
Sponsor Content
Comments