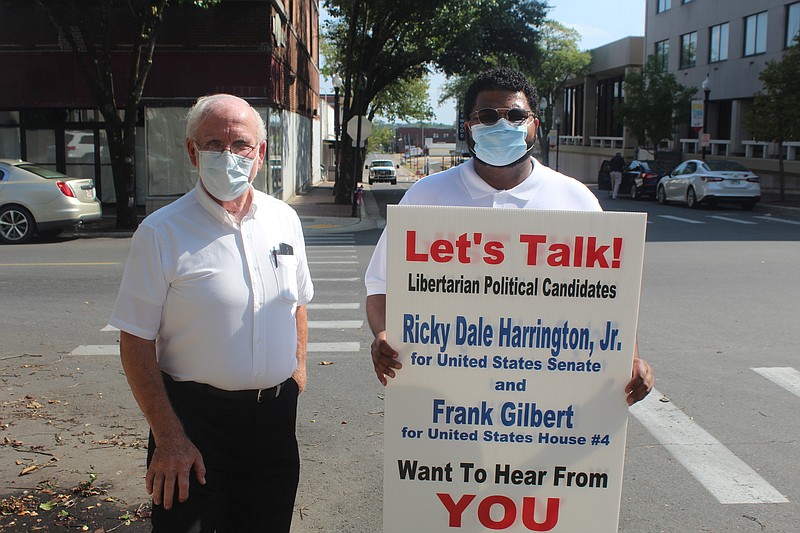 Libertarian candidates Frank Gilbert, left, running to represent Arkansas' 4th Congressional District in the United States House of Representatives, and Ricky Dale Harrington, Jr., running to represent Arkansas in the U.S. Senate, visited El Dorado Saturday for a 'Let's Talk' event. (Matt Hutcheson/News-Times)
Two Libertarian Party candidates visited El Dorado Saturday to spread the message about their campaigns.
The pair stood on the corner of Main Street not far from current Republican Senator Tom Cotton's El Dorado office, holding a sign reading "Let's Talk," and hoping to engage with Arkansas voters.
One of the candidates, Ricky Dale Harrington, Jr., has found himself standing alone against Cotton in the Senate race. The Democratic nominee, Josh Mahony, dropped out of the race just a few hours after the state filing period, citing "family health concerns."
Harrington said he was in El Dorado to meet with voters and remind them that the race is not a foregone conclusion.
"The spotlight has come on me now, but for awhile people were saying that [Senator Cotton] is running unopposed. Now, after seeing some of the things he's said, you can see he's running against someone who could be Arkansas' first African-American Senator. I'm trying to show people they already have everything they need to make a change and put someone into office who will represent them rather than corporate interests or special interests," Harrington said.
Harrington said that one of his biggest campaign and policy focal points is criminal justice reform.
"Mr. Cotton has said that the United States does not have an over-incarceration problem, it has an under-incarceration problem. [The U.S.] have 25% of the world's prison population. I've been a prison chaplain and worked in the Arkansas Dept. Of Corrections, and I've seen the ailments of the prison system, we do indeed have an over-incarceration problem," Harrington.
Frank Gilbert, the Libertarian Party candidate for the state's 4th Congressional District in the U.S. House of Representatives, accompanied Harrington at the campaign stop.
Gilbert will represent his party in its more common iteration as a third party, facing both incumbent Republican Congressman Bruce Westerman and Democratic nominee William Hanson.
"It's a tough race, but I'm out here doing evangelism, spreading the message and talking to folks. Both the incumbent and the Democratic nominee are fine gentlemen and would make great representatives for the people of Arkansas. But they are both encumbered by the parties they belong to, and their chances for winning both derive from their party's fund-raising ability," Gilbert said.
Both of these races will be decided in the general election on November 3.
Sponsor Content
Comments