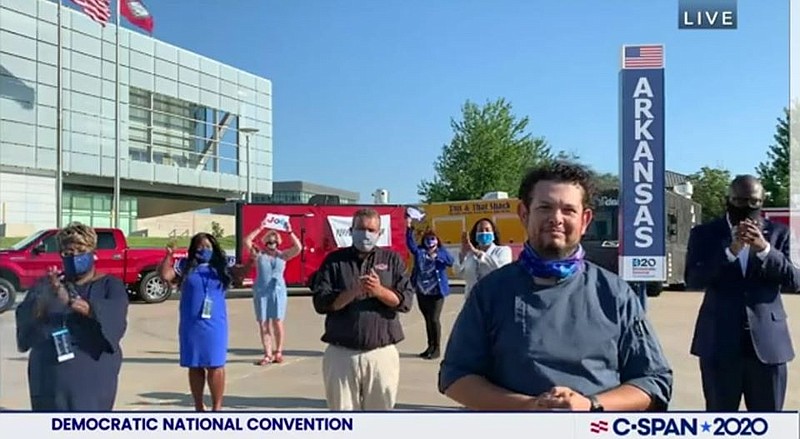 Norphlet resident Wanda Young participated in the roll call vote at the Democratic National Committee. She can be seen with other delegates from around the state in a video produced by the state Democratic party. (Contributed)
A Norphlet resident was elected in May to serve as a delegate to the Democratic National Convention, which was held throughout the past week in a virtual format.
Wanda Young, chair of the Union County Democratic Committee, as well as a member of the state Democratic Committee and a candidate for Norphlet City Council running against incumbent Independent Joel Dykes, said her vote to nominate Joe Biden to be the national party's presidential candidate was cast by August 5. The Convention began Monday and continued throughout the week.
"It's very different this year from ever before, of course," Young said. "When they had the (delegate election) meeting in May, I found out I had won (in the first round selection). I was one of five from the Fourth (Congressional) District."
When she was elected by her peers in the state Democratic party in May, Young said there still remained hope that they may get to attend an in-person convention.
"They had moved it from July to August, so we were thinking … if the summer and the heat does quell the virus, maybe we'd get to go. We started making plans to go; my husband took a week off on vacation, I took a week off," Young said. "Finally they called it and said we won't be able to attend in-person, and the party immediately started working behind the scenes to prepare for that."
Young pledged prior to being elected to be a Biden delegate, and before to the Convention, she was contacted by Biden's campaign to be a co-whip for his campaign with Arkansas State Rep. Jamie Scott.
"So you can actually vote for whoever you want to, even pledged delegates. Whips kind of whip up support for their candidate," Young explained. "They would usually do this at the physical Convention, go to the delegates and ask them to vote for their candidate and whip up support. … We took the delegates for the entire state and split them between us. I started a texting thing, I texted and emailed everyone to make sure they were getting their vote in. It was vital to get all the votes in by August 15."
The Friday before the Convention, a representative from the state Democratic party contacted Young to ask if she'd like to participate in the Convention's roll call vote. Since the Convention was held virtually this year, delegates from all 50 states participated in the roll call vote with short videos submitted to the DNC.
Young rushed to get a quick-result COVID-19 test that day, and the next day, she headed to Little Rock where the video was shot.
"I'm extremely excited and honored to be a part of it. I'm likewise disappointed that we didn't get to do the physical part of it," Young said. "I'd do it all over again just to be a part of it."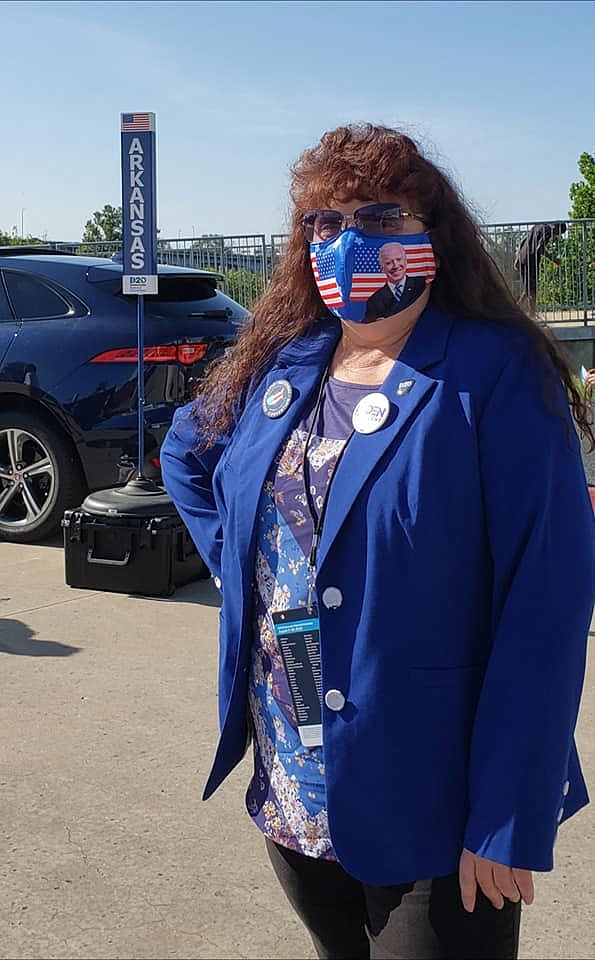 She said she was especially happy to see diversity represented in the delegates that participated in the roll call video.
"There were seven of us: Michael John Gray (Arkansas Democratic Party chairman), Little Rock Mayor Frank Scott, and the rest of us — it was all women. There were three women of color and us two white girls," Young said. "I just thought that was awesome. … It was a true picture of our representation in the state."
Throughout the Convention, Young participated in online conferences with Democrats around the country on ways to reach out to different voting blocs that the party hopes to bring into its coalition or increase voter turnout in.
"I just got through with the rural caucus meeting, we talked about how to reach out to people in the rural parts of our country that tend to not have as much information because they're limited in internet access," Young said in an interview with the News-Times Tuesday. "Before that, I had a meeting with the LGBTQ caucus; we talked about the needs of LGBTQ folks in the country, how we can support them and represent their needs. Yesterday I had a meeting wit the Hispanic caucus and outreach to them."
Biden was expected Wednesday to accept the nomination to be the Democratic candidate for President in the 2020 election Thursday; Sen. Kamala Harris (D-CA) accepted the nomination to be the Democrat's candidate for Vice President on Wednesday.
Nine of Arkansas' delegates to the DNC cast their votes for Sen. Bernie Sanders (I-VT), who met the state's voting threshold to receive delegates. The remaining 27 cast their votes for Biden.
Young said one thing that has stood out to her in the lead-up to the 2020 election is the role "regular people" are taking on in the party. She said she's also encouraged to see young people participating in politics, including Young Republicans.
"People are starting to understand that if you really want to have a voice in the way things are, they you've got to participate and take a position. Go to meetings, let your voice be heard," she said. "I really want people to know about these processes and not be intimidated by it; not be intimidated to participate in these things, and to know that you don't have to have a title outside your name and you don't have to have a whole lot of money. You can just be a regular person."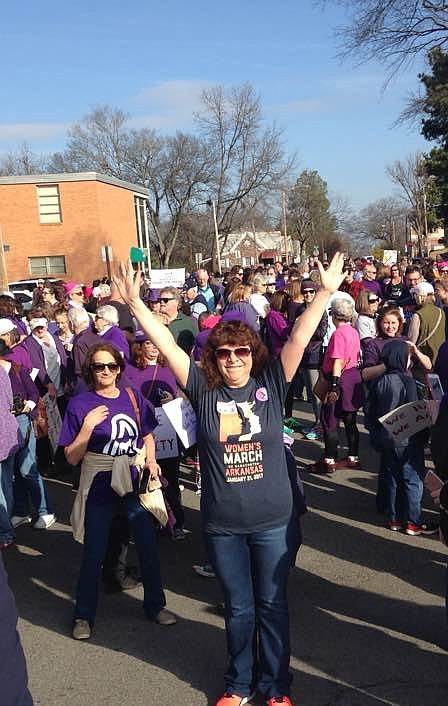 Norphlet resident Wanda Young at the 2017 Women's March (Contributed)
Kermit Parks, a member of the Union County Republican Party, said no Union County residents will be represented in the Republican National Convention this year. However, a Union County native, Hogan Gidley, does work in President Donald Trump's administration as a Deputy Assistant to the President and Principal Deputy Press Secretary. An interview request sent to the White House and the Trump campaign has not yet been answered.
The Republican National Convention will be held this week from Monday to Thursday.
Sponsor Content
Comments