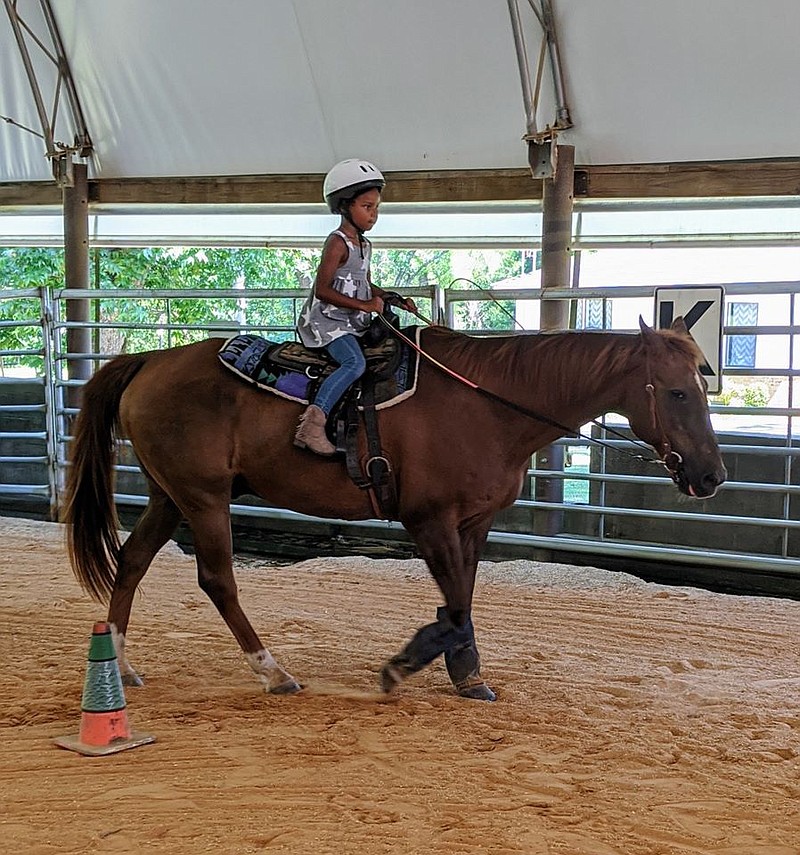 HOPE Landing, a nonprofit based in Union County which provides services to over 500 children every year across Arkansas and Louisiana, is holding their "Heroes of HOPE Landing" fundraiser this Thursday, August 6, starting at noon virtually for the first time, to be broadcast on their Facebook page. HOPE Landing is known for their equine therapy, which a child can be seen participating in here, along with the other occupational, physical and speech therapy services they provide. The fundraiser is available for anyone to watch and will include a showcase of HOPE Landing children's talents. To learn more, visit facebook.com/hopelandinginc or hopelanding.com. (Contributed)
Frontline health care workers have been at the forefront of the American people's minds since the COVID-19 pandemic began spreading throughout the country in February. There have been air shows, moments of silence and even city-wide ovations across the nation celebrating those doing the hard work to fight the virus.
Nonprofit health care providers that offer specialized services, like HOPE Landing here in El Dorado, have been hit hard by the pandemic. Executive director Kristi Lowery said that between the mandated closure imposed by the state that lasted a month and a half from March to May and ongoing worries from families about their health as the virus continues to spread throughout the community, HOPE Landing has lost over $256,000 in non-recoverable revenue just through June.
"We missed 5,456 visits from March 17 to May 31," Lowery said. "That's a lot of visits for children that need services that didn't get them."
HOPE Landing is a nonprofit that offers speech, physical and occupational therapy to children with disabilities. They also have non-traditional programs that help to develop children's social skills and bring light to the abilities and talents of the children they serve. They're probably most well known for their equine therapy.
"Here at HOPE Landing, our mission is to help children achieve their God-given potential," Lowery said.
In the most recent fiscal year, which ended in June, about 63% of HOPE Landing's revenue was generated from programs; 4% came from grants; and the remainder, 33%, came from donations. Lowery said it's important to the leadership team at HOPE Landing to never impose a financial burden on families who need the services they provide, and over $1 million was written off just last year in order to achieve that goal.
In May, HOPE Landing had to cancel its annual "Heroes of HOPE Landing" fundraiser due to the pandemic. Lowery said that's where most of the nonprofit's donations come in, so its cancellation was a big blow by itself. This month, the annual HOPE Landing Talent Show was also supposed to be held at the South Arkansas Arts Center; but because of continued restrictions on large gatherings, as well as the health risk such an event could pose to the community and HOPE Landing's children, that had to be called off too.
"We just didn't feel like it was safe to have that many people and for it to be a successful event," Lowery said. "Safety is our number one priority."
However, the nonprofit's Board of Directors and administrative staff knew cancelling the talent show altogether would be a disappointment to the children who have worked hard to develop their skills for their performances, as well as another financial blow to the continued operations of the organization. They put their heads together and realized the show could go on in a virtual format.
"We just thought we'd put both of them together and do a basic stay-at-home fundraiser show on Facebook," Lowery said. "If people couldn't come to SAAC to watch them, we figured we could still showcase their abilities. I really hope its successful."
This Thursday, August 6, starting at noon, anyone will be able to tune in to HOPE Landing's Facebook page (facebook.com/hopelandinginc) to watch the children served there perform talents they've developed in large part through the therapies offered at HOPE Landing. There will be a 'Donate now' button on the page that anyone can click to offer a financial contribution to help HOPE Landing continue to provide the services that help the children achieve their potential.
Last week, with some help from local filmmaker Alexander Jeffery, administrative staff recorded the children participating in the talent show showcasing their various talents. Lowery said there's about 20 acts in this year's show, including juggling, rock climbing, stand-up comedy, cooking, engineering a potato clock, singing, bowling, cooking and, of course, horse riding.
"The skills that the children learn in therapy go into these talents. So, for example, ball skills take hand-eye coordination, timing; rock climbing is that upper-body strength; horses help core strengthening and there's a sensory aspect; building with Legos is fine motor coordination," Lowery said. "We've worked at all these skills to make them successful at a life skill that they would need to be successful in their every day lives."
In the last fiscal year, HOPE Landing provided therapy services to 638 children from across 10 counties in Arkansas and two parishes in Louisiana. Lowery said in all, there were over 31,490 therapy visits to the HOPE Landing facility, a sprawling ranch off Strong Highway.
Usually, HOPE Landing sets a goal of raising $100,000 at their annual "Heroes of HOPE Landing" fundraiser, the one that was cancelled in May. Since the fundraiser is being packaged with the talent show this year, she said they've set a goal to raise between $80,000 and $100,000 on Thursday when they put out the show.
"We're trying to be innovative, coming up with new ideas in this new normal that we're living in," Lowery said. "We just really want people to be encouraged to view on Thursday at noon on the 6th, and we hope they just feel led to support our mission and our organization so we can continue to do the good work in our community."
Lowery noted that other contributions are also welcome ("It takes a village," she said), including supply donations, which can be made at HOPE boxes located a various businesses in Union County; and time donations through volunteering. She said HOPE Landing always needs volunteers to help tend the horses in the barn on-site; at their different events, like Hope-a-ween and other holiday events held throughout the year; as well as for general maintenance at the HOPE Landing ranch.
"We also need prayers," Lowery said. "We need people to pray for our organization and our mission."
Donations can be made during Thursday's fundraiser by clicking the 'Donate now' button on HOPE Landing's Facebook page. Contributions are welcome any time, though. Lowery said those who wish to help out financially can visit hopelanding.com and click the 'Donate now' button, where they can also set up a regular pledge. They can also mail donations to PO Box 10215, El Dorado, AR 71730; or call HOPE Landing's office at 870-862-0500 to make a donation over the phone.
"We've got some really cool talents that are going to be featured on Thursday. … We want to focus on our children's abilities and not just their disabilities," Lowery said. "We've had a really negative economic impact because of COVID … Every dollar donated helps."
Sponsor Content
Comments