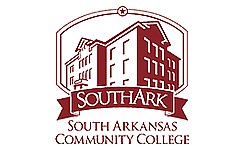 Campus pandemic protocols for the fall semester have been announced by South Arkansas Community College.
Classes will begin on Aug. 17, but all safety protocols for the semester start Aug. 10, part of the college's second phase of reopening. Requirements will include:
• The proper wearing of masks (nose and mouth covered) for all students, employees and campus visitors at all times when in the general vicinity of other people;
• Social distancing (6 feet apart) throughout campuses, including classrooms and common areas;
• Self-screening for COVID-19 symptoms;
• Limits on the number of people in offices and waiting areas;
• One-way flow of foot traffic through doorways;
• Other procedures specific to certain classes, spaces and services.
Classes will be a mix of in-person, hybrid and online courses. In-person classes will observe social distancing guidelines. All classrooms and common areas will be deep-cleaned and sanitized daily; classrooms will be disinfected between classes.
SouthArk president Dr. Bentley Wallace has said that the situation will be challenging, but not without rewards, and added that college faculty, staff and administrators are looking forward to experiencing the spirit that students bring to a campus.
"We have the utmost commitment to the safety of our students, employees and community," SouthArk president Dr. Bentley Wallace said. "We're confident that these measures—put into place under advisement from national and state health experts—will make it possible for us to offer important educational services while also reducing the spread of COVID-19."
There are contingency plans in place in the event that closure must occur. Contact tracing is being handled for all in-state colleges by the University of Arkansas for Medical Sciences; the point of contact at SouthArk is finance and administration vice president Carey Tucker.
Learn more about contact tracing in Arkansas colleges and universities.
Sponsor Content
Comments