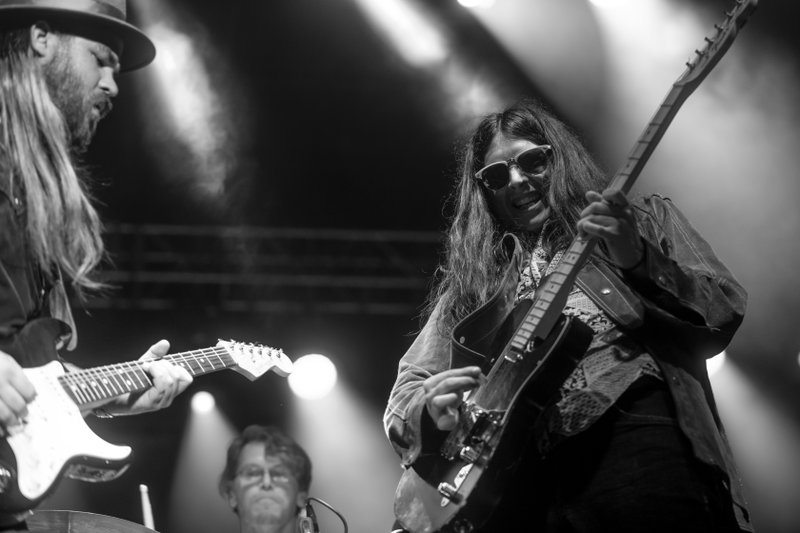 Members of deFrance perform at the 2019 Arkansas State Fair. The band performed with Rick Springfield at the concert.
Arkansas's resident rock n' rollers, the band deFrance has announced the release of their latest music video, "Lights Down Low," a single from their newest full-length album "No Longer A Stranger In This Town" through Billboard Magazine. The album is set to release May 15th. This is the second album of four ready to be released.
"Lights Down Low" takes you into a chilly reminder of what heartache and isolation look like in these trying times of quarantine. Beautifully shot and creatively linked to Sharpe Dunaway, this video adds an element of what it's like to be a true Americana artist.
deFrance has been on a streak; their last full-length album, "Second Wind," dropped just this last December (2019). The video for "Keep The Night On It" debuted via Guitar Connoisseur. Americana UK premiered the music video for "Runaway Heart" who noted that the song had "shades of Tom Petty and southern rock…the Arkansas outfit absolutely nailed it… definitely need more of this sort of thing." Americana Highways also joined in on this last album premiering "Angel." Lastly, American Songwriter premiered the album by saying "…deFrance is a band that delivers on your first impressions with their music matching their looks: an Americana group that is ready to give you a rock show."
deFrance formed along the muddy banks of the Ouachita River in the vest pocket town of Camden, Arkansas. After their debut album Home, the quartet started hitting the road more than ever. They have since been touring half of each year up and down the Mississippi, rolling through the hills of the east coast and west coast.
"Touring became the new way of life for us, and it's remained that way. We have been out every week since February 2015 with little to no time off. The road has molded and shaped our band, but it's also nearly destroyed it," frontman Drew deFrance said.
The never-ending roads of America have earned them support slots with Bon Jovi, ZZ Top, Rick Springfield, Whiskey Myers and Robert Randolph. Along the way, they also found new openings with Foghat, Sister Hazel, Kenny Wayne Shepherd, and Living Colour. They are lifers and take their art seriously.
The records are all made at Wolfman Studios in Little Rock, Arkansas, with engineer/studio owner Jason Tedford, keyboardist and arranger Joseph Fuller, and pedal steel pro Neil Jones (American Aquarium), and are now out of the vault and ready for the world. Years of patience, hard work, and consistent nights performing, recording, and mixing are paying off. The fellas in deFrance are excited to bring to Arkansans, for their listening pleasure, the new album "No Longer A Stranger In This Town."
deFrance will continue to perform online in support of their newest album "No Longer A Stranger In This Town" and will, once everyone is safe and healthy, go back to touring live.
Visit defrancemusic.com to learn more about the band.
Sponsor Content
Comments