With in-session classes disbanded for the remainder of the school year, students, teachers and parents are left adapting to virtual classrooms and alternate methods of instruction.
Sec. of Education Johnny Key and Gov. Asa Hutchinson announced April 6 the in-session education cancelation, originally scheduled to end April 17, would extend through the remainder of the spring semester due to the state's status amid the novel coronavirus (COVID-19) pandemic.
However, for Melissa Curiel, an 8th grade English teacher at Arkansas Connections Academy, an online kindergarten through 12th grade public school, not much has changed.
With about four years under her belt, Curiel has some tips and ideas for parents and teachers who may be having a difficult time moving into the virtual learning setting.
"Have grace with yourself because a lot of these parents are still working from home, or they're working outside of the home and now they're having to go home and help their students with learning," Curiel said. "There's going to be mistakes and it's going to get stressful. Show grace to your children, they're also going through a stressful time."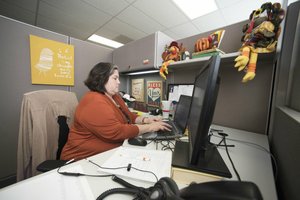 Photo by J.T. Wampler
Teacher Melissa Curiel works at the Bentonville-based Arkansas Connections Academy, which opened in August 2016.
Curiel said to make sure to give students breaks, and creating a schedule could be helpful and provide a sense of normalcy. She also said having a designated space for students to work in the home where it's quiet and with little distractions would also be helpful.
She said she encourages her students to work for 30 minutes and take a 10 minute break, and to do that throughout the day.
"If you make them sit down all day long without a break, they're going to burn out and so are you as a parent," Curiel said. "It's going to cause a lot of stress."
She also said digital learning isn't for everyone, and a good way for teachers to support a student who may not be as motivated to learn while at home is to connect with them somehow. She said not every conversation has to begin discussing school work.
For parents with students who may be bored with their schoolwork, Curiel said they could incorporate unconventional lessons throughout the day. One example would be to let them help with cooking or baking.
"Have them practice measuring ingredients, have them practice doubling recipes, using fractions to express how much people have eaten or how much is left," she said. "Not only is that teaching math skills, but that's helping teach life skills as well, and it's getting them out of a traditional school setting and letting them do nontraditional learning that's still valuable."
Curiel also said there are board games or card games that could be used to teach math and vocabulary like Yahtzee! or Scrabble.
She said there are also a number of virtual field trips students can go on through Discovery.com or the Smithsonian website.
There are also websites and apps like Khan Academy, DuoLingo, ABC Now, Science 360 and more. She said there are also resources on Arkansas Connections Academy's website for families to look at.
Curiel said she regularly has phone calls with students and parents about lessons, and sometimes ends up speaking more with parents about strategies to teach their children.
At Arkansas Connections Academy, Curiel said there's more of a partnership between parents and teachers to teach students, so having those phone calls between parents and teachers may be helpful throughout the semester.
"I really empathize with the parents and the teachers that are typically brick and mortar parents being thrown into a virtual work because it's very different," Curiel said. "I think it is a real struggle for (parents) right now, and I just hope it's really a time where we can all pull together and really help each other through this time."