Although he can't sew "to save a life," Bojak Cates is doing all he can to help those on the front lines of the coronavirus pandemic.
Cates, an El Dorado resident, is part of the Let's Sew Face Masks Facebook group that's working to provide masks for health care professionals in Arkansas, and maybe the nation, while personal protective equipment, or PPE, is difficult to get a hold of.
"It's always been a passion of mine to help people, especially in the medical field because they've helped me so much personally," Cates said. "I've always done fundraising and advocating, so this has been awesome for me."
Cates has spina bifida, a birth defect where the spine and spinal cord don't properly form, according to the Mayo Clinic.
He said he spent a lot of time in and out of the Arkansas Children's Hospital growing up and wanted to give back. He started by fundraising for the children's hospital over the years.
"They helped to save my life, so I'm helping to save theirs," Cates said.
Instead of sewing, Cates tries to find sewers that can help with the group's mission.
Let's Sew Face Masks was started by Jenny Wallace of Greenbrier, Arkansas, on March 20.
In an e-mail to the News-Times, Wallace said she and some friends were discussing sewing masks and one of them asked if she would create a Facebook group so they could share it.
"It really blew up from there," she said in the e-mail. "Within a few days, we had several hundred people join."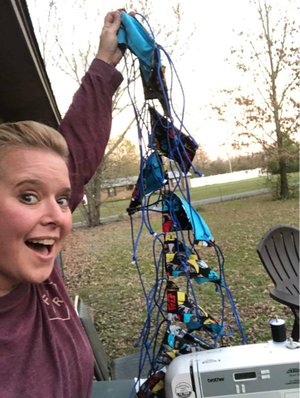 Photo by Courtesy Jenny Wallace
Amy Brock, drama teacher at Greenbrier High School, holds up a line of face masks she has just sewn. Brock is part of the Let's Sew Face Masks Facebook group that makes masks for health care professionals while there is a shortage of personal protective equipment.
Wallace said she never thought the group would have 900, and still growing, members.
"I'm a homeschool mom and since this page has started, I've been working 8-10 hour days sewing, collaborating with the administration team, or getting fabric into hands of those who have sewing machines," she said. "My house is an absolute wreck but I love being able to feel like those of us who are home have a job that is helpful to those who can't stay home."
The group accepts requests from health care facilities across the state. Its members fill out a Google survey when they join to commit to a number of masks to make in a 1-3 day period. From there, members are matched with a request that fits their capabilities and/or that's local.
Once the request is filled, members mail or deliver the masks to the facility. As of March 27, the group had received 4,684 requests and completed 1,527 masks.
Those who sew make male, female and unisex masks from a pattern posted in the group. According to the page, the ideal mask has a pocket so a filter can be added and replaced.
According to the group's website, the masks aren't N95 quality, but do provide more protection than a bandana.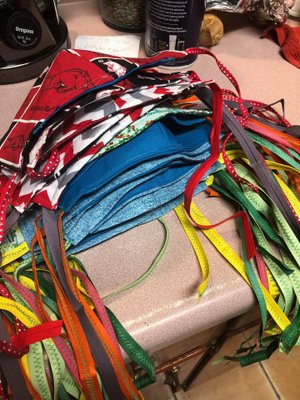 Photo by Courtesy Jenny Wallace
A pile of masks ready for health care professionals to use while working against the coronavirus pandemic. The masks are made by those a part of the Let's Sew Face Masks group, which was started by Jenny Wallace March 20 and sent out about 1500 masks by March 27.
Gov. Asa Hutchinson has mentioned multiple times during his daily press briefings there is a PPE bottleneck, which is impacting health care providers globally. PPE includes masks, gloves, foot and eye protection, protective hearing devices, respirators, full body suits and more.
Hutchinson said in a briefing March 30 that the state is allocating $45 million from a COVID-19 Rainy Day fund toward procuring PPE for health care providers, according to a previous News-Times report. He said the previously allocated $30 million would be insufficient to keep providers stocked.
"We can place an order and … the Department of Defense can come in and say 'we need that,' or it might be New York offering a premium. So we're having to compete in a very difficult marketplace," Hutchinson said in the briefing.
According to a report from Reuters, the United States Department of Health and Human Services said over the next 18 months, it hopes to buy 500 million masks for the Strategic National Stockpile.
Like Cates, Wallace said she's happy to be able to help where she can during the pandemic, and her daughters, Piper and Joleigh, are helping, too.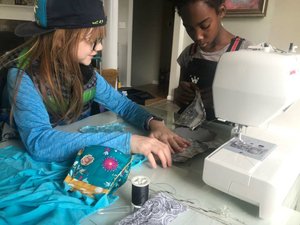 Photo by Courtesy Jenny Wallace
Piper and Joleigh Wallace work on face masks for health care professionals to use while working against the coronavirus outbreak pandemic. Piper and Joleigh are the daughters of Jenny Wallace, who started the Let's Sew Face Masks Facebook group that has about 900 contributors.
"I have many friends who are on the front lines and I think about them as we fill orders," she said. "I know there are many family members who are worried about their loved ones on the front lines. I feel like our community is helping add a little extra protection and hopefully easing some of the burden."
Cates said if people want to help but can't sew, there are definitely jobs or things people can help with. He said the group is accepting financial and material donations to make the masks, and are looking for people to deliver the masks as well.
Those interested in contributing can visit the group's website or join their public Facebook group.