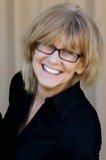 Martha Franks Humble, 61, of El Dorado, passed away Tuesday, September 24, 2019 at her residence. She was born April 18, 1958 to Edward Ray Franks, Sr. and Mary Lou Hanson Franks in Quantico, VA.
Martha is preceded in death by her parents.
Those left to cherish her memories are her husband, James R. Humble of El Dorado; four children, Amy Davis (Robert) of Jacksonville, AR, Jacob Franks (Tiffany) of El Dorado, AR, Levi Funderburg of Rockwall, TX, Jamie Humble (Lesley) of Hot Springs, AR, five siblings, Edward Ray Franks, Jr. (Linda), Marilynn Huck (Bob), John Franks (Kathi), Mary Ellen Wilson, Fred Franks; six grandchildren, Robert Davis, Jr., Rory Davis, Ryan Davis, Audrey Jane Davis, McKinley Humble, Morgan Humble; and numerous nieces and nephews.
Martha was devoted to her husband and children. Her grandchildren were the sun in her sky. She loved them all to the moon and back. She was a kind heart, always there for her friends and family. She sat with the elderly, preached to the lost, and took care of all who were sick. She was a passionate paramedic who took pride in her work. One of the first female paramedics in Arkansas, she devoted more than 20 years to saving lives.
Martha loved to skate and dance and laugh. Music was her therapy and the garden was her happy place. She could grow anything! She was a strong woman. Physically, but more importantly spiritually. Her faith in the Lord carried her through many trials, and gives us the blessed assurance we will see her again.
Visitation will be held from 5:00-7:00 p.m. Sunday, September 29, 2019 at Young's.
Funeral services will be held at 10:00 a.m. Monday, September 30, at Young's Chapel with Watson Franks officiating. Burial will follow at Arlington Memorial Park under the direction Young's Funeral Directors.
An online guest registry will follow at www.youngsfuneralhome.com.
Sponsor Content
Comments