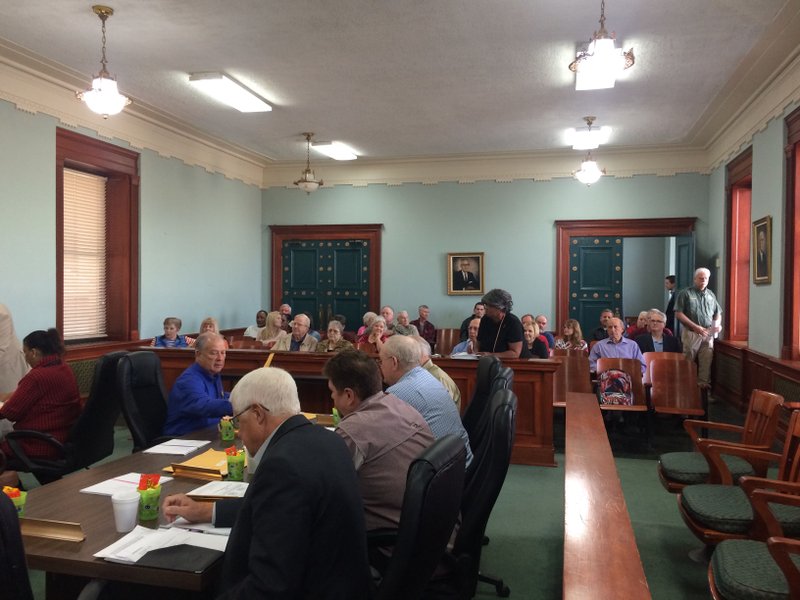 Community members attended Thursday morning's quorum court meeting largely to express their disapproval of a proposed Hinson Road closure.
Union County residents packed the third-floor court room where yesterday's meeting of the Union County Quorum Court was held, eagerly awaiting their opportunity to speak in opposition to a proposed closure of a portion of Hinson Road. The meeting was moved from its usual location to accommodate members of the public.
Brian Ratcliff, an attorney representing the Delek: El Dorado Refinery (referred to by Ratcliff by its previous name, Lion Oil), attended the meeting to publicly announce that he'd filed a petition with County Judge Mike Loftin on the company's behalf for the portion of the road's closure, as is required by law.
"I'm not naïve. I'm aware there is more than one objection – I'm aware that probably most of the people in the room are here as an objection," Ratcliff said.
About 34 members of the public were in attendance at yesterday's meeting. Because most were there to voice opposition, Loftin must now appoint a three-person panel to weigh the pros and cons of closing the portion of Hinson Road, which, per Ratcliff's petition, would stretch from just past Victory Baptist Church to just before Friendship Primitive Baptist Church. Loftin was out of town, so today's meeting was conducted by District 1 Justice of the Peace Mike Dumas.
Ratcliff said safety standards imposed by the United States Department of Homeland Security in response to the Sept. 11, 2001 attacks on the United States are not able to be met by Lion Oil/Delek because the road is open.
"The primary reason that we're doing this is for safety," Ratcliff said. "After 9/11, there were all sorts of different rules and regulations that have been made and it is in that context that we are being asked to close this portion of the road, to make the plant a safer place."
The standards he cited are part of the Dept. of Homeland Security's Chemical Facility Anti-Terrorism Standards Risk-Based Performance Standards. According to the risk-based performance standards, "this guidance … does not establish legally enforceable requirements for facilities subject to CFATS (Chemical Facility Anti-Terrorism Standards) or impose any burdens on the covered facilities."
Several JPs expressed concern that failure to close the portion of Hinson Road could result in Lion Oil/Delek moving the refinery from El Dorado.
"That is a possibility. If it (Hinson Road) wasn't closed, then it's up to the agencies to decide what Lion Oil has to do," Ratcliff said. "It's a possibility."
Dumas noted in an earlier interview that approximately 400-500 people are employed at the refinery.
"I would be remiss if I didn't say that I very much am opposed to the threat that we're having, that Lion Oil is going to leave El Dorado," said District 4 JP Dean Storey. "We've got several people with several different reasons [for opposition] and I'd like for some of them to be able to speak."
Jeffrey Rogers, 13th Judicial District Prosecuting Attorney and legal counsel for the Quorum Court, said that yesterday's meeting was not the correct forum in which to voice opposition to the potential road closure; without Loftin and the three-person panel in attendance, Rogers said, no one with any legal power was there to listen.
"Your questions are real and your questions are pertinent, but the purpose of why we are here today is for Mr. Ratcliff to make the presentation as to the filing of the petition, the running of the notice, the receipt of the preliminary objections … just letting the Quorum Court know and the public know that we now are required to proceed to the step two, which is the County Judge then selects the three viewers from Union County to do the research and investigation and address the questions that y'all have," Rogers said. "That decision cannot be made today."
Rogers repeated his sentiments several times in the duration of the meeting, as members of the public voiced their concerns and opposition despite what he said.
"A lot of us went to a lot of work. We'd like to speak," Ashley Orrell, whose family owns a business on Hinson Road, said.
Many of those in attendance expressed frustration at the repeated requests from the company for the road's closure. Most took a legalistic approach, with some calling into question Delek/Lion Oil's petition's wording and citing state statues dealing with road closure. Some also noted that travel times, including for emergency services, would increase for many if that portion of Hinson Road is closed. They also questioned the company's motives for closing the road.
"Is this for security purposes, or so you can build new scales?" Orrell asked referring to scales the company has built on their property on either side of the portion of Hinson Road. "You've got elderly people that live on that road, you've got guilds … You're altering the route for ambulance and fire department to get there."
While the JPs do not have any authority to close the road or keep it open, District 5 JP Carolyn Jones assured those in attendance that the JPs will take their constituents' calls, hear them out and ensure their voices are heard.
"It's going to be pretty sad if the three people that have no feelings about any of these people here on Hinson Road, the way they travel, it's going to be pretty sad if they make a decision and these people here that have gathered information, their hearts are heavy with this, if they do not have the opportunity to express their desires and anguish for the roadway," one man replied.
Dumas assured those in attendance that Loftin is taking the issue seriously.
"The County Judge will make the final decision. The three viewers will make their report and he will make the final decision," Dumas said. "I have spoken with Judge Loftin numerous times on this issue. Let me assure you that it's weighing heavy on him; that this is probably the most difficult thing that he's had to deal with in his term of office, since he's been here. And let me tell you – he takes your concerns very seriously. I'm glad I'm not him. I wouldn't want to have to make this decision."
The meeting ended shortly afterward. Loftin is back in town today; he said the process of selecting the three-person panel, hearing their recommendation and making a final decision about whether to close the road could take months.
Caitlan Butler can be reached at 870-862-6611 or [email protected]
Sponsor Content
Comments