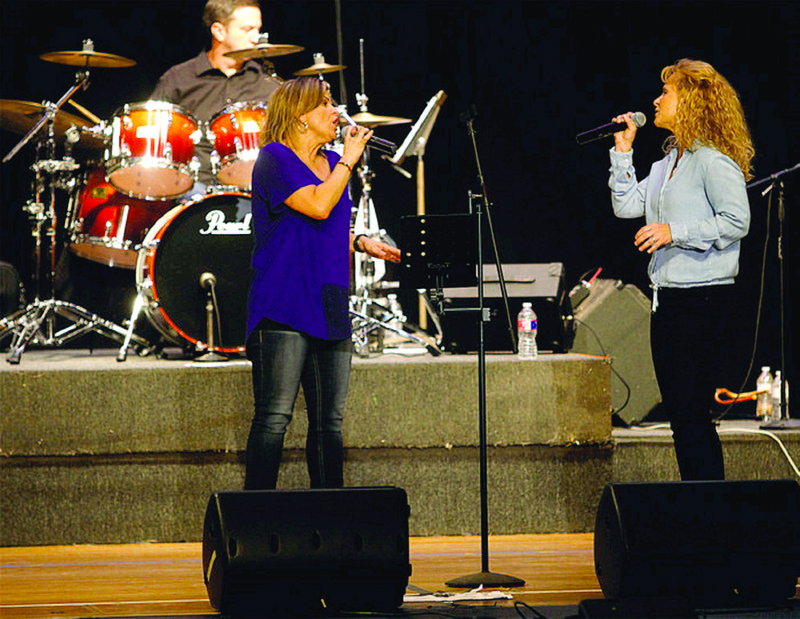 The Miller-Fite duo performs at the Boomtown Opry.
The Oct. 12 Boomtown Opry performance will be held at the El Dorado Municipal Auditorium at 100 W. 8th St. in El Dorado at 7 p.m.
Tickets are available at the door for only $15 general admission, while children 12 and under are admitted for $5 each and those age five and under may attend for free. Advance tickets are available for $10 each only through itickets.com. The Boomtown Opry is a family friendly event with no alcohol sold during the show. The show is on the second Saturday of each month.
The Boomtown Opry features a house band led by BJ Kyle, who has toured professionally with Colt Ford, Craig Morgan, Tracy Lawrence, Kellie Pickler and others. Local country duo Southern Koast, made up of Keith Owens and Susan Tolin provide background vocals.
Featured performers for this show are Ava Burford as a young Dolly Parton, Nancy Nelson as Billie Jo Spears, Gena Roberts Hamilton as Connie Smith, Miller-Fite (Jennifer Miller & Julie Fite) as Sweethearts of the Rodeo, Amy Allen as her musical heroes and Lisa Layne as Patsy Cline.
Nancy Nelson, from Homer, Louisiana, has been singing all her life with family, gospel quartets and First Praise Ministries. She comes from a family of musicians and singers and loves country music – particularly classic country music.
Her granddaughter, Ava Burford, is 10 years old and in the 4th grade in Homer. Ava has been singing since she could talk and also likes classic country music. When asked about what she wants to do when she grows up, she replies, "Someone told me if you like what you do, you'll never work a day in your life because you love it! So, I'm gonna sing!"
Jennifer Ralston Miller and Julie Ralston Fite make up the duo Miller-Fite. They hail from El Dorado and were born with the love of music. They started singing together in public venues in high school including the North Louisiana Hayride, the Columbia County Hayride and Johnnie High's Country Music Revue in Dallas, Texas and never looked back. They have been blessed to share the stage with the likes of Brooks & Dunn, Patty Loveless, Doug Stone, Diamond Rio, Toby Keith and John Conlee to name a few. Their independent album "Time 2 Time" was released in 2002.
Gena Hamilton comes from a musical family. Her mother, father and all four brothers were always playing and singing together from the time she can remember. With early roots in the South on the borders of Arkansas, Texas, Louisiana and Oklahoma she is truly a southern girl. Early in life she sang in church and at church functions, which gave her a memorized catalog of hundreds of standard and classic hymns and other special songs.
In school Gena studied music and participated in the High School band as a flutist and as a featured vocal performer in the school choir. As a teenager, Gena was told that she sounded a lot like country singer Connie Smith. She was not familiar with her but a friend gave Gena a recording of Connie's and after listening she smiled and said, "You know, everybody sounds like someone, but ultimately, you are who you are - your own person with your individual sound."
Ultimately, Gena started to receive invitations to perform as a soloist and background singer for recordings and at various functions and musical productions locally and in the four states region. Gena became a regular on Music Country USA in Broken Bow, Oklahoma and then moved to the Oaklawn Opry in Texarkana, Texas.
Gena has recorded two Country CDs: Shuffle Back to Me and Gena Sings Tribute to Connie Smith. Gena's Trophies of His Grace CD was officially released Dec 15, 2013 at the Circle J Cowboy Church in Texarkana, Arkansas in full concert with the Trophies Band. It was officially debuted on television on March 12, 2014 on Southern Gospel Praise in Dallas, Texas on the UAN Network. By mid-July the single cut Higher Ground had reached #30 in the major charts and by August 1st had reached #1 status.
Gena is currently working on her second combo Country and Southern Gospel CD and a new Country Christmas CD. Gena has recently released a new Christmas single and will be releasing a new single in January with Canyon Creek Records.
Gena has opened for such traditional country stars as Jo-El Sonnier, Barbara Fairchild, Chuck Hancock, Chuck Day, Joy Roberts, Jeff & Sheri Easter, The Williamsons, The Hootens, Mary Fay Jackson, Ava Kasich, Wade Benson Landry, Tommy Horton, David Patillo, Psalm 100, Tommy Brandt, Jimmy Jack Whitiker, John Randolph, John Lanier, Jesse Reece, John Penney, Kenny Serrat, David Cook (Elvis Tribute Singer), Lonnie Spiker, Joe Stampley and George Hamilton IV.
Amy Allen is a blues-accented country, pop and Americana singer-songwriter who has sung on three continents, appearing at venues ranging from the White House and the Ryman Auditorium to the Garden Hotel in Machakos, Kenya. Amy's soaring country ballads, bluesy pop songs, and honky-tonk rockers entertain while bringing hope and change to a disconnected world. Listeners laugh, cry, dance and sing knowing that the someday they've always longed for can begin today. Amy describes her sound as a versatile mix of blues-accented country, pop and Americana. She brings passion and energy to the stage with hints of Aretha Franklin, Janis Joplin, Elton John, Eva Cassidy, and Patsy Cline — yet with a powerful sound that is all her own.
"Every note I sing or every note or chord I strum is given with all of the love I have for the song I am performing," she said. "My voice is the voice of someone who has been down many different roads."
The artist took the stage for the first time at age 4 as a singing angel in the children's choir at First Christian Church in her hometown of El Dorado. With her grandmother's encouragement, she spent her childhood years soaking in recordings by artists such as BB King and The Rolling Stones. She was only 12 when she joined the Down Home Band as a vocalist and pianist, giving her first professional performance at the American Legion Club. The band played dozens of bars across Arkansas, Louisiana and Texas. She joined the Ralston Girls country duet at age 15, opening for country artists such as John Conlee, Patty Loveless and Brooks & Dunn. While attending South Arkansas Community College and the University of Arkansas, she sang and played guitar and piano for the band Spare Change.
Amy joined the Winchesters and began her solo career after moving to Nashville in the 1990s. The group appeared at tourist bars on Broadway and at festivals in Arkansas and Tennessee. She also served as a studio singer for Warner Music Nashville and performed at major shows as a solo artist at the Statue of Liberty, the White House, the Ryman Auditorium, Disney's Magic Kingdom, and Vanderbilt University.
Since the release of her first album and return to Arkansas, she has performed regularly at Fayray's restaurant; the South Arkansas Arts Center; hundreds of house parties and charity events; Timberlane Health and Rehab; and numerous churches.
"I can sing the blues as well as put a tear in my beer with country music," she said. "I have been blessed with diversity and the ability to touch people with different musical styles."
Lisa Layne was born in Tyler, Texas and at the age of 3 moved to Dallas. She began singing professionally at the tender age of 4. Lisa worked shows with her Dad, who is a professional musician, on and off through her school years. Lisa formed her first band "Beaver Creek" just after high school. She was the lead vocalist and played bass guitar. This ultimately led to her being noticed by Vince Vance and The Valiants. Lisa worked the road with them from 1986 - 1991. During that time, they recorded the Christmas hit "All I Want for Christmas Is You" with Lisa as the lead vocalist. Today it is recognized as the #5 most requested Christmas song of all time.
Lisa moved to Nashville. and joined a very successful Beach Music Band and toured with them until 1995. In early '93 Lisa won the role of Patsy Cline in the first National Tour of a "Closer Walk with Patsy Cline". She toured with that troupe for the better part of two years before joining the Nashville Troupe as the lead in the same show at the Ernest Tubb Record Shop's "Texas Troubadour Theater" from '98 through 2000. In 2005 Lisa was inducted along with Vince Vance and Valiants into the Louisiana music Hall of fame. In 2005 she re-recorded "All I Want for Christmas Is You" on a full-length Christmas album accompanied by the World Famous Jordanaires on all twelve songs.
In early 2005 Lisa moved to Branson to perform on the Jim Owen Show which opened the door to the Lisa Layne Show. From 2005-2007 Lisa and her husband produced the Lisa Layne Country show where they performed at the God and Country Theater 10 shows a week. In 2008-2011, due to the work as Patsy Cline back in Nashville, they had the opportunity to produce and perform the Ted Swindley production of Always Patsy Cline back at the God and Country Theater. This show won the "Branson Show Awards" Best Live Musical in both 2010 and 2011 as well as Lisa receiving the Female Vocalist of the Year in 2010. In 2011 they closed the Always Patsy Cline production in Branson and moved back home to Texas, closer to her mom.
In 2011 back in Texas she formed the band "Lisa Layne and One Layne Road", focusing on recording and performing music at festivals, fairs, corporate events, casinos and good ole Texas dance halls. In 2016-2017 Lisa was awarded the Will Rogers Pure Country Female Vocalist of the year by the Academy of Western Artists. Most recently Lisa and the band have opened for Restless Heart, Bobby Flores as well as headlining at the Texas State Fair, National Corgi Dog Show and the Penny Gilley Show on RFD TV. Lisa has also performed at the Lil Reds Longhorn Saloon in the Ft. Worth Stock Yards and the legendary Stagecoach Ballroom along with many more venues and events.
Aspiring singers may audition for future shows before rehearsals on show day around 2 p.m. A portion of the proceeds of each Boomtown Opry show go to benefit the El Dorado Boys & Girls Club. In return the EBGC provides volunteers to staff each show. Follow and like our page at www.facebook.com/boomtownopry for more information on this show and updates and reminders of future shows.
Sponsor Content
Comments