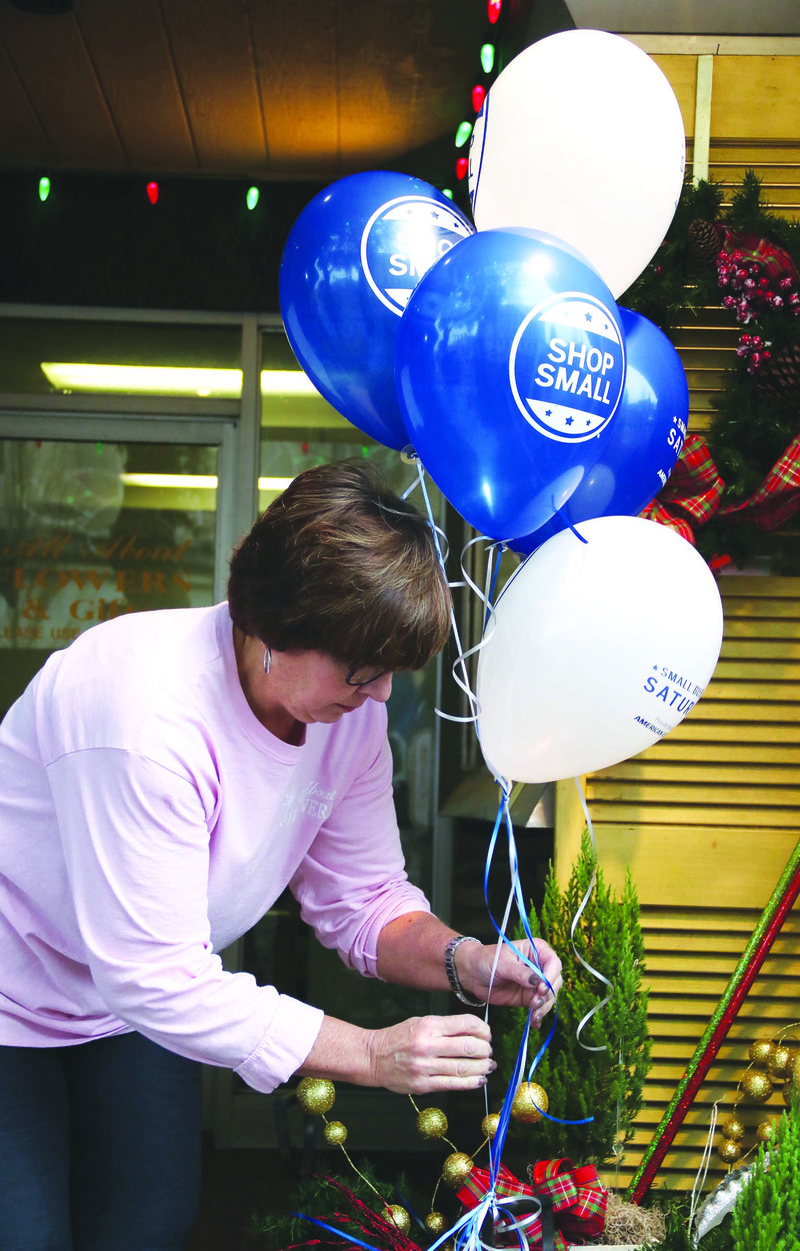 Shop Small: Rexayn Tribble, owner of All About Flowers ties up Shop Small balloons in front of the flower shop for Small Business Saturday Nov. 30. - Photo by Siandhara Bonnet
Rexayn Tribble and the employees at All About Flowers included hanging "Shop Small" pennants and balloons to their morning routine for Small Business Saturday.
Small Business Saturday was started by American Express in 2010. According the event's website, Small Business Saturday was created "to encourage people to Shop Small and bring more holiday shopping to small businesses."
The following year, senators and representatives began to recognize and push for the day, and some continue to do so today.
"Small businesses drive our state's economy," Sen. John Boozman said in a statement released Nov. 27. "Shopping with locally-owned small businesses this holiday season is a win-win, and I urge Arkansans to join me in celebrating the entrepreneurs who invest in their own businesses as well as within communities across the state. When you shop at small businesses and retailers this Saturday and all season long, you will be supporting thousands of jobs, benefiting our economy and emboldening pursuit of the American Dream."
Tribble, Denise Taylor of Taylor Jewelry & Design, manager Jordan Carter at The Perfects, manager Courtney Howard at Spa on Main and owner Taylor Thomas at Underground Sound all shared a similar sentiment about the nationally recognized day: It's important to shop local, support local families and keep the money in town.
All About Flowers has been at its current location since January 2000. Tribble said since Black Friday has changed over the years, it's helped some local businesses, but Small Business Saturday will still ebb and flow.
"The way that Black Friday has evolved to get earlier and earlier and earlier has been helping us," Tribble said.
Tribble said she understands sometimes the big-box stores are cheap and that they may offer a deal; however, it's still important to shop local and find a balance between chains and local stores.
"We are the heartbeat of the community," Tribble said. "Small business is your heartbeat, and if we are going to continue to beat, then they're going to have to continue to support us, too. And a lot of financial dollars roll in the next 30 days — that has to be included in the local businesses, not just online and Amazon."
According to the Small Business Economic Impact Study commissioned by American Express in 2018, for every dollar spent at a small business, 67 cents stays in the local community.
Denise Taylor said the decision for people to shop local is what determines whether she keeps the doors open for another year.
"You can't keep on doing it for nothing," Taylor said. "And with big-box stores coming in … the quality's not there. There's a difference, but if that's what they want then so be it — I'll go home."
Taylor said she has been at her Main Street location for 10 years. However, with big-box stores increasing their presence in El Dorado and small towns like it, it makes it difficult for small businesses to stay open.
She said she also attributes the difficulties to people ordering more online.
"The people in El Dorado need to realize they need to shop small because there's not going to be any brick-and-mortar if they don't support us," Taylor said.
Taylor Thomas, owner of Underground Sound on Main Street, said he tries to support other local businesses with his own business.
"We strive to work with local artists to drive their small business and support them," Thomas said.
Thomas opened the record store in July 2018. He said he made the decision to open after about $6,000 worth of camera equipment was stolen.
He said the decision to open though just made sense: he grew up here and he cares about El Dorado. The only thing he had to figure out was how to make it happen.
"I know a lot of other people are like, 'oh, I can't wait to get out of here…' but I've always said you can't live where you vacation," Thomas said. "Sense of community is the most important thing. … If we can't make it grow local then we can't make it grow to a regional name."
Sponsor Content
Comments