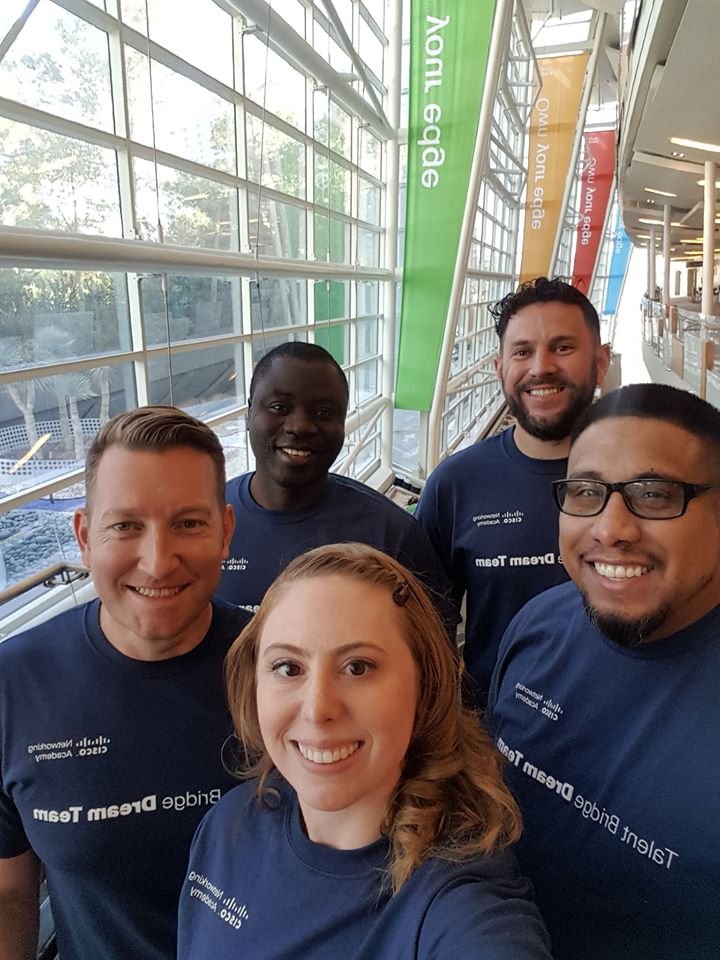 Teamwork: Will Clayton (far right, front) and other members of the Cisco Talent Bridge Dream Team pose together at the MGM Grand Hotel as they helped prepare for the 2019 Cisco Partner's Summit in Las Vegas, Nevada in October.
SouthArk student Will Clayton remembers his dad working in telecommunications throughout his childhood.
Four years in the United States Air Force, an associates degree in computer-information technology and an impressive job offer from Amazon Web Services later, he's specializing in an offshoot of his dad's profession — digital telecommunications — and forging a path for other students looking to join the program.
"As a child, I was always really interested in technology in general," Clayton said. "When I was even 8 years old, my dad was taking me into cell sites and I got to see all this equipment up close and it just really inspired me from a young age."
Originally from Austin, Texas, Clayton started his education at South Arkansas Community College in 2017. He'll graduate with his Associates of Applied Science in December, at which point he will head for Silicon Valley.
Net Work
For Clayton, the decision to enter the field of computer information technology wasn't particularly difficult. Seeing his father's work in telecommunications inspired him, as did his own service in the Air Force as a satellite communications specialist and later, work for another telecommunications company.
"There are a lot of parallels. They're different technologies, but really it's moving signals from one place to another … It's a different way to move signals from one place to another," he said.
Since starting at SouthArk, he's earned several technical certifications in the field of networking and computer technology. He also helped to lead Phi Beta Lambda, the school's business club, to victory in several leadership conference competitions throughout his time at SouthArk.
"Whenever we go to state and compete, we win, especially in the tech area, and when we go to nationals, we place in the top 10 always, even against four-year universities," said Vicki Badgley, business and computer information systems instructor at SouthArk.
"It's not just classroom theory; we're putting our hands on the physical bare metal and equipment," Clayton added, explaining why he thinks the school does so well in technical competitions. "And it develops our troubleshooting skills."
In October, Clayton was one of only five students in the country to be selected to participate in the Cisco Talent Bridge Dream Team program, an exclusive opportunity for students across the country to network with Cisco executives and practice their technical skills in real-world environments.
"We were there to set up the Cisco Partner's Summit," he explained. "We really were there to more observe and do some networking with some of Cisco partners and some of their higher-level execs. We got to sit on couches and have some one-on-ones with them, were able to ask them questions and get some feedback from them. We did help a little to set up the network, but that's not really why we were there."
His time at SouthArk has been invaluable, Clayton said. As president of the Student Government Association, he said he learned about leadership, and public speaking, which helped when he went through a multi-stage interview process with Amazon Web Services earlier this year.
"I sort of lead the meetings, give it some structure, develop the agenda, what we're going to talk about," he said. "I've really learned about leadership and developed my speaking skills."
On 'Cloud' Nine
Now, Clayton is preparing to start a job with Amazon Web Services in Santa Clara, California. He'll be a data center technician, traveling around the Bay Area and potentially even internationally for his job.
"I'll be working with the operations team doing decommissioning, that's getting rid of legacy equipment or older equipment; I'll be installing new equipment, troubleshooting existing equipment and provisioning new equipment," he said. "They're starting me off at $68 (thousand per year) … The next level up is around $120,000 per year."
Clayton described AWS as the "backbone of the internet." They offer server resources for international corporations like Netflix, Apple, LinkedIn and Facebook, among others, and have the largest market share of cloud computing services.
Badgley said any student can follow Clayton's path, noting that his hard work and dedication were central to his success at SouthArk and now beyond.
"All this from a degree he got here," Badgley said. "This has made a very, very deep impression on a lot of the students that are now enrolled, because they're saying 'oh gosh, if he can do it, then I have that same opportunity if I just put myself out there.' So it really has encouraged a lot of the students, because now they say 'oh, this course really can get me somewhere.'"
Clayton said SouthArk offers several technical certifications that could allow students to begin working in computer/information technology even before they finish their degree. In particular, he noted that Cisco and Microsoft certifications are especially helpful.
"Who should study CIT? Anybody that likes to solve puzzles, anybody that likes to solve a mystery, because no two days will ever be the same, and no two problems will ever be the same. People that like working with their hands, thinking about things," Badgley said. "Creativity is part of it."
Clayton noted that one of the biggest considerations AWS officials made when considering him for a job was his soft skills — communication, people-skills, having a positive attitude and strong emotional intelligence.
Badgley said Clayton's success goes to show that SouthArk is a viable option for students no matter where they hope to end up after graduating. While leaving his found-home in south Arkansas is hard, Clayton is looking forward to his move to Silicon Valley.
"I didn't know how much of this I would achieve, but I've been laser-focused," Clayton said. "And SouthArk helped me get there."
Caitlan Butler can be reached at 870-862-6611 or [email protected]
Print Headline: SouthArk student paves way for others in IT program
Sponsor Content
Comments