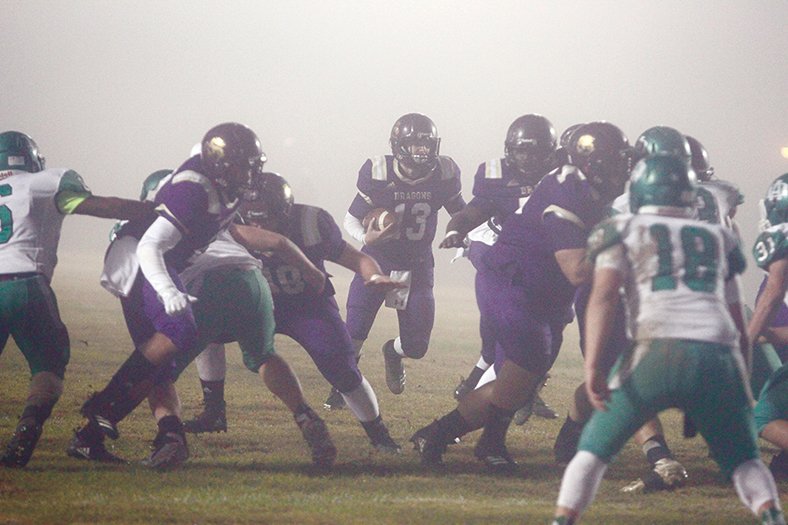 Terrance Armstard/News-Times In this file photo, Junction City quarterback Brady Hutcheson carries the ball during the Dragons' 2A quarterfinal showdown against Des Arc last year at David Carpenter Stadium. The Dragons and Eagles collide again tonight in the quarterfinals. Game time is set for 7 p.m.
A year ago, Junction City knocked off Des Arc on their way to winning the state championship.
If the Dragons are to keep their hopes for a repeat alive, history will have to repeat itself.
Tonight, the Dragons (9-1), the 8-2A champions, and Eagles (9-2), the 6-2A champions, meet in the state quarterfinals for the second consecutive year.
Game time is set for 7 p.m. from David Carpenter Stadium.
Last year, the Dragons downed the Eagles 55-13 to advance, forcing three turnovers on Des Arc's first three possessions that all led to touchdowns and an early 24-0 lead before the Eagles answered.
However, Dhante Gibson scored on a 49-yard run on the ensuing possession, and the Dragons cruised from that point on.
Both teams enter having laid waste to their competition since early-season stumbles.
The Dragons have won nine straight since losing at Harmony Grove in their season opener with their 14-12 win over Fordyce last month being their toughest test.
Since losing consecutively to Bauxite and McCrory in September, the Eagles have won eight straight games by a margin of 384-60, including back-to-back shutouts of Bearden and Mountainburg in the first two rounds of the playoffs.
The Dragons and Eagles have been rather frequent foes in the postseason, with tonight's meeting serving as the fifth between the schools since 2008.
Junction City has won all four meetings, including wins in the state finals in 2008 and 2013.
If there is one word that epitomizes the success of the Dragons and Eagles, it's team.
"Everybody, everywhere, every position, they play hard. They're playing team football," Des Arc coach Tyler Paschal said of the Dragons. "People talk all the time and they say Junction is down this year, well I ask them, 'Have they watched film on Junction?' Because they're not down. They're rolling.
"They're solid everywhere at every position group. Offensive line, D-line, their overall team speed is faster than any team we've seen this year. They don't make mistakes. That's the biggest thing. They don't make mistakes. They don't turn the ball over. They're having a good year. I'm very impressed by what I've seen."
Balance has been a major factor in the Eagles' success this year.
"It's funny. On the defense, there's nobody really standing out," Paschal said. "On offense, we do have the potential to have three 1,000-yard rushers, and that's huge. I say it and write it down on the board every week, 'Team ball.' Team ball, and you have a chance to win every game that you play."
After Des Arc dispatched Mountainburg, it didn't take long for the Eagles to turn their attention to the Dragons and their rematch.
"I'd be lying if I said that they didn't," Paschal said. "Our mindset and my mindset as a coach is, 'Lets not talk about the next team.' We can, but we have to focus on this week's game, and you hear it all the time from coaches around the state and in college about looking ahead. We've done a good job of not looking ahead, but now we can look at Junction.
"We're here. We can talk about them. Of course, they want a rematch. They want to win. They want to beat the team that knocked them out last year. We've had a great year, but we've got Junction City this week. We've got to beat them to accomplish our goal, and our goal is a state championship."
Keeping the Dragons fixated on the task at hand and not in the past has been a focal point for Junction City coach Brad Smith and his staff.
"It's just what we do," Smith said. "The reason we beat them 55-13 is we understood they were good. Our kids are educated film watchers.
"When they see somebody good on film, they know it, and when they see somebody bad on film, they also know that. They can look at somebody on film and tell you whether it's going to be easy or hard. When they watched film on Des Arc, they realize that they are a very good football team, just like we did last year.
"They were excellent blockers. That's still there. It hurts us every once in a while because they can also look at film, and we don't do much lying to them, we just don't tell them all the truth. Film rarely lies."
Des Arc hit an early rough patch in September, falling to Bauxite and McCrory to drop the Eagles to 1-2, but they have been on a roll since then.
"After that McCrory game, it just kind of lit a fire in us, as a team and as a coaching staff," Paschal said. "We made some changes. A couple of kids were done after that McCrory week. That was big for us. The team bought in. It was a tough week after McCrory week, but after that, we haven't lost since. We've been rolling. This club, we have really good senior leadership.
"That's one thing I talked about when I got the job back in February is we've got to have leadership. I don't care who does it, I don't care what grade you're in. The seniors, this is your team, this is your legacy, we need you to step up. We have only seven seniors, but they have really stepped up, and they play hard. The other players have bought in, and they really listen to them. I believe that has contributed to our success."
Since the two-game losing streak, the Eagles have allowed just 60 points during their eight-game winning streak, including three shutouts.
Clarendon is the only school to score more than 14 points against the Eagles during that stretch, and Paschal attributed fundamentals as the key to his defense's success.
"We're just tackling," Paschal said. "As a defense against Bearden, we allowed two yards. That's really hard to do. Even the second string got in and they didn't allow hardly any yards at all. This week, we allowed 136 yards total against a pretty solid Mountainburg team. It's team defense. Everybody is getting to the ball. We're gap sound. We'll come downhill and hit you. We're not allowing teams to run down the middle on us. We're making them stretch it, and we have enough speed this year to do so.
"Another thing that has stood out is our linebacker play and secondary. Our first game against England, who is a pretty good team, we won and we had four interceptions. Two of them were in the end zone, three of them were in the red zone. That's a pretty big deal.
"Last year, I know that there were some guys that really stood out on defense, but it's pretty much even across the board, even with tackles, interceptions, fumble recoveries, forced fumbles. As a defense, everybody is getting to the ball. That's what gives us a chance against Junction. Everybody is doing it, not just a couple here and a couple there."
Junction City's defense has also been outstanding. Since allowing 30 points to Harmony Grove in their season opener, the Dragons have allowed a total of 68 points during their nine-game winning streak.
Last week, the Dragons held Hector to just 93 yards of total offense and racked up nine tackles for a loss while forcing four turnovers in a 50-14 win. In the first round of the playoffs, Hector scored 63 points at East Poinsett County.
"We scouted them really good," Smith said. "The kids prepped pretty well. They did some things that we really thought we could take advantage of. We thought we had pretty good matchups in about three spots, which unfortunately for them is where they wanted to go with the ball."
But while the Dragons advanced, Smith wasn't pleased with his team's start.
"We ran one play that went 70, we forced them to punt, we returned it for a touchdown but get it called back," Smith said. "We get down to the 3 and go over our head with a snap. Then we throw a pick.
"On offense, we weren't really focused. They got in a little different front on us, and then we reverted back to pee-wee football with our attitudes there. We had to discuss it at halftime, but after that, we got ourselves under control."
If the Eagles are to advance, Paschal said his team cannot make mistakes.
"We're going to have to play a perfect game," Paschal said. "We're going to have to handle adversity well, because there will be adversity in this game. Junction City is a good team. If something goes wrong, how we handle it will depend on the outcome of the game.
"We can't turn the ball over. We can't miss tackles on defense. If we miss a tackle, they're fast enough to go score just from one missed tackle. We've got to get to the ball. We've got to play fast and control the clock. If we can control the clock, not turn the ball over, play great defense, it sounds simple, but it's hard against a team like that. If we can do that, we'll have a chance."
For the Dragons, Smith said his team must win the battle in the trenches.
"We've got to control both lines of scrimmage offensively and defensively," Smith said. "We've got to not turn the ball over and we've got to be ready to adjust on both sides of the football. If they do something a little different, we have to be ready for it. If they do something defensive-wise, we didn't handle that very well last week."
Sponsor Content
Comments