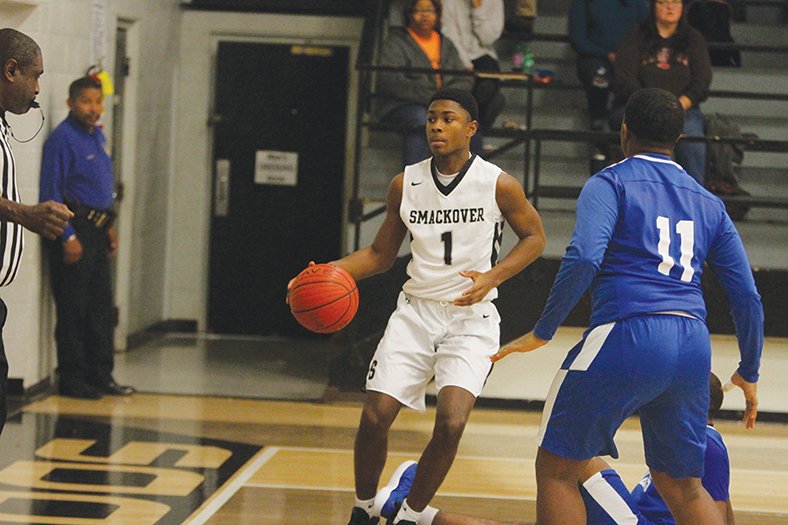 Terrance Armstard/News-Times In this file photo, Smackover's Jaqueze Modica drives toward the baseline during the Bucks' contest against Strong during the 2018-19 season. After falling in their first two games of the season, the Bucks will compete at the FBT Bank & Mortgage Tournament in Fordyce this weekend.
With only two upperclassmen on the entire roster, saying that Smackover is young would be a vast understatement.
But for first-year coach Lenell Brown, November has been about teaching and getting his players accustomed to the way he wants things done.
So far, his young team has made steady progress.
"Definitely, definitely. A whole lot of progress," Brown said. "The guys seem to be buying in. I love the energy that each one of them brings every day to practice. There's not a moment where I have to actually stop practice to get on to any of the kids. I'm the type of coach that I want my kids to hold each other accountable.
"If one of the other players is just not in tune with practice, I want their teammates to hold them accountable because these are the people you're going to go out and play with every night. I'm not going to be out there on the court with you. I'm going to be on the sideline coaching you.
"These are the guys that you're going to be on the court with. If he's not giving, it's taking away from y'all. They've been holding each other accountable. The energy has been there each and every day. I've got high hopes for my ballclub."
Brown didn't come aboard until the summer, and with the Bucks reaching the playoffs in football, he hasn't had much time to work with his team.
"We're very young, but we're scrappy," Brown said. "My system is new to a lot of the kids, so we're still learning it. Being that I got hired late in the year and with football going to the playoffs, all of this is very new to the kids.
"I've got three kids that actually played last year, and the rest are new. We're going to be very competitive. With Thanksgiving break, I can really hammer them and get everybody caught up. After Christmas break when conference play starts, we'll be ready to showcase our skills."
The Bucks are off to an 0-2 start having been downed by Crossett and Strong. They will be back in action this weekend at the FBT Bank & Mortgage Tournament in Fordyce, but Brown isn't concerned with wins and losses, he wants to see improvement from his team.
"That's exactly what it is," Brown said. "I tell the kids all the time that it's a process and to trust it. I just want you to trust the process. I'm not saying that we're going to be in the state championship, I'm saying to trust the process.
"In the first game, we didn't box out well, so that was the emphasis for the last two practices we had. I can't even tell you how many offensive boards we gave up, but that was one of the instances for practice.
"Game by game, we'll look back and reflect and start improving. Once the kids see it for themselves, then everything will start falling into place."
The Bucks will have the steadying presence of senior Jaqueze Modica, an All-State selection last year, as well as sophomore Jakessio Welch to shoulder the offense.
"Jaqueze and Jakessio are both going to play big roles for this team dealing with some kids that have never played on the senior high level," Brown said. "I'll be counting on them to keep the guys in line, encourage them, because they are the most experienced with senior high basketball."
Brandon Lockhart, a sophomore, will play a key role as the Bucks' point guard, and freshman D'Kylan Hildreth also is expected to be a major contributor.
"Those are two big pieces that are going to contribute a lot to this team," Brown said. "He (Lockhart) got moved up at the end of the year, but honestly, you can't tell the difference.
"He's really going to be the heart and soul of the team. He's the one that's going to keep us glued together."
Sponsor Content
Comments