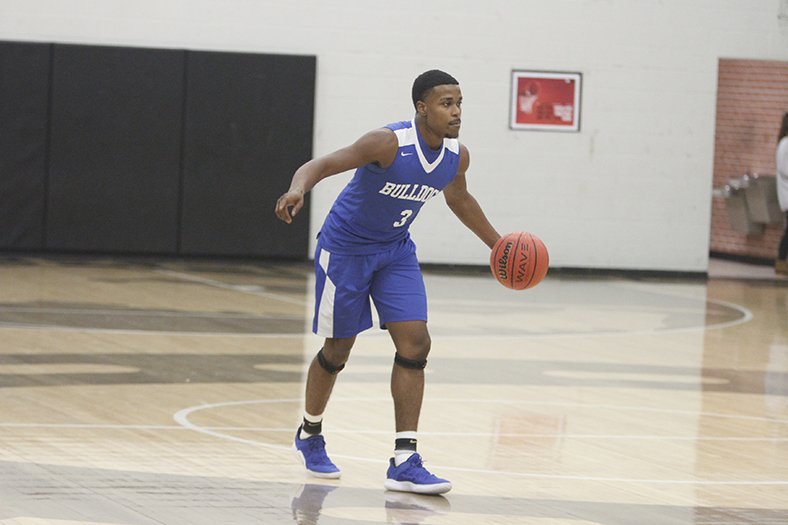 Terrance Armstard/News-Times In this file photo, Strong's Derrion Davis directs the offense during a game against Smackover during the 2018-19 season. One of the top scorers in 1A, Davis is hoping to lead the Bulldogs back to the state tournament after a one-year absence. Davis had 21 points and eight rebounds In Strong's 45-44 win over Smackover last week. The Bulldogs will compete in the FBT Bank & Mortgage Tournament next week.
If there is one mantra Strong coach Champ Watson has preached to his team, it's defense.
A year ago, the Bulldogs won seven games in Watson's debut season, and with one of 1A's top scorers returning in Derrion Davis, Strong hopes to return to the state tournament after a one-year absence.
"A lot of teaching, a lot of training, just getting together," Watson said of the early work the Bulldogs have done since football season wrapped up earlier this month. "Of course, they haven't picked up a ball in a while. We've had some guys step up in practice. Defense is what's going to make us until we learn how to play the game from an offensive standpoint. I'm really looking forward to the season. We've got some guys that have had some good practices."
Davis, a senior who was an All-State selection after averaging 23.3 points, 5.4 rebounds and 2.5 assists per game last year, is working his way back from a torn quad injury suffered during football season.
Just days after practicing for the first time, he scored 21 points and had eight rebounds in Strong's 45-44 season-opening win at Smackover.
"I know I'm going to need him for the long haul," Watson said. "He's not restricted, but you have to go through the process of taking care of it, so we don't want to push it too hard."
Davis scored 30 or more points in seven of the Bulldogs' final 10 games last year, but with him on the mend, Watson got to see a glimpse of what the future will hold for his team when Davis graduates.
"I look at it like, Davis is our guy, but he's also a senior," Watson said. "So these guys have to start now in learning how to play without him, which will help us next year. I will say that in the limited time Davis has been in practice, he's rusty right now, but his decision making, his driving, his shot, he looks well, but it's going to take a little time.
"I'm going to limit his minutes, his time and just see how it goes because I don't want to mess up now and then he's not ready for conference, especially during that crucial time of mid-season conference."
Watson has been pleased with the emergence of junior point guard Emauri Newton, an All-Conference selection a year ago.
"He has stepped up," Watson said. "He's really showing signs of coming into his own. With Davis being out, he has taken over that leadership role. I'm very pleased with Emauri.
"I'm looking for big things from him. He can do a lot of things with the basketball. He can score it, he can shoot it, he can drive it, he can assist it. I'm looking for a big year from Emauri."
If you're looking for an underclassman to keep an eye on, look no further than sophomore Byron Maze.
"I'm looking for big things from him," Watson said. "He is a game-changer. He can play all five spots. He's 6-5, and he can go into the post if he wants to, he can stroke that jumper if he wants to, he can get to the basket, he's long, he's athletic. I'll be able to put him in a lot of different positions."
Fred Williams, a sophomore, is back after missing last year due to knee surgery.
"I'm just trying to keep his confidence up and not be afraid of testing that knee out," Watson said.
"He was cleared this past summer, so he should be getting a little stronger."
Watson also singled out junior Caleb Chambers for his speed and senior Jeremiah Young gives the Bulldogs added size.
"I'm looking to see what he's going to do," Watson said of Young. "Toward the end of last year, he started to pick it up a little bit. He was the team's most improved player last year."
The Bulldogs play in the rugged 8-1A conference, which produced the state runner-up in Nevada with Dermott and Bradley also qualifying for the state tournament, and Watson said the league will be just as tough this year.
"Nevada is there, and I look for them to do what they do," Watson said. "I'm looking to compete. It's all about competing. I just want my guys to compete, at home, on the road, just compete.
"If you start to make good choices and you play some good defense, things can turn around for you.
"I've been fortunate enough to work under Al Flanigan for so many years at Little Rock Parkview.
"There were nights that our shots didn't go, but that defense turned it up a notch, and that's how we got away with a lot of games. Our defensive mentality, our defensive toughness, that's what I'm trying to build here."
If the Bulldogs are to have a successful second season with Watson at the helm, it's going to start with defense.
"There's never been a great, silent defensive team in the country," Watson said.
"They have to communicate. That's how you get it. You have to talk. If we can get that defense down pat, whether we're playing a zone or matchup or even man, we have to be able to talk and get it done, get in those passing lanes and get out in transition."
Sponsor Content
Comments