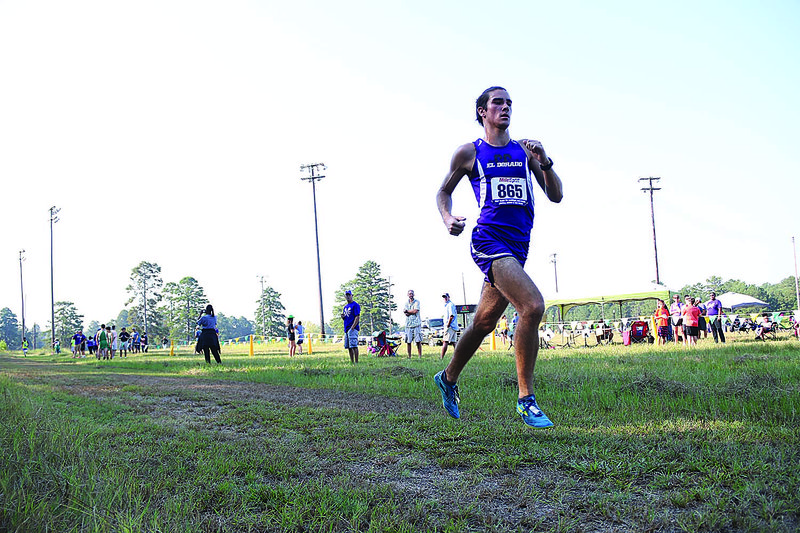 El Dorado's Jadon Cunningham competes in the El Dorado Wildcat Invitational this season. The junior set a school record in cross country and was named Sports Alley/News-Times Fall Sports Male Athlete of the Year. - Photo by Siandhara Bonnet
Competing in perhaps the deepest cross country classification in Arkansas, El Dorado's Jadon Cunningham finished 28th out of 178 runners in the 5A State Cross Country Championships. Because of the quality of the field, he just missed out on All-State honors. But the junior still turned in one of the best male cross country seasons in school history.
Cunningham was an All-Conference performer and broke El Dorado's school record. He was named News-Times/Sports Alley Fall Sports Male Athlete of the Year.
One of his goals was to make All-State in cross country. But Cunningham's times were better than even he expected this season.
"Personally, I think I did really well from the start of the season compared to last season. My goal was to break 18. At SAU, I ran a 16:54 and then at conference I ran a 17:20," said Cunningham, who ran a 17:46.10 at the state meet. "All-State this year was just a really good group. Any other year, I could've gotten All-State with my time. But I'm happy I got All-Conference. I feel like that was one of my better races of the season. I'm happy with what I accomplished this year."
El Dorado coach John Koonce said Cunningham shattered the school record by 20 seconds. The Wildcats' cross country program is 20 years old.
"He has always had the capability, but he was able to stay healthy this season," said Koonce. "He had a special season because of the work that he put in. He is a driven kid that works his tail off."
Cunningham's cross country accomplishments are impressive considering it's his second sport behind soccer. He began running just to stay in shape for soccer. His competitiveness led him to racing.
"I don't think that dual sports hold him back. He is already focused on improving next year, and he will do what it takes to keep the mileage base up in order to build a larger mileage base next summer," Koonce said.
Cunningham, who earned All-State in soccer in the spring, said cross country is still second on his list of sports. But it has become more important.
"Soccer is definitely my primary sport, but I enjoy cross country a lot," he said. "I'm going to keep up running throughout the soccer season. Last week I was supposed to do nothing but just recover after the end of the season. But I just feel bad if I don't go for a run."
Sponsor Content
Comments