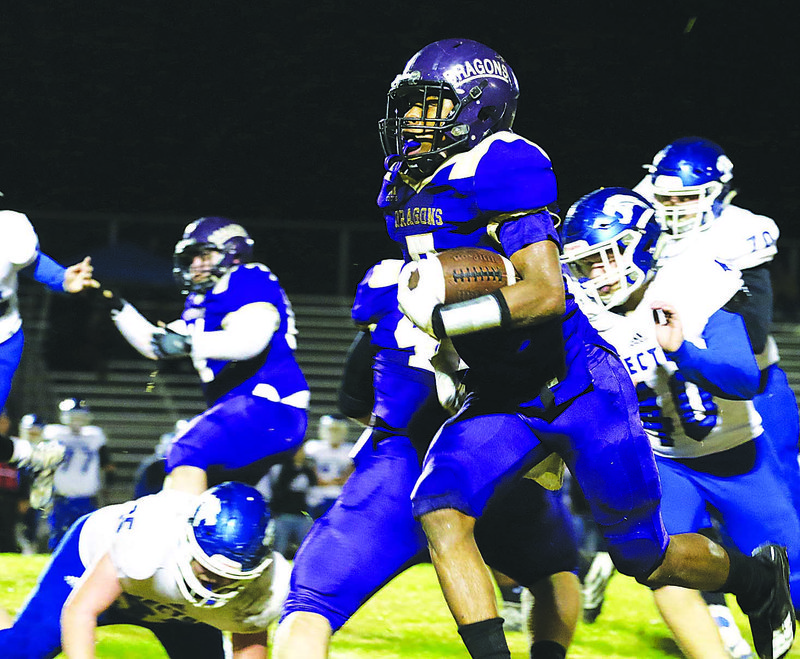 Junction City's Jakiron Cook breaks loose for a big gain against Hector. Cook and the Dragons will host Des Arc on Friday in the 2A state playoffs. - Photo by Siandhara Bonnet
Before Kevin Payne was starring at Louisiana-Monroe, he was playing tailback at Junction City. Before Alan Turner was leading Arkansas in tackles, he was toting the rock at Junction City. Before Jaqwis Dancy was making an impact at Louisiana Tech, he was running the ball at Junction City. Keo Noble, Marcus Godfrey, Hishmma Taylor all went off to play collegiately after starring in the backfield at Junction City.
The Dragons' football program is known for winning, playing power football and running backs.
Meet Jakiron Cook, who has continued the tradition this season and will lead Junction City in Friday's home playoff matchup against Des Arc. Cook, who rushed for more than 200 yards in last week's 50-14 win over Hector, understands the history of his position.
"It feels good. It's like … I don't know how to explain it. It's like a good feeling, though, to be the running back at Junction, a good program in Arkansas," Cook said.
"Basically, I followed in their footsteps and just kept it going."
The senior ran for four touchdowns last week and, as a defensive back, returned a fumble for another score.
"He's just a good football player," said Junction City coach Brad Smith. "I think he's gone to some camps and people put him on a clock. He doesn't time well. But if you put a football in his hand or he's chasing one, he doesn't get caught from behind and he usually does the catching. He's a game performer. As good a running back as he is, he's a better defensive back. That doesn't get a lot of mention. He doesn't get a lot of picks because the quarterback is told, where is seven, let's go to the other side of the field. He's on every special team we have. He's a great kid. He doesn't say a whole lot, doesn't smile a whole lot. But, he's never in trouble, never misses. He's a great senior and he's been a great Dragon. We hope he's got about three more games to be a great Dragon."
Though his skills are obvious now, Cook said it wasn't necessarily his dream to play running back as a youth.
"I really didn't know what position I wanted to play. They ended up putting me at running back and I've been liking it," he said.
Against Hector, Cook showed patience to wait for an opening, a burst to get through the hole and an extra gear to pull away, as evidenced on his 70-yard touchdown run. He also showed strength and power to break tackles.
"My vision is good," he said. "I feel like that's the main thing to have is vision."
But what's happening in Junction City that produces so many running backs? Coach Smith provided the answer.
"We lift weights," he answered. "You see good-looking kids that aren't as muscled as ours. That's where our culling process starts. We start in the seventh grade. If you don't want to lift weights, you end up getting turned by the wayside."
In addition to football, Junction City's athletic program is known for championships in track and weightlifting. That combination of speed and power is what makes a running back.
Cook, who weighs 180 pounds, squats 315, benches 240 and power cleans 250.
"In Junction, we start lifting in seventh grade so that's when I started lifting," said Cook. "It's real important. Running backs going through the hole against linebackers and linemen and all that. You have to be ready for anybody that's bigger than you."
Cook, who backed up Ouachita Baptist freshman running back Dhante Gibson last season, said he's drawn attention from OBU and Arkansas Tech. He can point to the Dragons' weight room as one of the factors in his success.
"Weightlifting, part of that is the mental strength that you get," said Smith. "Very few people have I ever been around that just loved to go into a weight room. They really don't. A lot of places let their kids get out of it. All you have to do is look around at the good programs. Rison doesn't do it. Fordyce, their kids lift. Our kids lift. The good ones lift and the other ones … they're the other ones.
"What we do at running back, you're held to a high standard. I think a lot of places, they get the talented kid, but they don't get in his rear end. That's one thing here, we're going to get in your rear end. You're going to do what we ask you to do as far as work and all that.
"Pretty good genetics around this town, too."
Sponsor Content
Comments