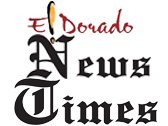 News-Times
Strong's girls' basketball team will return talent and experience this season. Coach Justin Porter hopes for a little better luck in the health department as the Lady Bulldogs look to improve on their 8-12 record.
All five starters return, including seniors Dynasty Davis, Chrishunda Williams, Angel Dimler and Daylan Howard, who will join sophomore Holly Baker. Davis and Williams, a 6-foot-post, led the team in scoring and rebounding, respectively.
An injury, however, sidelined Davis until January, which contributed to the Lady Bulldogs' sub-500 record. Strong finished strong, however, reaching the regional for the fourth straight year.
"The strengths of this team will be game experience, guard play and defensive quickness," said Porter. "With our numbers up this year, we will look to press and apply more defensive pressure."
Strong will actually have better numbers with juniors Rejoice Kingsbury and Denelia Riley and sophomore Madison Dixon, who transferred from Parkers Chapel.
"Our goals will start out small and build. Winning district, making it to regionals and qualifying for state are goals for this team," said Porter. "So far this year we have had some great practice sessions. The girls have been energized so far. We have a lot more competition in practice, which usually leads to success on the court."
Sponsor Content
Comments