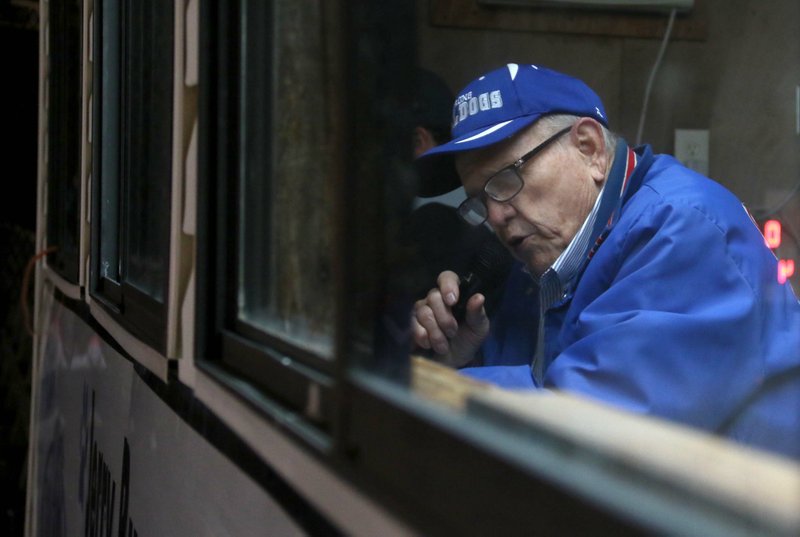 Jerry Burson looks across Jerry Burson Field before Strong High School's senior night game Nov. 7, 2019. Burson was honored before the game for 60 years of calling the game. - Photo by Siandhara Bonnet
Jerry Burson said he's only missed one Strong High School football game in the past 60 years.
That one Friday, his dad died, but the now 79-year-old was back the next game.
Fitting for the Voice of the Bulldogs.
Burson was honored by Strong during its senior night game against Bearden Thursday with plaques and a cake to feed 150 people. Coach and dean of students Anthony Avery said it was long overdue.
"He's the voice of the Bulldogs, he's the voice of the community," Avery said. "He would do anything for the school — he'd do anything to help these students. He feeds them, matter of fact, if they need any clothes, if he can help them, he'll do that, too."
Burson began calling games when he was 19 years old in 1959. He said back then Strong didn't have a press box.
"I used to stand up here in the bleachers with a megaphone," he said. "And over in the gym and looking through the windows when it was pouring rain."
Jerry Langston, dean of students at Norphlet Middle School, said he remembers listening to Burson call the games when he was 6 years old.
Langston grew up a few miles from the field, which is now named after Burson.
"We would sit out on the porch and listen to him broadcasting the games before we were old enough to go," Langston said.
Langston used to coach football and was the principal at Strong, so he got to work with Burson there. He also worked with him at the old Victoria Newspaper writing stories, when Burson had a market in town and at the pawn shop in El Dorado.
In 2014, Burson was inducted into the Union County Sports Hall of Fame, along with Lynwood Cathey, Billy Lefear, Sam Lyle, Van Patrick and Bill Rainer. Randy Ross with the organization said Burson was selected for his meritorious service with the youth of Strong.
"Jerry was the logical choice with 50 years or so (of calling) at that time," Ross said. "He's just so instrumental."
Langston said he was asked to speak at the induction.
"Mr. Burson bleeds Bulldog blue," Langston said. "He's such a great person and he was just overwhelmed with emotions and so thankful people would recognize him. … Any time there's an honor bestowed on him, he can't believe it. He thinks he does nothing special but he is a special person."
Langston said everyone feels the same way about him.
And Avery and Strong superintendent Kimberly Thomas said the same thing — Burson is a special person that everyone in the community knows and adores.
Thomas said it's not just the Strong community, though — it's visiting teams and people, too.
"(He's) the first person they want to ask about: 'Is he still calling the football games?'" Thomas said. "He's fair about if it's a great play, even if it's not a Strong player, he will still recognize that."
Not only is he fair in calling games, but he's humorous, too, Thomas said.
She said Burson is unpredictable, but always appropriate, and he never leaves the press box. During the game, and even at half time, no one other than Burson gets behind the microphone.
"There's not a reason to, there's not a need," Thomas said. "He does the coronation for Homecoming, if there's anything … that we need at Strong High School, he is that person that we can always depend on."
Burson also calls the basketball games, although he said he's only done that for 45 or 50 years. And he isn't paid to do so; it's all volunteer.
"This is just from his heart, he just shows up," Thomas said. "He gives way more than we can ever give back to him."
But to Burson, it's not a big deal, Thomas said. It's just another game day.
"For him, it's just the school, the community, that he loves and cares about deeply," Thomas said. "He doesn't see it as a burden in any way, he's excited to be able to still be a part of what's going on here at Strong High School."
Burson doesn't solely appear on the field or at the court — he'll go wherever the teams, or students, need him, including in Little Rock when the Bulldogs won 45-20 over the Carlisle Bison to become Class 2A state champions.
At the time, Kenneth Dixon, now a free agent after being drafted to the NFL in the fourth round to the Baltimore Ravens, was Strong's running back. During the game, he finished with 361 yards rushing on 28 carries, according to a previous News-Times report. Dixon also broke the state single season rushing record with a total of 3,153 yards in the season.
And Burson was there for the entire journey.
"We couldn't have won the state championship in 2011 without his help and support," Langston said. "We wanted to include him in everything, he was right there just like the rest of the coaches."
Burson was included in the team photo on the field with the championship trophy, and one sits on a bookcase in the Strong High School library beneath the United States flag.
Burson is not retiring from calling the games. Langston said he doesn't think that day will ever come.
"We like to say he'll be the No. 1 Bulldog fan until he dies," Langston said. "He's going to back that football team until there's no school at Strong."
Avery said someone once thought Burson retired and asked him about it.
"Mr. Burson looked at me and said, 'Coach, are you retiring me?' I said, 'no, not I,'" Avery said. "Then he went on and stated…'Well… if coach ever retires, I guess I'm going to retire,' but no. He'll be here."
Sponsor Content
Comments