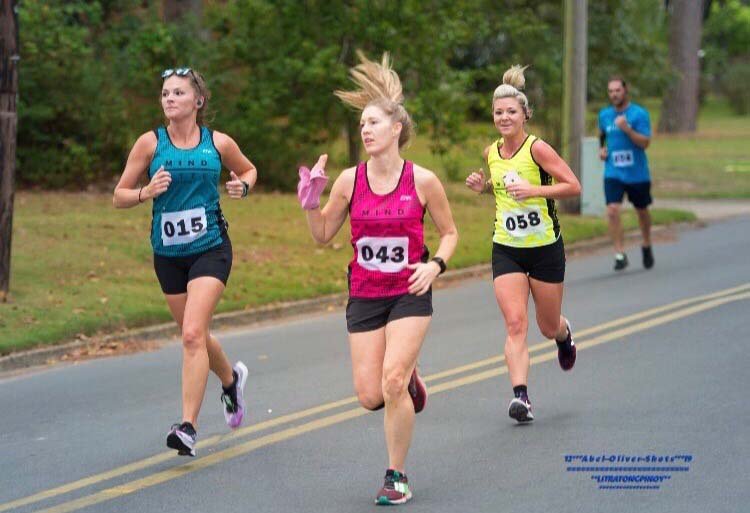 Leslie Darden, Carrie Jackson and Chelsey Owens run in the MusicFest 10K in October 2019. Darden and Jackson will run in the 2020 Boston Marathon. Photo courtesy Carrie Jackson
Two Southern Arkansas women never thought they would qualify for the Boston Marathon, but in a few months, the two will make their way to the northeast to run 26.2 miles and make their year-long dream come true.
Carrie Jackson of Junction City and Leslie Darden of El Dorado qualified for the marathon after four years of running 5Ks, 10Ks, half and full marathons.
"We would talk each other up and encourage each other," Jackson said. "It's an addicting feeling because you feel like you can achieve anything…in this world you want to do if you work hard enough for it."
Jackson, a physical therapy assistant at the Medical Center of South Arkansas, attributes part of her success to training for and finishing an Ironman, a triathlon that includes swimming, cycling and a marathon.
"I figured out that I'm stronger now and I was like 'you know, I think I can do another marathon,'" Jackson said. "'I think I can qualify for Boston.'"
She qualified with a 3:29:16 at the Houston Chevron Marathon in January.
But Jackson said she knew she could when Darden, a lab technician at South Arkansas Medical Association, qualified at the Bank of America Chicago Marathon in 2018 with a 3:30:56.
To qualify, Jackson and Darden had to run a marathon between 3 hours and 30 minutes and 3 hours and 40 minutes.
"But you don't even get in with that. You really have to be 3-5 minutes faster than your qualifying time to get in," Jackson said.
But even if runners meet the time requirement, they won't know if they will run in Boston until they apply.
Darden said Jackson found out in two days after applying. She, though, had to wait a week. After she did, she said she cried.
Jackson said when she found out, she shed a few tears in the bathroom before work, but really celebrated after qualifying in Houston.
"When I crossed that finish line, I said , 'f**k yeah, I did it! I qualified!'" Jackson said. "That's just me. It's usually f-yeah, that's what I yell. Sorry to all small children."
Jackson's husband, John, said his wife isn't ashamed of letting everyone know exactly how she feels.
"She's just so pumped up that she doesn't really control her vocal abilities very well," John said. "Usually the adults can tell she's so excited they're just laughing. That's something she can't control. She just gets so excited and that's part of her personality."
John said he'll usually walk the dogs or take a short run himself in the morning while Carrie runs, especially when she's training, although he knows he can't keep up.
"We'll have to meet each other along the way because there's no way I can run with her — it's not possible," John said.
Although he said the training and teamwork between the two to make sure daily chores get done can be exhausting, it's just a team effort.
John isn't the only support Carrie has: her parents and a coworker, who's also friends with Darden, will travel to Boston as well. Darden's husband also supports her running and the family while she races, including when she was working on qualifying while pregnant.
Darden said she followed a woman who was pregnant and ran about 1600 miles during her pregnancy.
"I saw someone else doing it times two, so I knew it was OK and watching her do it encourages you that I could keep doing it," Darden said.
Between qualifying and the Boston Marathon, Carrie and Darden said they're trying to keep up their stamina by running half marathons and 5Ks. The real training, though, will begin at the end of December, they said.
Darden said the two will train with 18-20 week programs ahead of the run. They'll also have to work on running during the day since the Boston Marathon starts mid-morning, and practice on different terrain.
Carrie said at this point the two know their bodies pretty well, so they know what they'll need during the race as far as water and calorie-intake goes. Even with all the preparation, Carrie said the two are just excited to make it there.
Darden said she's just trying to finish the race.
"We ran really fast to get there and now we just want to enjoy it," Carrie said. "It's like a bucket list, a status thing."
Sponsor Content
Comments