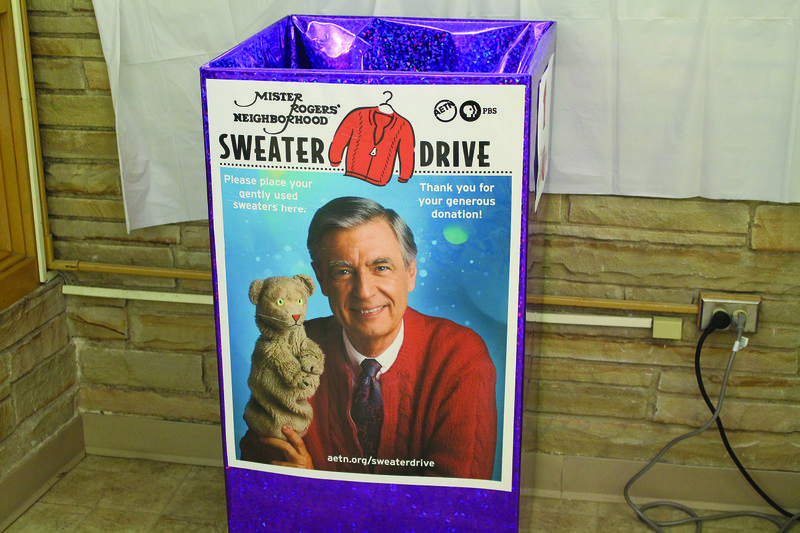 Mr. Rogers: A box will be in each of the Union County Public Library System's six branches for patrons to bring donations of new or gently used winter clothing. The donations will go to the Salvation Army.
"It's a beautiful day in this neighborhood, a beautiful day for a neighbor; would you be mine? Could you be mine?" Fred Rogers asked millions of children every day as he endeavored to teach them about love, kindness and the importance of being a good neighbor.
The Union County Public Library system is doing their neighborly duty this month, partnering with the Arkansas Educational Television Network (AETN) to hold the sixth annual Mister Rogers' Neighborhood Sweater Drive.
Every weekday for 30 years, Fred Rogers greeted children across the country with a friendly smile and the classic "Won't You Be My Neighbor," singing as he changed from a coat and loafers into one of his classic cardigans and sneakers. Rogers's sweaters were all knitted for him by his mother.
"He was a big proponent of literacy," said Michael O'Connell, executive director of the Union County Public Library System.
This month serves as a reminder to Union County residents that being a good neighbor can be as simple as helping others in the community stay warm during the winter.
"It's a good cause. You don't want people to be cold during winter time," O'Connell said. "A sweater, around here, can make a big difference."
Last year, eight trash bags full of sweaters and jackets were donated at the six Union County library branches. Clothing donated will go to the Salvation Army, O'Connell said.
Those interested in donating their gently used winter clothing should visit any of the Union County Public Library Systems' six branches, which include the Barton Library, 200 E. 5th St. in El Dorado; the Harper Memorial Library, 300 N. Myrtle St. in Junction City; the Huttig Branch Library, 204 Frost St.; the Norphlet Public Library, 106 E. Padgett St.; the Smackover Public Library, 700 N. Broadway St.; and the Strong Public Library, 246 W. 2nd St.
If one cannot find the sweater drive box at their library branch, they should give their donations to a library staff member. The sweater drive started on Nov. 1 and will continue through Nov. 30. Donations will be delivered on Dec. 8, O'Connell said.
Throughout his life, Rogers received several recognitions for his contributions to children's development and education, including a Lifetime Achievement Award in 1997 and the Presidential Medal of Freedom in 2002. Rogers dedicated his life to treating children with kindness and respect in an effort to show those children the value of treating others in their community the same way.
"As human beings, our job in life is to help people realize how rare and valuable each one of us really is, that each of us has something that no one else has – or ever will have – something inside that is unique to all time," Rogers said.
To learn more about Fred Rogers and his continuing legacy, visit fredrogerscenter.org.
The Union County Public Library System is also currently holding a food drive. For every non-perishable food item donated, patrons will have the opportunity to have $2 removed from any library fines they've incurred.
Caitlan Butler can be reached at 870-862-6611 or [email protected]
Sponsor Content
Comments