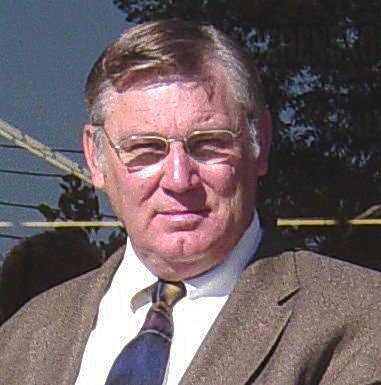 Wetherington
The Boys and Girls Club of El Dorado's Alumni Association is bringing back their Hall of Fame alumni celebrations, and they are kicking off the return to tradition by honoring long-time BGCE Executive Director David Wetherington.
"I don't even want to list all the great things he did for this organization. It wouldn't be in the shape it's in without him," said David Lee, current BGCE executive director. "When I stepped into the role, the way the Club was run and the facilities that we have, just everything, made life extremely easy on me. He was very supportive. He definitely made an impact, absolutely."
From 1977 until 2010, Wetherington was the powerhouse behind the BGCE, overseeing the Club's growth, new policies promoting inclusion and creating a culture of compassion and respect that still permeates through the Club.
"By him making the environment what it was, a welcome home environment, that helps me do what I do now," said Anthony Farris-King, after school programs director at the BGCE and 2012 BGCE Youth of the Year. "Especially because he was so humble with the youth, I think that helps me do what I do."
When Wetherington first stepped into the BGCE, leaving a position as unit director in North Little Rock, he was the only full-time employee, serving about 1,700 youth with the help of one-part time secretary at the Club's Northwest Unit.
Under his leadership, the Club grew to include female members, added a second unit (that was re-named in his honor in 2012) and instituted a free meal program. Membership about doubled and Wetherington added new sports and drug-prevention and computer technology curriculum to the Club's after-school program.
"When I first came to El Dorado in '77, the budget was probably around $80,000. When I left, it was over $1 million," David Wetherington said. "The biggest memories were getting a lot of great support for the Boys and Girls Club."
For the children at the Club, Wetherington was an imposing figure. Farris-King described him as a "big man with a big voice," adding that with as many children that are served at the Club, sometimes sternness is needed.
"One thing I remember most – he never turned a kid away. Even if they weren't able to pay for a membership or if they couldn't pay for this or that, he would always try to help some kind of way. He would even pay out of his own pocket," Farris-King said. "He found a way to be stern but gentle."
Reggie Thomas started attending the BGCE (then just the 'Boys Club,' as female membership had not yet been introduced) around 1980, when he was just six years old. He agreed with Farris-King's childhood assessment of Wetherington, saying he was somewhat intimidated by him as a child; however, as an adult, Wetherington's role at the BGCE and impact have become more clear.
"A lot of dealings I had with him were when I was in college. There were some things that my family was going through and Mr. Wetherington was very compassionate about that. He helped us along the way, to be able to do some things that we needed to do – especially after I left and went to West Point, his helping my mom enabled her to come out and visit me a couple of times, and then I came home for the summers and worked for the Boys and Girls Club," Thomas said. "Especially during that time, because of what our family was going through, his compassion and understanding with my mom, providing summer employment for me, kept me out of the streets and doing things positively in the community. That was kind of my inspiration."
After completing college, Thomas returned to El Dorado. He began volunteering at the Club in the early 2000's, when his own children became members there. He said Wetherington personally encouraged him to join the Board of Directors.
"I was hesitant about it first, but we sat down and had some conversations and he just kind of reassured me that what I was doing already was what they were looking for," Thomas said. "I think he's a great guy. I think everything he's getting he's well-deserving of. He's a pretty humble guy – we had to convince him that he needed to be conducted. It was something we were going to do regardless."
Lee said it is still common for him to hear from alumni about the impact Wetherington had on their lives. He said the culture Wetherington created at the BGCE has held up over time, as new generations take to heart the lessons of compassion, hard work and respect that Wetherington made a priority for BGCE children.
Wetherington said seeing his impact on children's lives was enough of a repayment for a job well done.
"When I came through, there were several men that had an impact on my life serving on the Board of Directors," Wetherington said.
"Working with kids was great, and working with parents was sometimes not so good, but that's sometimes part of the job," he added with a laugh. "I had kids that grew up to be doctors, lawyers, politicians, ministers — lots of good kids."
Matthew Shepherd, Arkansas Speaker of the House and BGCE Board Secretary, was another member of the Club throughout his childhood. He said even then he could tell Wetherington was someone to look up to, and as an adult, Wetherington's leadership has become even more appreciable.
"I think we all understand that he was one of the biggest reasons that the Club is what it is today. During his time, the Club greatly expanded, it provided not only sports and athletic programs, but also different programs to address needs in the community," Shepherd said. "If anybody's deserving of being in that Hall of Fame, it's David Wetherington, because the Boys Club would not be what it is without him."
On Thursday, Wetherington will be inducted into the Boys and Girls Club of El Dorado's Hall of Fame. The last inductee was NFL coach and El Dorado-native Al Miller, who was admitted in 2012.
Lee said this year's Hall of Fame dinner is specifically geared toward alumni. For that reason, only 200 tickets are available at $25 each. The banquet will include a barbeque dinner and will be held at the BGCE's Northwest Unit at 1201 N. West Ave. starting at 6 p.m. on Nov. 7.
"We've started a renewed focus on our alumni," Lee said. "We started this year with our Cecil Kellum project, for improvements at the ball fields here behind the Club and that has led to us wanting to induct prominent alumni into our Hall of Fame. We're going to make this into an annual event."
To purchase tickets, call the BGCE at 870-863-8753. BGCE alumni living outside of El Dorado are also encouraged to attend. Lee said he can facilitate online ticket purchases for out-of-town alumni, and they should call him at the BGCE.
"To be inducted, it's a big honor, I know that," Wetherington said. "There's a lot of people that had an impact on the Club. This is a big honor."
Caitlan Butler can be reached at 870-862-6611 or [email protected]
Sponsor Content
Comments