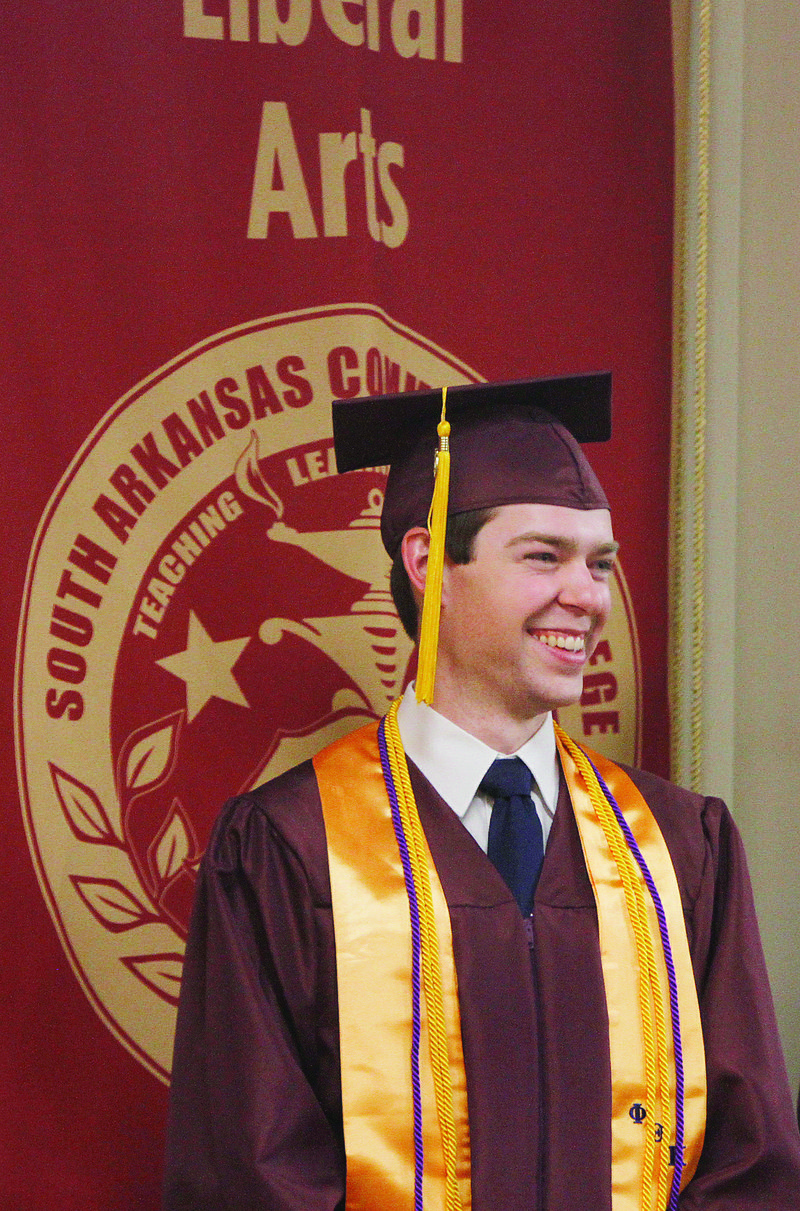 Jonathan Lewis Harbour prepares to graduate with the highest honors during the South Arkansas Community College Spring Commencement Ceremony at the El Dorado Conference Center. - Photo by Terrance Armstard
With an effortless smile indicating his grounded attitude and a thoughtful, scientific perspective, Jonathan Harbour makes gardening through home school to graduating at the top of his class look easy.
"It's been really neat over the past two years that I've been at SouthArk, looking back at my entire life and piecing everything together, saying 'ah, so that's kind of what that lesson back there was for, preparing me for this right here.' And I'm sure that lessons learned in the past are going to be useful in the years to come, but it's nice to make those connections right now," Harbour said.
Harbour grew up in El Dorado, learning from his mother, Ronda, who home schooled him alongside his three siblings, Benjamin, Hannah and Rachel. The family is close; until recently, the siblings had a family band, playing at local churches and nursing homes.
"We've been playing together for, I think, about three years," Harbour said. "I play the banjo, I've played six years. This is starting the seventh year."
It was also while being home schooled that Harbour took up gardening, a hobby that has helped to shape his life. His parents fostered the interest in him and his siblings, but after reading Joel Salatin's "Folks, This Ain't Normal," he really dug in.
"Beans, peas, okra, tomatoes. I've been experimenting with corn," he said. "Even though we don't get really good quality corn in the end, it's nice to analyze how this year went and see what I can change next year."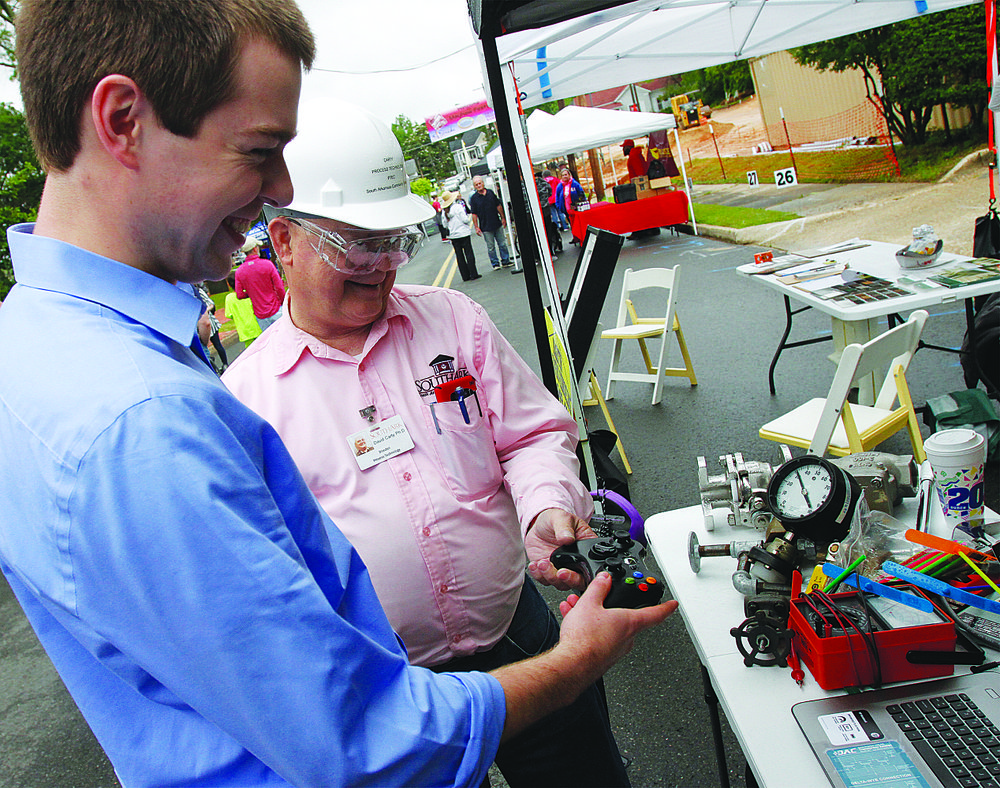 SouthArk student Jonathan Lewis Harbour speaks to Dr. Dave Carty, director of Process Technology at SouthArk, during the 2019 Mayhaw Festival.
He is working to stay organic in his gardening, experimenting with different growing techniques and pesticides and composting the family's trash. Harbour said self-sufficiency and growing food organically is a way he feels he can get closer to God's ideal.
"We've been gardening for as long as I can remember," he said. "In that book, he talks a lot about one, the importance of organic gardening, and two, the correlation between organic gardening and how God intended it to be in creation. Now, obviously we're not in creation anymore, but the concepts still apply."
Five years before he started college, Harbour's family began participating in the National Bible Bee, a contest centered around knowledge and understanding of the Bible. In 2016, Harbour made it to the semi-final round, finishing 12th overall.
He said studying for the Bible Bee was a big help in transitioning from home school to college.
"Through that, I think that's where we learned a lot of self-discipline, where God taught us our self-discipline, how to put aside things that aren't as important," Harbour said. "I think those five years really helped prepare me for coming into college."
Harbour started at South Arkansas Community College at 19. He said he hadn't wanted to go until shortly before he decided to enroll. He said he realized he wanted to learn more about agriculture and large scale-farming.
He initially wanted to study agriculture, inspired by his then six years of gardening at home. However, with too few credit hours to maintain his scholarship his first semester, he decided to sign up for an introductory accounting course; this fall he will head to Southern Arkansas University to complete his bachelor's degree in accounting.
"I took the accounting class and it was a difficult class, but I enjoyed the theory behind it, and I guess you could say the math too, although it's different than college algebra math," Harbour said. "I decided to change my major from agriculture to accounting and keep my love for agriculture as a hobby, which, I think, so far it's worked out."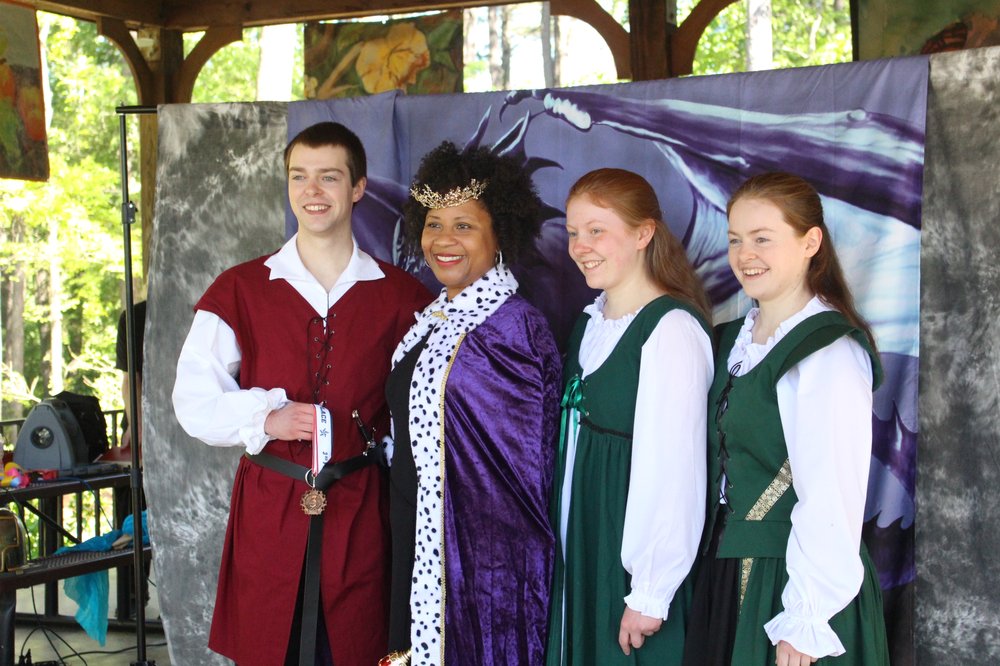 Jonathan Harbour stands with El Dorado Mayor Veronica Smith-Creer and his sisters, Rachel and Hannah, at the Fellowship of the Spring Renaissance Faire, which was held in April by the South Arkansas Community College.
By his second year in school, Harbour was in the groove. He was elected Student Body president, the leadership position of the Student Government Association, at the end of the 2018 spring semester. At the start of fall semester, he'd started tutoring other students in SouthArk's Testing and Learning Centers.
"That was a really neat experience because it helped firm up the principles that I'd learned in class, getting to teach that to the students who were coming in, needing help — that really made some of the stuff click with me," he said. "It was neat being able to help other students while at the same time helping my own knowledge of accounting."
As SGA president, he met with student senators and faculty advisers regularly, discussing ways to make student life better. Last fall, the school introduced intramural sports, and Harbour said it has so far been mostly a success. SouthArk also announced a basketball team, the Stars, which will start its first season in the National Junior College Athletic Association this fall.
As a representative of the student government, Harbour had to speak on their behalf on several occasions. He said those were some of his favorite experiences in college.
"I would be the one that had to speak for the other students," he said. "Before I'd come to SouthArk, I wouldn't have considered myself a great speaker — I still don't. But I started to get experience doing that. It was strange getting thrown into those scenarios that I never would've gone into of my own accord, but the people at the college kind of pushed me into, because they knew that one, that it would be good for me, and two, they saw more in me than I saw in myself."
Another special moment was receiving his first "yearbook;" 70 or so friends from SouthArk helped compile a notebook of messages that his sister presented to him recently.
Harbour said he would recommend SouthArk to anyone. Along with the new extra-curriculars and friendly classmates, he said the school's faculty is consistently top-notch.
"They're friendly every single day, so when the students come up to the college wanting to register, they're going to be treated very well, not only on the first day but on all the days," Harbour said. "The professors have tried to have the students set high standards for themselves … All of the teachers that I had were always willing to sit down and discuss any questions that I had regarding the course material, and some professors would even sit down and discuss other things as well, which was nice, I really appreciated that. I think when they're willing to do that, it brings a different dimension to the class."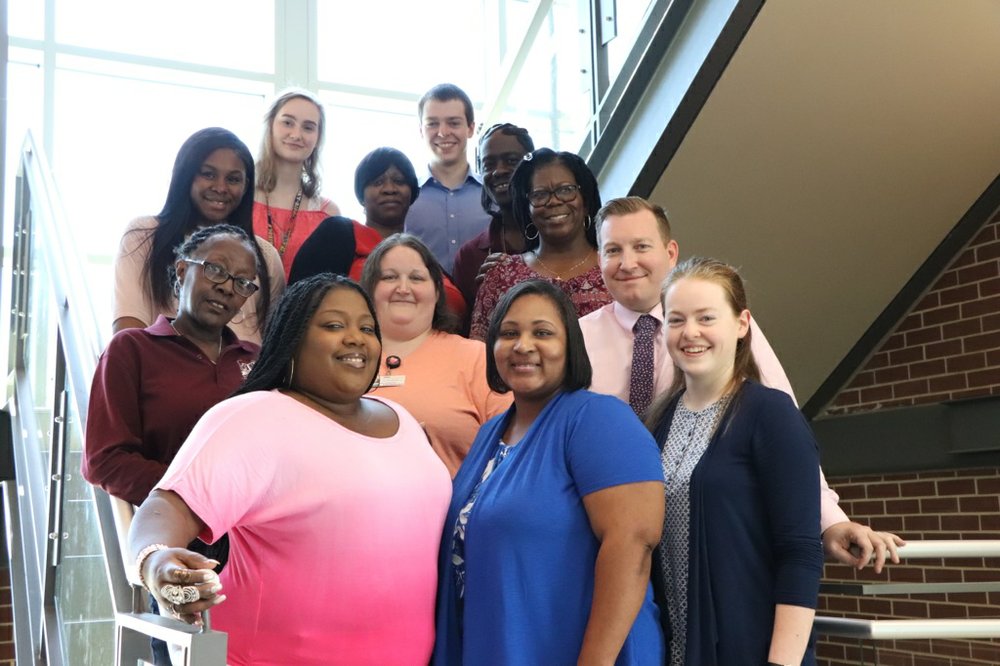 Jonathan Harbour (top) poses with other members of the Student Government Association at SouthArk.
Earlier this month, Harbour graduated summa cum laude from SouthArk, earning his associate in arts degree with the highest honors for the technical certificate of general studies. In addition to SGA, he was a member of the National Society of Leadership and Success and Phi Beta Lambda.
In the fall, he will start at SAU; for now at least, he plans to make the commute from El Dorado in order to stay in his hometown. While he doesn't know what sort of job he'll look for after he finishes at SAU, he thinks he'd like to stay around El Dorado for a while.
"I have a lot of connections here in El Dorado that I don't have elsewhere. All my family is in El Dorado, all my friends are in El Dorado, except for a few scattered around America," Harbour said. "For the most part, everything is here for me right now, so my plan right now is to stay here for a while."
Another interest Harbour has recently begun cultivating is in politics, history and philosophy. He said he first got interested when voting in the 2016 election, when he was first eligible to vote. "On Liberty," by John Stuart Mill, has had the greatest impact on his political philosophy, he said.
"I try to be open enough to where I can listen to the other side and learn from the other side, see where they're coming from, and try to find the common ground between the different sides, especially since there's more than one side — there's not just Democrat and Republican, within those two camps there's so many sides," he said. "Just trying to understand where other people are coming from, because I think too often, people are ignored or thrown under the bus because they hold a different perspective."
Heath Waldrop, director of marketing and public relations at SouthArk, said Harbour brought a lot to the school.
"We'll miss him for sure. Jonathan always was willing to put in time, and extra time, on student activities and college events. It's not easy to replace the effort of someone like that — to say nothing of hid kindness," Waldrop said.
In addition to his parents and siblings, Harbour's church family is also in El Dorado, at Immanuel Baptist Church. A recurring theme in Harbour's life has been the role his faith plays.
"I wouldn't be where I am, with the position that I had at SouthArk of SGA President, without God. … He gets all the glory for what I've accomplished at SouthArk [and] for what I hopefully will accomplish in the future," Harbour said.
Caitlan Butler can be reached at 870-862-6611 or [email protected]
Sponsor Content
Comments