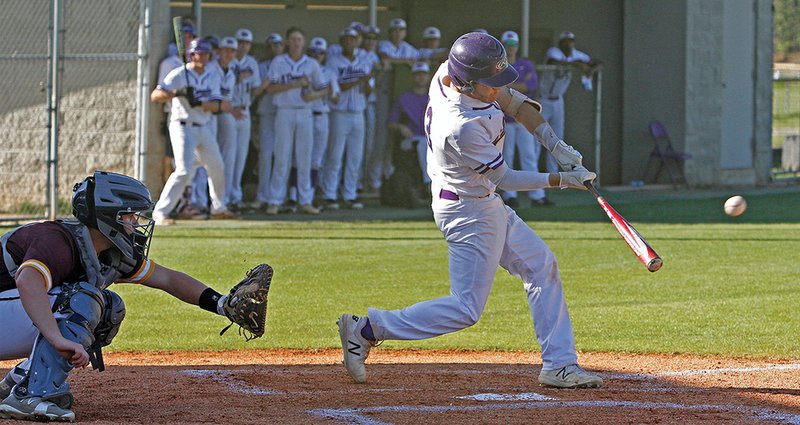 Terrance Armstard/News-Times El Dorado's Jacob Boshears takes a swing in action against Lake Hamilton. Boshears is among several seniors the Wildcats will have to replace for next season.
El Dorado stayed in contention for a berth in the state tournament until the final days of the regular season before falling short of qualifying by finishing in fifth place in the 5A South.
Although the Wildcats may have fallen short in their quest to make it to the state tournament, there is plenty of promise for the future.
With a plethora of underclassmen having to cut their teeth in a tough conference, the Wildcats went 15-11 overall and posted a 7-7 record in the 5A South, which will produce this year's state champion with Benton and Sheridan colliding in the state finals, and all four teams from the conference won their first-round games at the state tournament.
"We were kind of up and down," said El Dorado coach Cannon Lester of his team's season. "I thought for the most part we pitched the ball really well. We were in a lot of games. We lost late, and hopefully we'll learn from that and get better for next year."
With their backs against the wall, the Wildcats responded down the stretch, posting a five-game winning streak that included a 6-3 win over Texarkana, and Lester said the experience of seeing some of the best pitching in the state will help his team going forward.
"I thought on the mound, they did a really good job. They kept us in a lot of games," Lester said. "We won some big games down the stretch. At the plate, they had some ups and downs, but the good thing was they got to see great pitching, and they had some success after they had struggled, so they know what they need to work on. That experience will be priceless over the next couple of years."
If there is one thing Lester wants his team to do over the summer, it's hit the weight room.
"I think the main thing we need to do is not even from a baseball standpoint, we just need to get stronger," Lester said. "We saw some great things early on when we were really strong. That's our main goal."
Although the Wildcats will have some major holes to fill due to graduation, Lester is hoping his team can take the next step in 2020.
"I hope so," Lester said. "We'll have a lot of guys that got a lot of experience. I think we ended up starting probably five different freshmen on varsity through the year. The main thing is we've got to replace is our No. 1 on the mound, and Chase Webb had (Tommy John) surgery, so hopefully we'll get him back, but we're going to have a core back. We're excited about where it's headed."
Sponsor Content
Comments