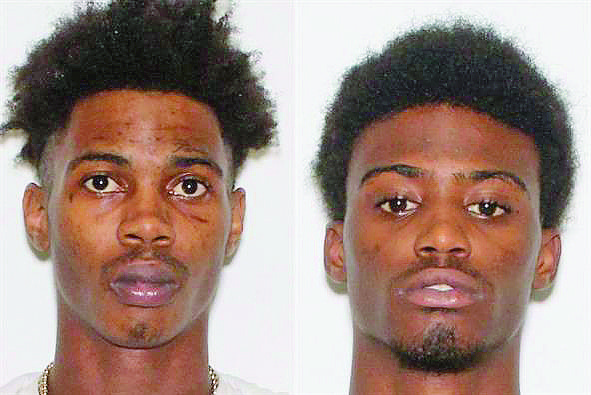 Arrest warrants have been issued for two men who are wanted in connection to a shooting in which several vehicles were damaged last month.
El Dorado police are looking for Harold D. Burns, Jr., 22, and Harold L. E. Stephens, III, 20, on felony charges of terroristic act, aggravated assault, possession of a firearm by certain persons with an enhanced penalty for felony with a firearm and another enhanced penalty for engaging in violent criminal group activity.
Burns and Stephens are wanted for their alleged involvement in an April 27 incident in which shots were fired at Building 508, 1814 Junction City.
They are two of five suspects who have been identified in the incident. Three other suspects have already been arrested. One is a juvenile who is being charged as an adult.
Multiple shots were reportedly fired during an event to honor 22-year-old Randall D. Farlin, who had been fatally shot days earlier.
Three vehicles were damaged by bullets, according to police reports.
Dayon V. Golden, 37, is being held in the Union County Jail on a $100,000 bond for his alleged role in the incident.
Golden was arrested May 1, initially on a warrant for parole violation. He was later served with a separate arrest warrant for terroristic act, aggravated assault, possession of a firearm by certain persons, felony with a firearm, fleeing (auto), fleeing on foot and failure to stop or yield.
The $100,000 bond was set during a first appearance hearing May 3 in 35th Judicial District Court.
Ishiquq S. Marbray, 17, was arrested May 7 for terroristic act, aggravated assault and possession of a handgun by a juvenile. Marbray is being adjudicated as an adult for offenses with which he is being charged.
Police said that when they responded to Building 508 in reference to the April 27 incident, a vehicle sped away from the scene, nearly striking two officers.
After a brief pursuit, police found the vehicle abandoned in the area of Norsworthy and East.
The driver and a passenger in the vehicle were later identified, police said at the time.
A fifth person was arrested earlier this month in connection to the incident. Police have not released the name of the suspect, saying that he is an adult and has been released on a citation for charges that are similar to the other four suspects.
Lt. Chris Lutman, public information officer for the El Dorado Police Department, also noted that the fifth suspect has been cooperative in the probe into the shooting.
Lutman said Golden and the suspect who has not been publicly identified were identified as the driver and passenger, respectively, of the vehicle that fled the scene.
He said investigators do not anticipate any more arrests in the case.
"We've gone as far as the evidence has led us right now, unless another door opens. Of course, we're always asking for feedback from the citizens out there," Lutman said.
Burns and Stephens are considered armed and dangerous and police are advising residents not to approach them.
Anyone with information on the whereabouts of Burns or Stephens is asked to call Lt. Scott Harwell at 870-881-4810 or Crime Stoppers at 870-863-INFO (4636).
Information leading to an arrest could be eligible for a cash reward of up to $1,000. All calls will be kept confidential.
First appearances
Justin L. Morgan, 38, remained in the Union County Jail on Tuesday in lieu of a $10,000 bond, cash or corporate surety, on charges of first-degree criminal mischief with property damage over $500, criminal trespass and public intoxication.
Morgan, of the 300 block of Hardy Avenue, was arrested Saturday after officers responded to a report of an unwanted person at El Dorado Inn, 3019 N. West Ave.
An employee said Morgan was behaving erratically and refused to leave the office after receiving the key to his room.
Morgan is accused of repeatedly smashing his body into the front glass door and shattering the glass.
The complainant said Morgan dove through the door, sat on the floor inside the office and began praying "with his hands in the air." When he was asked to leave again, Morgan dove behind the counter, sat on the floor and began praying again, the complainant said.
When they arrived on the scene, police said Morgan was sitting on the floor behind the counter, sweating profusely, breathing heavily, bleeding from several lacerations and wearing only a T-shirt.
They also said he was speaking incoherently, saying, "… They after to me! They trying to kill me!" Morgan told officers he did not know who was after him but he "ran from them."
Police noted there was a pair of shorts hanging from the shattered glass in the door.
Morgan told police that he had taken Ecstasy pills and smoked marijuana.
He appeared in 35th Judicial District Court on Monday in connection to the incident.
It is the second such incident for which Morgan has been arrested within the past five months.
Last December, he was arrested after police received a report that a naked man, later identified as Morgan, was behaving erratically in the lobby of Econo Lodge, 1920 Junction City Road.
Employees said Morgan walked into the lobby and began stripping out of his clothes. They said he was sweating profusely and appeared to be under the influence of narcotics.
Morgan reportedly became combative with officers as they attempted to take him into custody and tried to fight staff members of Medical Center of South Arkansas, where he was transported for treatment.
Morgan told officers then that he had taken Hydrocodone pills and smoked marijuana that had possibly been laced with another drug.
Courvoisier S. McDaniel, 29, of the 800 block of East Fourth, also appeared Monday in 35th Judicial District Court on a felony charge of communicating a false alarm and was later released from the Union County Jail on a $5,000 bond.
McDaniel is accused of swatting another woman.
She was arrested early Saturday morning after allegedly posing as 25-year-old Brittany Bridges to call 911 and report an unwanted person at Bridges' residence in the 550 block of Beverly Drive.
McDaniel reportedly identified the "suspect" as an El Dorado man who is serving a six-year sentence on a charge of second-degree murder, accomplice.
Police said they learned the man, 26-year-old Brandon D. Dawson, is serving his sentence in the Texarkana Regional Correctional Facility and is a part of the facility's inmate work release program.
They said Dawson had been released on a prison furlough at the time McDaniel phoned in the false report.
Officers forcibly entered the wrong residence on Beverly Drive and damaged the front door after a mix-up with information they received regarding the apartment number.
When police "made contact" with Bridges, she said she had not called for officers' assistance and had not "seen or heard from Dawson."
Witnesses identified McDaniel as a suspect. Police located McDaniel a short time later at her workplace and took her into custody.
They seized her cellphone as evidence and said the cellphone number matched the number that were in the emergency dispatch records.
McDaniel has been released from the Union County Jail on a $5,000, cash or corporate surety bond.
During her first appearance hearing Monday, she was determined indigent and will be appointed a public defender. Per her bond-release conditions, McDaniel is to abide by a daily curfew of 5 p.m. until 7 a.m.
Tia Lyons may be contacted at 870-862-6611 or [email protected]
Sponsor Content
Comments