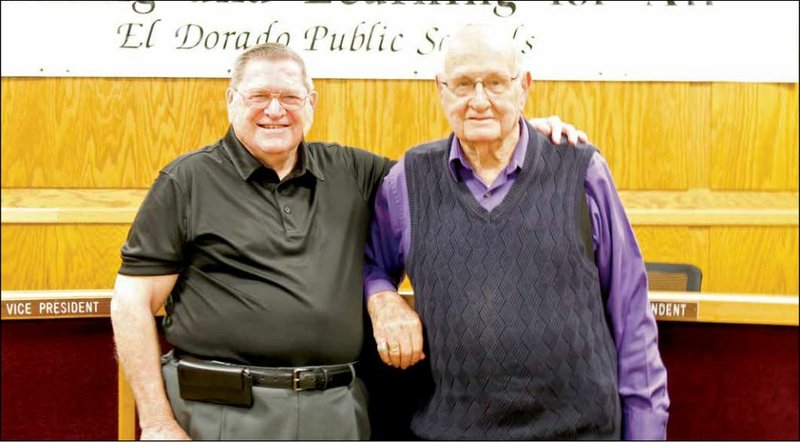 Graduates: Veterans Roy Harbour and Rudolph Nelson will be recognized at the El Dorado High School graduation on May 20 and will receive their high school diplomas. - Photo by Michael Shine
Rudolph Nelson was 17 when he left high school and enlisted in the U.S. Coast Guard and the Army Reserves to participate in World War II.
It was 1945 when he enlisted, the war was starting to wind down. Nelson said he was afraid that he was going to miss his chance to be a WWII veteran.
He grew up around Union County – as the river folk in Calion, he said – and attended Norphlet High School during the Great Depression and the beginning of WWII.
"In 1941, when Pearl Harbor was hit, that rung a bell that we had never felt before with patriotism," he said. "It brought us all together. And then the rations began. We had gasoline rations, sugar, coffee, cigarettes. We were under great scrutiny, observation from my neighbors that if you had a little bit of money left over from your payday, you didn't splurge it. You was in a World War."
Nelson said that time was about survival, particularly for poor families, which meant that academics weren't a priority. The family largely relied on hunting and fishing for food.
"I can tell you more about if the river was good than I can about the war or school," he said.
With the war going on, businesses were dealing with a labor shortage. Nelson said businesses would frequently hire teenagers before freezing the position so that they couldn't leave. Most of the teenage boys in Nelson's neighborhood had dropped out of school and had their mothers sign paperwork saying they could work – including Nelson's two brothers who were working for a captain of a riverboat.
Nelson got his mother to sign the same paperwork, which could also be used to enlist before turning 18. He and one of his friends made their way down to New Orleans to enlist with the U.S. Marines.
"We wanted to join the Marines because at that time it was after the Battle of the Bulge and our supplies to Europe had been a target to the Germans so where they had lost more than any of the other branches of service," he said. "So I wanted to go that route."
Nelson then went to Avalon, California, which is on the Santa Catalina Island off the coast of Los Angeles. During basic training, he had to learn about different ships and the nomenclature of them. When he traveled to San Francisco, which is where they shipped out from, Nelson noticed a ship that he said wasn't a battleship, but was close. The ship was camouflaged.
Nelson said he later learned that ship had been to Hunters Point and picked up a yellow box that was needed in South Japan for the explosions at Hiroshima and Nagasaki later that year.
"I thought to myself that I better remember (that ship) because it's so unusual and everything to see it," he said. "That box, they don't even know what it was themselves. Harry Truman, he knew what was in it. He thought it was a safe way to deliver that over there rather than flying it over. I don't know how big it was or how heavy, but that was the route that they sent it."
Nelson was stationed on U.S. Merchant Joplin Victory. The ship had a steam turban, a 31 off guard crew, three inches on the stern and four inches on the forward bow. It was also equipped with ashcans. Ashcans were an anti-submarine weapon, but Nelson just called them bombs. The ship also had an extra large radar screen that allowed crew members to keep an eye out for submarines "When I come into there on our ship, they had this tug with a cable net," Nelson said. "They took us in and protected us. But I didn't know what was going on at that time. That next morning, when they took us in, I saw one of our submarines … he was charging his batteries."
Nelson said when the atomic bombs were dropped on Hiroshima and Nagasaki in the beginning of August 1945, it gave the crew a feeling of victory. When the peace treaty was signed, the ships received directions to disarm.
"We all went up to the captain's office and had a drink to celebrate that we were victorious over Japan," he said.
He returned to the U.S. around Christmas that year. Nelson said seamen's pay wasn't normally very high, but he received bonuses for being in one of the danger zones.
"We had a good Christmas that year," he said.
Nelson continued to serve in the Marines for several more years. He said he wanted to go see one of the seven wonders of the world – Venice, Italy. So he went back down to New Orleans and sailed for Italy.
He said they could still see the masts of sunken ships in the bay around Venice.
"I could see from the war that they had suffered greatly," he said. "They didn't have any outdoor facilities. They a latrine dug down the street. The women and children got on one end, the men got on the other end. I just remember those hardship things. The kids running around wanting chocolate. We had some that we'd give them. I remember that bridge over one of the canals, called the Rialto. We had a Rialto here."
When Nelson returned to the U.S. in 1946, he wasn't done. From there, he wanted to travel to South America. He traveled to Peru through the Panama Canal.
"The people were very very distressed," he said. "It was poverty and war stricken, I guess. They were sleeping in the streets. I'd never heard such moaning and groaning. It'd put shivers down your back. People were dying from hunger and thirst and lack of housing. Sometimes it's good to see what's out there to make you appreciate what you've got."
When they reached Chile, Nelson said things were a little bit better there than in Peru, but he was still haunted by the people's inability to make a living.
Nelson said that's why graduation is so important. He said people are privileged in the U.S. and people don't realize the importance of it until they get out. Nelson said he received his GED when he returned to the U.S.
"It's a neat thing to know that you'd graduated and you could go on to college," he said. "What an honor and privilege it is at my advanced age as to have a second chance, I guess, of getting into this class and the hardship and all that has started back in my youth with humble beginnings. To tell you how honored and privileged I am to be in a class where I can still get graduated and feel like I can put that behind me that I missed out."
Sponsor Content
Comments