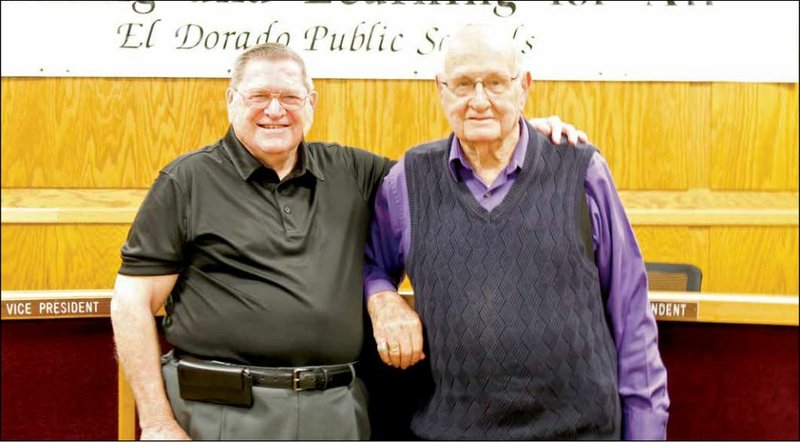 Graduates: Veterans Roy Harbour and Rudolph Nelson will be recognized at the El Dorado High School graduation on May 20 and will receive their high school diplomas. - Photo by Michael Shine
The El Dorado School Board voted in November to start a program for veterans who did not get the chance to graduate because of serving to walk across the stage.
The program is open to veterans who served at least 18 consecutive months in World War II, the Korean War and the Vietnam War, when deployment kept them from earning a high school diploma. It is only available to veterans who are a resident of Arkansas and were honorably discharged.
After announcing the program, the school board voted to approve two local veterans to join the Class of 2019 in their walk across the stage next week.
Rudolph Nelson is a WWII veteran who enlisted in the Coast Guard and Army Reserves when he was 17 and enrolled at Norphlet High School. He would have graduated in 1945. He enlisted that same year, toward the end of the war, and was sent to Japan.
Roy Harbour is a Vietnam veteran who enlisted in the air force when he was 17 and a student at El Dorado High School. He completed through the tenth grade and would have graduated with the class of 1987.
In 2003, the legislature passed a bill, proposed by then Sen. Ruth Whitaker R-Cedarville, which allowed for school districts to choose if they wanted to issue diplomas to World War II veterans. It has since been expanded to include veterans who served in the Korean and Vietnam wars.
El Dorado High School will be the issuing school for these diplomas. They will be honored at the beginning of the program before the senior class walks.
Superintendent Jim Tucker said at the November meeting that the decision to participate in the program came from wanting a way to honor those who served.
"We appreciate them, we appreciate the job they do, we appreciate those who have served in the past and it's just a neat opportunity," he said. "We really hope we have some that are able to participate or get their high school diploma because we'd really like to have them walk with the class of 2019. I think it'll be good for the class to see people coming back and taking care of business after a lot of years and hopefully it'll be a motivation for them too."
Sponsor Content
Comments