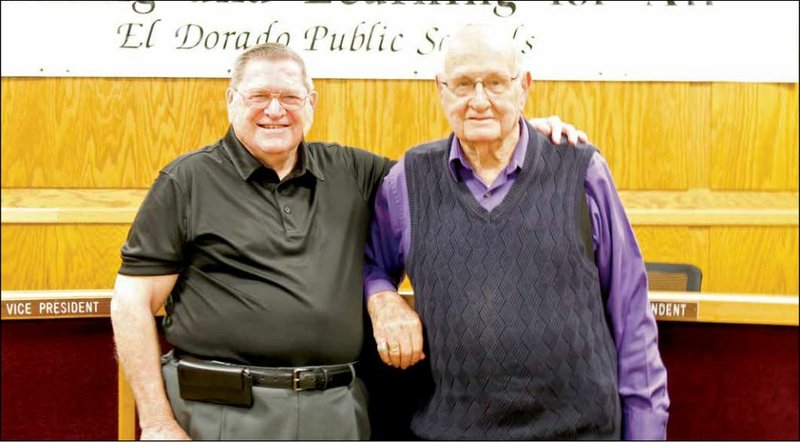 Graduates: Veterans Roy Harbour and Rudolph Nelson will be recognized at the El Dorado High School graduation on May 20 and will receive their high school diplomas. - Photo by Michael Shine
Roy Harbour had completed tenth grade when he left high school and enlisted in the U.S. Air Force during the Vietnam War.
Harbour was attending El Dorado High School when he decided to enlist at 17. He explained his family was facing hard financial times, which led him to Shreveport, Louisiana, for the last half of the tenth grade to live with his grandmother and work at the A&W Rootbeer stand. Harbour said the school in Shreveport was about six months behind what EHS was teaching, which made those months easy, but when he returned he was behind.
"I went four months of the eleventh grade before I decided I'd join the Air Force, which I did," he said.
After spending about a year at the Hamilton Air Force Base near San Francisco, Harbour went to Itazuke, Japan, which is located on the southern island of Kyushu.
Harbour met his wife in Japan, who was working as a nurse in a tuberculosis ward. They were married for 56 years before she died on Sept. 11, 2013.
After Japan, Harbour and his wife came to the U.S. and he was stationed in a block house in Oregon, which are responsible for keeping an eye on the launch sites around the country. He served as what he called a scope dope.
"One day, I was there at the scope during the Cuban Missile Crisis," Harbour said. "When I went to sit down, that chair just went out from under me. I hit the floor. The next day, I went in there and somebody had tied a big rope on that chair for me to tie myself in. The funnier part is that there was a dais in the middle of this room and that's where all the soldiers were. They didn't crack a smile, they didn't grin, they didn't laugh. I had no idea who done it, but I suspected them up on the dais."
While in Oregon, Harbour's wife was diagnosed with tuberculosis. She was taken to a veteran hospital in Washington, leaving him to figure out how to take care of their two children, a 3- and 4 - year - old. He put in for a humanitarian reassignment and ended up in Texarkana, Texas, in another radar squadron.
Harbour left the children with his mother in El Dorado and would come over during the weekend to see them during his wife's 8-month hospitalization. Harbour said they tried to send him to Ethiopia, but due to regulations against interracial marriage, he was assigned to Signal Mountain Complex in Colorado Springs.
He spent two years there before returning to his old base in Japan. During his first assignment there, he worked in the operations building working with the pilots to keep flying records. The second time, he was the base suggestion program administrator. Basically, Harbour said, it was a program for people to suggest ways to save money and his job was to get the suggestions to the right people.
He was also in charge of running the base skeet range during that time.
"Japanese skeet shooters would come in there and shoot in our skeet range," he said. "That was good personnel, being friendly with the Japanese."
He then went to Chanute Air Force Base and training school in Illinois. Then Harbour went to Vietnam for a year in the intelligence department.
"I ended up having to take messages to some of these outposts out in the jungle," he said. "Myself and a lieutenant would get in a Jeep and drive out to these commanders out in the field to give them the information they needed about where the enemy was and that type of thing."
To get the information, they would fly out of the station at Bien Hoa and fly along the trail with people looking down for signs of enemy troops. It never snowed in Vietnam, but when Harbour returned to the states, he went to Root Smith Air Force Base in Michigan. He said when the plane leaving Vietnam lifted off the ground, the whole plane cheered.
He returned to the intelligence department and transferred to Offutt Air Force Base in Nebraska, which is where the Strategic Air Command headquarters was – it has since been disbanded. He remained there until he retired on Nov 1, 1975.
Harbour came back to El Dorado and took classes at the vocational technical college. He had a brother in Paris, Arkansas who lost his wife and was trying to sell his business. Their mother went up to help and Harbour decided she needed to come home, so he traveled there and bought the business with the idea of running it until it was paid for. He then planned to sell it so he could come home — a plan that took eight years to transpire.
"Finally I could come back to El Dorado in December of '84 and I've been here ever since," he said. "I took another year of air conditioning (classes) at the Arkansas Valley Vo-Tech, and a year of welding because my dad was a welder."
Since retiring he's been dreaming of coming back to El Dorado High School to receive his diploma. When he retired from the Air Force, he started working with his class, who he said accepted him even though he didn't graduate with them, on the class reunions. His class was about 244, but only about 20 people were attending the reunions. Harbour took it on himself to locate all of his classmates. He said he didn't find all of them, but he found about 220.
Harbour earned his GED and went on to do two years of college. He's also taken computer classes at South Arkansas Community College.
His daughter has graduated from EHS along with all but one of his grandchildren – with the last one getting ready to be a senior.
"When I found out about this program, I just thought that it would be good for people who are in school now," he said. "It's just something that I felt like (I wanted to do) to be a true graduate of the class of '57. I just felt like I would like to have that diploma from my old high school."
Sponsor Content
Comments