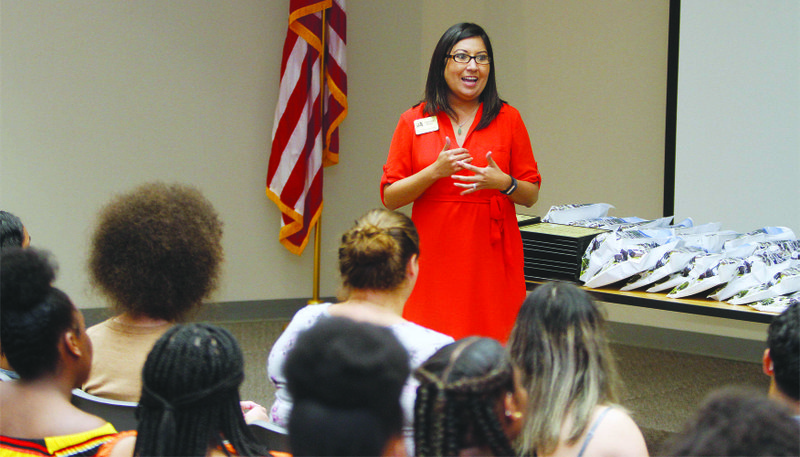 - Photo by Terrance Armstard
Unless you have shared your home with a tiger mom, studying algebra isn't something that immediately comes to mind when you're in high school and summer break is approaching. However, for 23 El Dorado High School teens, that's exactly what was on their radar when school let out this past spring.
The teens were part of the 2019 Bridge to Collge Algebra program designed to prepare youth for college algebra, concurrent credit and dual enrollment courses. The program is a partnership with the El Dorado Public School District, South Arkansas Community College, the Union County Community Foundation and the El Dorado Education Foundation and private donors.
"The expectation is that they will enroll in concurrent classes in the fall semester, specifically college algebra," said SouthArk Early College Coordinator Alexandra Muñoz, adding that the students work hard on their math skills and testing for a month to get qualifying scores to be able to take concurrent credit algebra classes in high school during the fall.
Kaden Jones, 17, plans to go to college and major in business while pursuing a bachelor's in mortuary science.
"I usually have sleeping issues and insomnia, and this did not help it, but I believe the payoff is going to be worth it," said Jones.
Like Jones, Muñoz said that most of the students in the program are college-bound. With that focus on college, students were afforded the opportunity not only to get to know SouthArk better, but to visit several universities while in the 4-week program. Tours to Ouachita Baptist University, Henderson State University Louisiana Tech University along with SouthArk were part of benefits of participating in the program.
Amelia Ward plans to major in either foreign studies or foreign languages at Boston College, Arizona State University or Ouachita Baptist University. Ward believes participation in the program was helpful.
"Its definitely going to help me in school now," said Ward. " A lot of stuff I didn't know, I realize I could do and I'm definitely going to use it in my classes because I barely got through physics last year."
El Dorado School District Math Chair Tom Simmons believes the program instills confidence with students as they prepare to take on a challenging subject like math.
"Its really remarkable to see the effect that it (the program) has on students after these four weeks," he said. "I think having the opportunity to go back through the same math that they've done in algebra 2 (during the program) that will lead them to college algebra - I think that confidence going into the next school year probably has the biggest impact on them."
Simmons said that the program attempts to recruit students that self identify as needing a 'little more help' in math or a 'lot more help' in math. "What we've found is that it helps both groups," he said.
The program utilizes tutors who specialize in math to assist students as they go through the program. Margarita Gonzalez is one of those tutors. Having previously participated in the program three years ago, Gonzalez is a second year tutor with the program.
"It was almost like being a mini-teacher cause you can help out the students," said Gonzalez. "It was a lot more one on one and hands on."
Gonzalez feels it's this personal approach that helped them learn more and get a better understanding of the math.
The culmination of the program ended with the family and friends of program participants attending a ceremony where each student was recognized for their effort and presented with a gift bag containing a graphing calculator. Tuition for the college algebra and plane trigonometry classes will also be covered.
Simmons says that the program doesn't end there and that students will check in monthly and receive additional tutoring assistance.
"The effect on them is going to be amazing as they move forward through this school year," said Simmons.
Terrance Armstard can be reached at 870-862-6611 or [email protected]
Sponsor Content
Comments