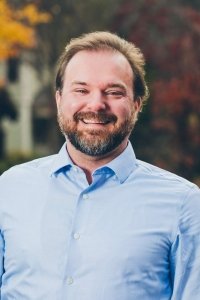 Josh Mahony
An El Dorado native is kicking off his senate campaign in his hometown this Thursday.
Josh Mahony, a Democrat who filed to run against incumbent Sen. Tom Cotton in May, announced three kickoff events on Monday; his first is set for 6:30 p.m. Thursday at the Newton House Museum in El Dorado. He will also speak at events in Fayetteville and Little Rock.
"Arkansas needs a Senator that fights for the people and not special interests," Mahony said. "We need a Senator who believes affordable health care is not a privilege for the few, but a sacred right for all. We need a Senator who understands that some Arkansas counties are booming, but the vast majority are left behind when it comes to economic progress and job creation."
In 2018, Mahony ran the U.S. House District 3 against Republican Steve Womack and Libertarian Michael Kalagias, losing to Womack 148,717 votes to 74,952.
Mahony is the founder of the Arkansas chapter of the New Leaders Council, which recruits and trains progressive millennials for work in politics and nonprofits. He now lives in Fayetteville, where he previously served as chairman of the airport board. He's also the past president of the Ozark Literacy Council board of directors and of the Arkansas Single Parent Scholarship Fund.
"I'm running for U.S. Senate to fight for better wages for hard-working families and to protect our healthcare coverage that's often a matter of life and death for many Arkansans," he said.
Sen. Tom Cotton has served as the junior senator from Arkansas since he was elected in 2014. He also served in the U.S. House of Representatives from 2013-2015. In 2014, he defeated then-incumbent Sen. Mark Pryor 478,819 votes to 334,174.
When Mahony filed to run in May, Cotton released a statement through his campaign spokesperson.
"Sen. Cotton will be re-elected because of his record delivering for Arkansas, including repealing the Obamacare mandate, helping secure funding for Arkansas infrastructure, and being a national leader in the fight against illegal drugs," Arnold said. "Josh Mahony, a perpetually failing candidate who lost his last race by 32 points, supports the Green New Deal, open borders, and sanctuary cities. We look forward to contrasting Senator Cotton's record of service and accomplishment against whomever the Democrats decide to nominate."
The next federal primary election is March 3, 2020, and the general election is slated for Nov. 3, 2020.
This story includes reporting from Frank E. Lockwood of the Arkansas Democrat-Gazette. Caleb Slinkard can be reached at [email protected] or 870-862-6611 ext. 151.
Sponsor Content
Comments