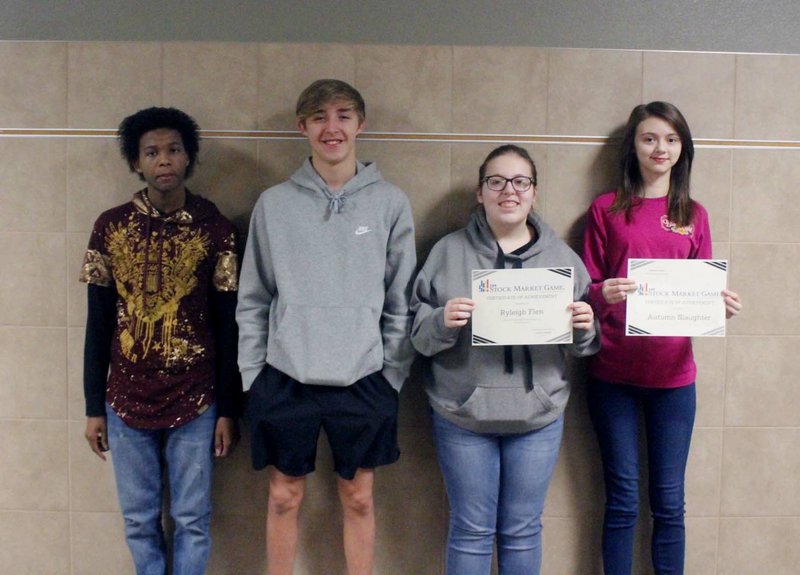 From left, Alvin Miller, Wilson Perdue, Ryleigh Flynn and Autumn Slaughter. These students make up the 1st place team of the Stock Market Game at EHS. - Photo by Photo courtesy EHS Yearbook / Photo courtesy EHS Yearbook
A team at El Dorado High School received first place in Region 3 for the Economics Arkansas Stock Market Game.
The game is a state-wide program that simulates investments and the stock market through Economics Arkansas. The game lasts through fall and spring semesters, and throughout the year, according to a press release.
Students, in teams, receive a hypothetical $100,000 portfolio for the game. Whichever team has the most amount of money after the semester, or year, wins and will be recognized at the spring awards luncheon. The winners receive cash and trophies, according to the release.
"Before the game, there was a lot of research they did in different types of stocks," said Jason Sanders, economics teacher and advisor to the EHS teams that participated in the game.
He said his students learned about volatility of stocks, whether it would fluctuate, beta scores and more.
Sanders said this is the second year his students have participated in the game.
"This year's group really got competitive with each other," Sanders said.
He said he could see his students realize how the real stock market functions and begin to think about how stocks relate to the calendar year.
Sanders said his students began looking at candy companies as it got closer to Halloween, as well as retailers during football season.
Sanders said he had 33 teams with all of his classes — there were 70 teams for the region. Another team from EHS received third place and missed second by about $200.
He said it costs $5 per team to participate in the game, and he plans on continuing involvement in the game as long as he has the funding.
Sponsor Content
Comments