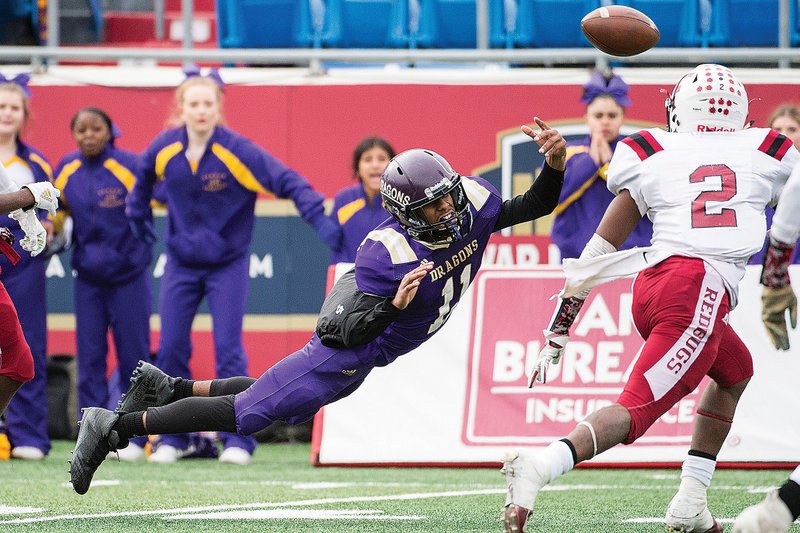 Junction City's Devontay Gilbert (11) lunges for a pass during the Class 2A state championship game at War Memorial Stadium in Little Rock on December 14, 2019. - Photo by Jeff Gammons
LITTLE ROCK - Fordyce Coach Tim Rodgers wanted his team to match Junction City's championship pedigree Saturday.
Rodgers got his wish, as the Redbugs won their first state championship since 1991 with a 28-6 victory in the Class 2A state title game over Junction City in front of 3,246 at War Memorial Stadium in Little Rock.
Fordyce (13-2) avenged a 14-12 loss at Junction City on Oct. 25 with Saturday's victory.
"We didn't turn the ball over," Rodgers said. "The last couple of games that we've played them, we turned the ball over. They're a good team. We always talked and stressed to our kids as far as the level we're at that Junction City is the example everybody looks up to.
"If you're going to win state or win anything, you're going to have to beat Junction City."
Junction City (11-2), which was making its third consecutive appearance in a state championship game, outgained Fordyce 252-226. However, the Dragons had five turnovers and managed just one touchdown.
First-year Dragons Coach Brad Smith, a longtime assistant at Junction City before taking over the program this season, said Saturday's loss was tough for his team to take.
"We had a great year. We didn't have the year we wanted to end it with," Smith said. "We didn't get the trophy that's over there. But you don't always get you want. You have to earn what you get. We didn't play well enough to win."
Junior running back Quartey Shelton scored three touchdowns for the Redbugs on runs of 1 yard, 4 and 9 yards.
"We turned it on," Shelton said. "All of this hard work pays off."
Senior cornerback Sam Allen returned Junction City's Jamal Johnson's fumble 88 yards for a touchdown, which was one of five Dragons turnovers Saturday.
Also for Fordyce, Jaheim Brown, a junior quarterback, finished 13-of-20 passing for 135 yards. Senior wide receiver Tray Hudson had 3 catches for 60 yards, including a 46-yard reception in the first half.
Brown said Saturday's game was the best the Redbugs had played all season and the victory meant more to him since his team knocked off the defending Class 2A state champions.
"It's amazing," Brown said. "They're known for being here. They know how to win. It's an accomplishment to beat them."
Junction City was led offensively by senior running back Jakiron Cook, who had 101 yards on 23 carries.
Senior quarterback Brady Hutcheson was limited to 7-of-16 passing for 114 yards and threw 2 interceptions.
Both teams were scoreless in the first quarter, but the Redbugs got things going offensively in the second quarter.
Fordyce took a 8-0 lead with 5:12 left in the second quarter on Shelton's 4-yard touchdown run and senior De'Arius Sledge's two-point conversion run. The touchdown was set up by Brown's 46-yard pass to Hudson.
Junction City on its next drive drove to the Fordyce 13. Johnson rushed one yard to the Fordyce 12, but fumbled. Allen returned the fumble 88 yards for a touchdown with 2:38 left before halftime. A two-point conversion run attempt by Shelton failed, leaving the score at 14-0.
On the final play of the third quarter, Fordyce's Sledge had his punt blocked by Junction City senior defensive lineman Kyle Kidwell. Senior DeAndre Malone recovered for the Dragons at the Fordyce 6.
With 10:33 left to play, the Dragons pulled within 14-6 as Kidwell recovered Johnson's fumble in the end zone for a touchdown. Junior Gabe Richard's two-point conversion run failed for the Dragons.
That was as close as the Dragons would get Saturday. The Redbugs recovered a muffed punt by senior Harlandus Frazier, which led to Shelton's second touchdown of the game, this one from nine yards out to give Fordyce a 22-6 lead with 5:58 remaining.
Fordyce's Mantrel Neal recovered an onside kick at the Junction City 36, then the Redbugs sealed the victory with Shelton's 1-yard touchdown run that extended the lead to 28-6 with 3:36 left to play.
It was the Redbugs' fourth state championship overall, also winning in 1930 and 1990.
"It feels great," said Rodgers, who was an assistant coach on Fordyce's Class AA state title teams in 1990 and 1991. "I'm just so proud as far as the kids, all of the people and the community. It's great to be part of it."
Sponsor Content
Comments