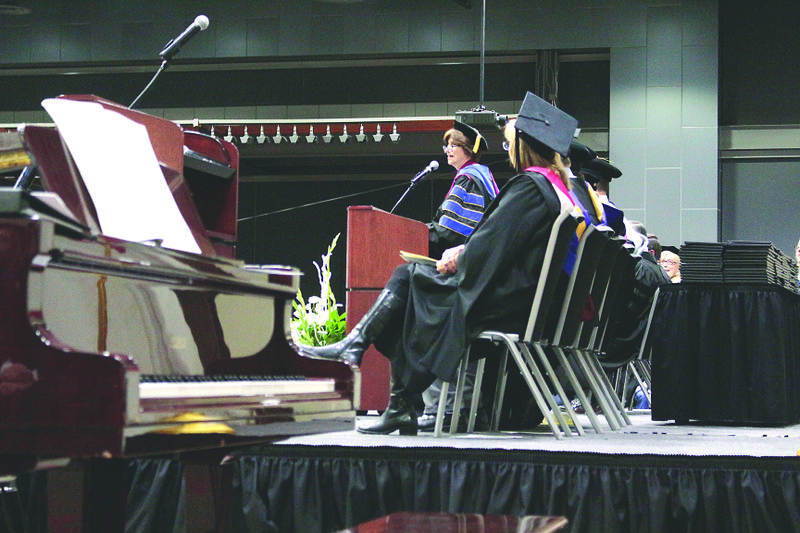 One last graduation: South Arkansas Community College President Dr. Barbara Jones delivers the commencement address during the 2019 Fall Commencement ceremony Thursday. Over 300 SouthArk students graduated or received certification in different fields of study Thursday. - Photo by Caitlan Butler
South Arkansas Community College's last graduating class of 2019 walked the Conference Center stage Thursday night, receiving words of wisdom from outgoing SouthArk President Dr. Barbara Jones along with their diplomas and certificates.
"Life is a journey, and its like a book; some chapters are exciting, others are happy or sad, some are suspenseful, while others are difficult or sometimes rewarding, and others are filled with twists and turns when you least expect it," she said. "In life, you need to keep on turning those pages. If you don't turn the page, you may never know what God may hold for you in the next chapter."
Jones shared her life's story, demonstrating to the graduates how she has overcome challenges to achieve her goals.
Like many students, both at SouthArk and elsewhere, Jones started college unsure of where she might end up; she knew she wanted to work in health care, she knew she wanted to help people, but she never imagined herself leading a college, despite her early start in higher education, tutoring her fellow students at the University of Louisiana at Monroe as part of her work study job.
Jones realized she enjoyed teaching when she continued to even after earning her bachelor's degree. While she'd already achieved her original goal of working in a hospital, she found she enjoyed teaching the laboratory students from the local university, and made the plunge to return to school for her graduate degree, all while juggling a marriage, two young children and everything else that comes with family life.
"I had many questions: 'Is this my purpose? Is this what God wants me to do? How am I going to do it all? Do we have enough money? Do we have enough time?'," she said. "Growth can be uncomfortable, frightening, stressful, time-consuming – but it is all a part of achieving your goals."
Jones was already teaching anatomy and physiology and phlebotomy at Bossier Parish Community College by the time she graduated with her master's degree. She eventually also became a division chair for Allied Health, overseeing 10 programs. But, after several years, Jones realized that she'd found her true passion in higher education, and that to continue advancing in that field, she'd need even more education.
"New chapters often require you to move out of your comfort zone – learn new skills, information and people – and you should expect it to be challenging," Jones said. "You surround yourself with people you can trust and who will support you so you can achieve your goals."
Her husband and daughters were supportive when the family moved to Lincoln, Nebraska so that she could pursue her doctoral degree. Once again, when she completed her degree, a new opportunity presented itself when her colleague asked for her help to establish the Louisiana Delta Community College in Monroe.
"I know that for every major transition in my life, I've turned to prayer for guidance and direction. My prayer has always been to do God's will in my life, and it's been amazing how he's written my story for me – it's been good," she said, becoming emotional. "And here, once again, God wrote my story by creating another opportunity for me."
For six years at 60 to 70 hours a week, she helped build the school up, before she found another good fit – SouthArk. El Dorado immediately welcomed her family, she said, and while she was impressed with the school's quality, it has been a treat to participate in its growth for the last 10 years.
"We at SouthArk have grown and improved so much in these past 10 years, but just like you, it was because of hard work, perseverance, support and opportunities," she said.
She concluded her address by recounting the stories of several students who have inspired her throughout the years through their dedication to their goals: the single mother who vowed to return after failing Jones's phlebotomy class, who aced the class the following semester and who later was working at a Laundromat to pay her way through a four-year university; the retiree who decided in her 60's to pursue an associate's degree at SouthArk and is now about to earn her master's degree.
"I am inspired by the many students and employees whose life stories I've had the honor and privilege of being a part of during my career in community college," she said.
Jones was recognized for her service to the college with an honorary summa cum laude medallion. SouthArk Board of Trustees chairman Steve Cousins presented it to her.
"One thing I've noticed watching many commencements from this stage as a member of the Board of Trustees is the enjoyment Dr. Jones gets out of presenting the awards for the highest achievement, summa cum laude – 'with highest distinctions, with greatest honors' – and there may be some of those presented tonight," he said. "But if not, I'm going to present one: an honorary summa cum laude medallion to Dr. Jones, because during her 10-year tenure, she has served with the highest distinction and the greatest honor."
368 students graduated or received certification from SouthArk Thursday. Jones encouraged them all to take a chance on themselves, work hard and embrace positive change.
"We are often anxious or nervous about what our next chapter might hold; some people are almost frozen in place, clinging to old habits, old relationships, because they are familiar and easy. But growth and change are difficult, even when you're looking forward to it," she said. "I say be courageous and turn the page … My recommendation to you is to be open to whatever opportunities life holds for you … You never know what your story is going to hold, and you have to be ready for it."
Registration for SouthArk's spring semester is currently open. Classes begin Jan. 13. Jones's last day before her retirement begins will be Jan. 31.
Caitlan Butler can be reached at 870-862-6611 or [email protected]
Sponsor Content
Comments