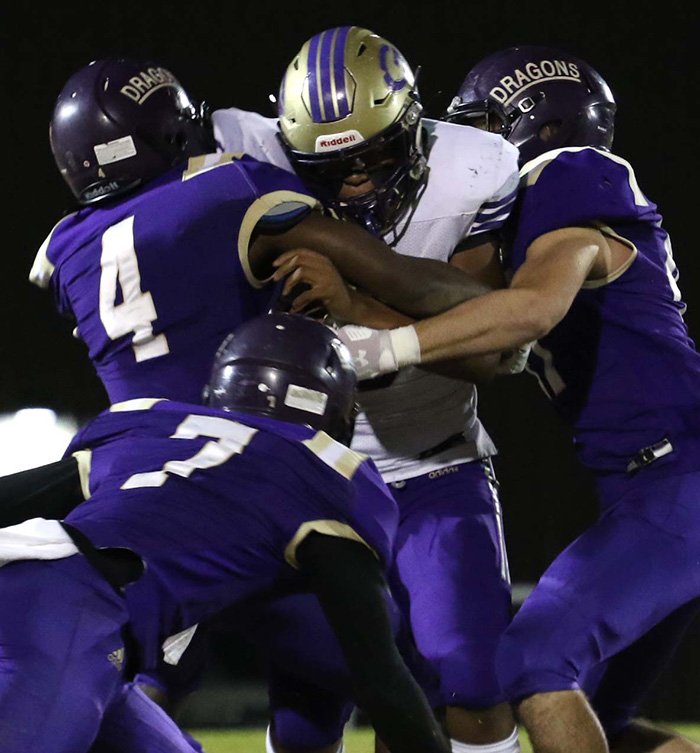 Siandhara Bonnet/News-Times A trio of Junction City defenders try to bring down Gurdon's Royrick Anderson during the first quarter of the 2A state semifinals on Dec. 6.
The first time Junction City and Fordyce met, it was a defensive struggle with the Dragons prevailing 14-12.
The Dragons forced two turnovers that were paramount in their victory.
An interception by DeAndre Malone later led to Jakiron Cook's 5-yard touchdown run near the end of the first half that gave the Dragons what turned out to be the winning points after Jamal Johnson recovered a fumble to end a potential game-winning drive by the Redbugs in the red zone late in regulation.
Could the defenses be just as stingy in today's rematch for the 2A state title? One factor that Fordyce coach Tim Rodgers cited was the weather.
The first meeting at Junction City was played in the rain, but dry conditions are expected for today's game.
"It helped the defenses out on both sides," Rodgers said of the conditions in the first meeting.
"Saturday, playing on turf, and it's supposed to be dry, sunshine. It should be great weather for the ballgame. To shut them down, it's going to be hard. We just want to make sure we don't give up big plays. That's the main thing."
In 14 games, the Redbugs have allowed 181 points while taking on 3A powers Rison, Harmony Grove and McGehee in non-conference play in addition to their 8-2A games and playoff games to date.
Junior linebacker Josh Harrington leads the team in tackles with 104. One of several ninth graders that was moved up to the varsity two years ago, Harrington has emerged as one of the ringleaders on Fordyce's defense.
"Josh is a competitor and he works hard," Rodgers said. "I know we've stayed on him a lot as far as doing things right. We've moved him up as a ninth grader, and he struggled there a little bit until he figured things out.
"The last two years, he's gotten better every ballgame. He likes to hit people. He likes to ask questions and learn. He's our leading tackler almost every ballgame. He just gets after it. He's tough. That's the kind of kid you want there at linebacker.
"He gets punished a lot. He's flying around. He also starts on offense, so he's on the field almost all the time. One thing about Josh, you can always count on him 100 percent. That's the thing that I love about him."
Quartey Shelton is another junior that was moved up to the varsity as a freshman, and Rodgers said he seems to always be in the right place at the right time.
"I don't know what it is, but he just makes plays," Rodgers said of Shelton, who leads the team with 13 tackles for a loss. "He's just one of those kids that's there when mistakes are made by the other team.
"He's picked up fumbles, interceptions, tackles for losses. It's a great thing. Almost every ballgame, he's does something like that for us on defense."
Senior Dearius Sledge ranks second behind Harrington in tackles, but in addition to playing at safety the last two years, a move to linebacker this season has proved to be a boon for the Redbugs thanks to Ja'quez Cross stepping into the secondary and recording nine interceptions.
"As the summer went along at team camps and 7-on-7's, we had a couple of kids that really didn't work out at linebacker, so we moved him there," Rodgers said.
"He went to some team camps in the summer, and he just got better week after week. What it did was it made Josh better and it made him better having Josh on the other side.
"We've got two good linebackers on the inside. Both of them can run. Both of them can tackle. It's just made it so much better there moving him down with Cross filling in at his spot there in the secondary, so we got better at both spots by moving him around."
Junction City's defense has given up 20 or more points on just two occasions this year, and like Fordyce, they have a host of playmakers that make life miserable for offenses.
Senior Kyle Kidwell, who recovered two fumbles against Des Arc in the quarterfinals, anchors the front line.
"Kidwell is the leader," Junction City coach Brad Smith said.
"He's the tone setter. We always like to say, 'He stays in the red.' That's just the way he is. He's a very good defensive tackle. He makes all sorts of plays down there, a great disrupter and a great technician.
Fellow senior Jamie Carroll forced a fumble near the goal line last week against Gurdon, and Smith had plenty of praise for the work he has put in.
"He is one of the most selfless, hard-working kids that I've ever coached," Smith said. "He does not worry about statistics. He does his job.
"He has made our defense so good, and he has gotten the safeties and the linebackers and other people so many tackles by basically assaulting whoever he is on and giving up his body to the gap that he's assigned to. A super-great kid. We will definitely miss him when he's gone."
Jamarco Singleton gives the Dragons another senior up front who has wreaked havoc on opposing offenses this season.
"Our big play defensive lineman is Jamarco Singleton," Smith said. "I think he leads our line in tackles for losses. He's a mismatch-type guy.
"He's 5-9, 185, 190 pounds and runs a sub-4.8/40 and bench presses right at 345 pounds. He is a true speed and power matchup.
"A lot of people look at him and think he's not as big as the other ones and you're going to have something easier to deal with, but he tears into you and you find out you got something you don't like."
The Dragons' linebackers are led by juniors Tate Barnett, Tanner Barnett and Kam Torrence, the latter of which had 16 tackles against Des Arc in the quarterfinals.
"They've played great," Smith said of the Barnett duo. "They can't run away from Jamie because Tate has played so well out there at the other outside linebacker.
"Tanner became a starter in Week 4. He started out as a defensive end, we moved him to inside linebacker last year, and he was a close second in tackles after basically missing 1/3 of the season without being at linebacker.
"Kam Torrence makes a ton of plays. Kam missed most of the year with a concussion. His first game back was the Fordyce game.
"He played against (Harmony) Grove, but he got concussed in the first half against Smackover, and he didn't play another snap until we played Fordyce. He is our flash guy. He's got a lot of speed, a big hitter."
In addition to Malone, Cook and Jamal Johnson have played pivotal roles in the secondary. Last week, Johnson had a key interception to stop a Gurdon drive late in the first half.
"Jamal Johnson has made a bunch of plays," Smith said. "DeAndre Malone has made a bunch of plays at the other corner."
Sponsor Content
Comments