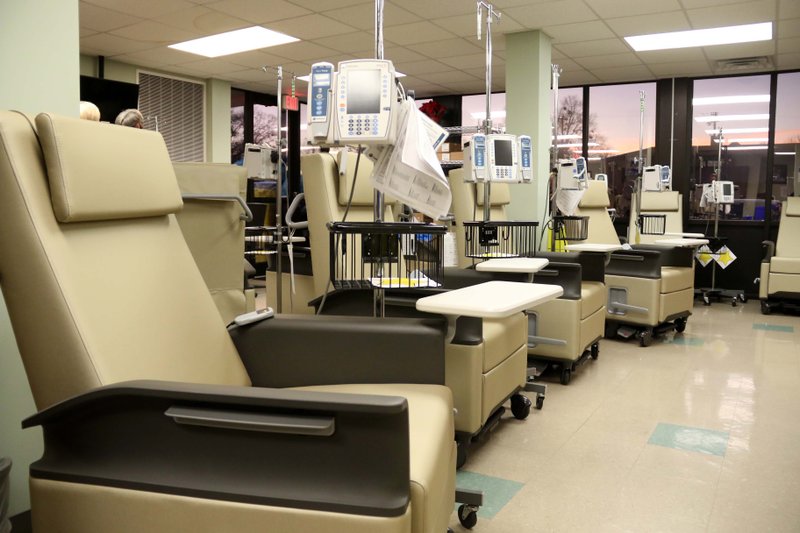 A row of heated seats at the CARTI El Dorado facility Dec. 11, 2019. The chairs will particularly help cancer patients who are treated with infusions that have typically been refrigerated. - Photo by Siandhara Bonnet
CARTI El Dorado unveiled heated recliners to foundation members during an open house Dec. 11.
CARTI is a not-for-profit cancer center throughout Arkansas. The El Dorado location served more than 1600 cancer patients from south Arkansas and north Louisiana in the past year — 700 of them are Union County residents, according to a press release.
The 28 recliners have been spread throughout the facility and began being used about two weeks ago. Dr. Balan Nair, medical director of CARTI El Dorado, said the patients are thrilled — particularly the oncology patients.
"Even if you warm up the room as much as you want, when we infuse fluids, they're often cold and from the refrigerator, so the patient immediately feels cold," Nair said. "As it is, there's a lot of fear and unpleasantness, so we wanted to make it as comfortable an experience as possible for the patient, and that's why we used the heated infusion chairs."
The chairs were funded through donations from the community.
Mallory Van Dover, Vice President of the CARTI Foundation, said three patients from Little Rock banded together to create the Heat the Seats Committee to raise $210,000.
One of the committee members came to El Dorado for treatment one day, noticed the difference in the facilities and called the foundation.
Van Dover said the committee began the campaign in late April 2019 and raised the money by the end of July.
"It's really so much not enough can be said about the commitment of our committee members and the generosity of this community," Van Dover said. "The response of the community was unlike anything I've ever seen."
The organization is currently working toward building a new location to serve all of South Arkansas. According to a previous News-Times report, the goal for CARTI is a 17,000 - 18,000 square foot facility.
Sponsor Content
Comments