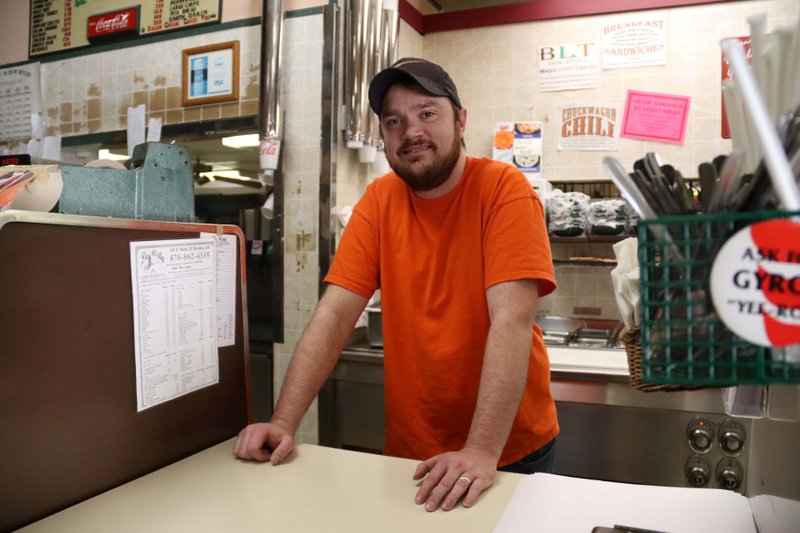 Derick Watts, new owner of La Bella, poses for a photo at the counter Nov. 19, 2019. Watts, who has worked at La Bella on-and-off for the past 16 years, said the fudge is here to stay. He said the only changes at first will be a face-lift and maybe expanding the hours and adding to the menu. - Photo by Siandhara Bonnet
On Derrick Watts' first day of working at La Bella Gourmet Gifts & Delicatessen 16 years ago, he stood near the counter with his hands in his pockets.
When owner Jim Robinson saw this, he shoved Watts sideways.
"[He] said never keep your hands in your pocket because you never know when you're going to fall," Watts said.
This was the first of many lessons Watts learned from Robinson, and is now learning the quirks and daily business tasks as he takes over as the new owner of La Bella. Watts officially began his ownership Dec. 1.
He said he asked Robinson about buying the business multiple times over the years and was shocked when he finally said yes.
Robinson announced in a Nov. 18 Facebook post that after 33.5 years, it was time for him to transition the store to Watts.
"It's fitting that we celebrate a transition that we anticipate with a bit of trepidation — our own," Robinson wrote in the post. "It's time to hand off our fried turkeys and grinders (subs) and fudge to Derick Watts, a loyal La Bella employee who has proven he's ready to tackle fried turkeys and everything else on the menu."
Robinson said he moved to El Dorado in 1976 and was in business with his brother. Four years later, he left that business and decided to open a sandwich shop of his own.
"The reason that I opened La Bella is the meats that I got used to eating in Connecticut — capicola, pristine and prosciutto," Robinson said.
La Bella's doors first opened in August 1986 on West Hillsboro. One year later, a location on the Square on Jefferson Avenue opened and Robinson was there for El Dorado's first MusicFest.
In 1992, La Bella consolidated into the old Samples Department Store Building on Main Street and has been there since.
"It's been really fun. When we opened, we had stuff from all over the world," Robinson said.
He said La Bella served Greek food and bread from Germany.
Over time, though, his food provider sold to another company in Minneapolis and getting the same product wasn't nearly as easy. Then his loyal customer base started moving and aging and a new generation took its place in El Dorado but not necessarily at La Bella.
"Real estate agents use to always bring prospective house buyers here because it's such a different store [than what you'd find in other towns]," Robinson said.
He said he doesn't know what made him change his mind over the years of Watts asking to buy the restaurant from him, but that he has all the confidence in the world in Watts to carry on the business.
"I tried to talk him out of it, but he wouldn't listen," Robinson said. "He told me what he wanted to do with it and I said, 'Derick, it ain't like it used to be, but if you want to try it, I'm going to make it so you can.' … I saw the enthusiasm he had and I said we're going to make this happen."
Watts said he doesn't plan on changing much, but will give the restaurant a face-lift. He said the 6500-square foot party room is ready to "rock and roll." He said he will start moving some of the store products closer to the walls to both utilize the built-in shelves as well as expand the dining room.
"Changing the personality over to my personality, but leave the store still pretty much … it's going to stay La Bella," Watts said.
One thing that isn't going anywhere is the fudge.
The long-time employee began working at La Bella during high school and worked there on-and-off throughout his time at William Baptist College.
In 2009, Watts graduated with a degree in business finance and worked at Clean Harbors until October. When he came to visit the restaurant one day, he talked to Robinson about buying it once again.
"I just ended my career at Clean Harbors and was talking to him about it one day and he said yes," Watts said. "It was one of those one door closes another door opens type situation."
Watts said he and the staff are gearing up for Christmas and already have clipboards hanging for orders of fried turkeys, stuffing, green bean casserole and more. They will also be preparing fudge tins, chocolate covered coffee beans, pecans and almonds.
Watts also noted that the ice will be staying, much to the pleasure of Mike Means, owner of Creative Means on Main Street.
"Best ice in town and I'm an ice fanatic," Means said.
Means said he moved to El Dorado in 1994 and has been going to La Bella ever since. He has his favorites, like the chili in the winter time, as well as the spaghetti. And although he's not much of a crawfish and spicy food person, he promises La Bella has the best.
He said the Robinsons have always been sweet to him and it's bittersweet that Jim Robinson is retiring, but understandable. However, he's excited for the changes Watts will make.
"He's always pretty much done what Jim has done and knows the inner-workings, so he's probably more ideal than most to come in and change things over," Means said.
Watts said although taking over the business is exciting, it's a little scary as well. He said there's always risk involved, but it's whether or not someone can deal with it — and he said he's ready.
"Family-owned businesses, small businesses are hard to keep alive, especially as long as he has and he's done excellent with it," Watts said. "It's been kind of emotional for me too even though I'm the one getting it. … It's going to be hard, it's going to be difficult, it's going to be challenging. It's going to be fun."
Watts said the business may expand its hours and he may add things to the menu, but plans to keep much the same through the new year.
La Bella is located at 101 E Main St.
Sponsor Content
Comments