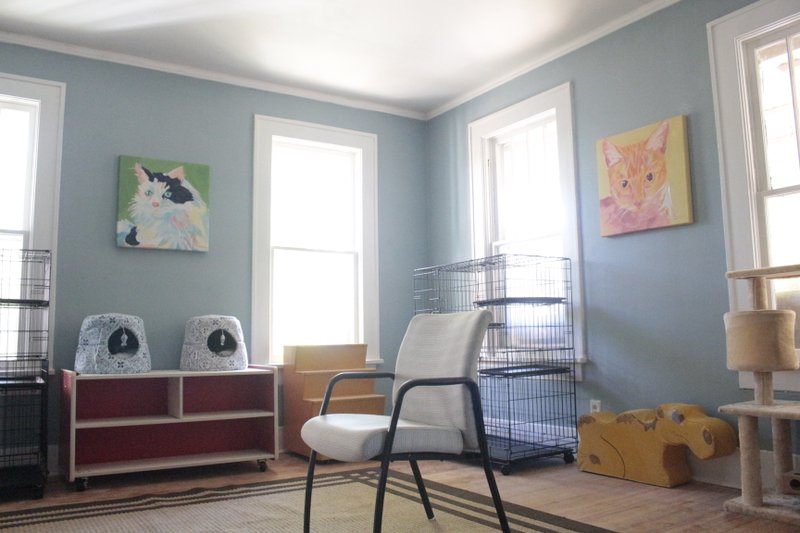 Billy Murphy is building custom cat kennels for the cats that will be housed at the adoption center. The cat room also includes climbing and scratching posts and a view outside. The chair in the center of the room will be replaced with a couch or settee so visitors can sit and play with the cats. The art featured in this room was donated by UCAPS volunteers Angelica Wurth and Michael Kellys. - Photo by Caitlan Butler
The Union County Animal Protection Society has partnered with Arkansans for Animals (AFA) to offer local residents a low-cost opportunity to have their pets spayed or neutered.
Angelica Wurth, a UCAPS volunteer, said that finding low-cost spay and neuter services in Union County is difficult. When UCAPS began their trap-neuter-release program for the City of El Dorado's stray cats earlier this year, UCAPS volunteers often had to drive the caught cats outside of the city to undergo the procedures at an affordable rate.
"The community keeps asking us for low-cost and we don't have it here, unfortunately," Wurth said. "We partnered with Arkansans for Animals and they're giving us the whole day on Dec. 12."
Based in Little Rock, AFA promotes animal welfare and population control through spay/neuter efforts. According to their website, they "support grassroots animal shelter and humane movements to help maximize the potential of too few resources."
Animal population control has been an important focus for UCAPS this year. Along with the introduction of the TNR program, which to date has resulted in 66 stray cats in El Dorado being spayed or neutered, UCAPS has worked to develop TNR curriculum to share with El Dorado residents so that they might organize their own TNR events.
The new UCAPS Adoption Center is also designed to help reduce animal overpopulation, specifically within UCAPS' shelter infrastructure. Their current shelter, at 1000 Sunset Road, about 10 minutes from the center of El Dorado, has a capacity of 300 animals and has found themselves over-capacity several times this year.
The hope is that with the new Adoption Center, El Dorado and other Union County residents will adopt animals more quickly than they do from the UCAPS shelter, reducing overcrowding. The Adoption Center will also be a place for local residents to learn more about TNR, the importance of spaying and neutering one's pets and responsible pet ownership.
Union County is also getting involved to curb animal overpopulation. Last month, the Union County Quorum Court approved the levy of a $10 voluntary contribution toward animal control, meaning that Union County residents will have the option next year to pay an additional $10 (or more, or less) when they pay their taxes, with the funds going toward vouchers that will be distributed to Union County residents to assist in paying for spay and neuter services.
Wurth said there are 20 spots available for residents who would like to sign their pets up to be spayed or neutered for a reduced cost. The animals will be transported to Little Rock on Dec. 12; dogs must be dropped off at the UCAPS Adoption Center between 6:30 and 7 a.m. Dec. 12, and cat-owners participating are asked to drop their pets off at the Adoption Center the evening of Dec. 11.
With UCAPS' agreement with AFA, the prices for spaying and neutering are as follows: spay/neuter for cats at $45; spay/neuter and vaccination for cats at $50; spay/neuter for dogs at $75; and spay/neuter and vaccination for dogs at $80.
To register for this low-cost spay/neuter opportunity, contact Terra Walker at 918-230-4851.
Caitlan Butler can be reached at 870-862-6611 or [email protected]
Sponsor Content
Comments